US vice-President, Mike Pence, former nut job turned sane summed it Hong Kong nicely last night:
"No longer will America and its leaders hope that economic engagement alone will transform Communist China's authoritarian state into a free and open society that respects private property, the rule of law, and the international rules of commerce.

Hong Kong is a living example of what can happen when China embraces liberty. And yet, for the last few years, Beijing has increased its interventions in Hong Kong and engaged in actions that curtail the rights and liberties that Hong Kong's people were guaranteed through a binding international agreement.

We stand with you, we are inspired by you. We urge you to stay on the path of non-violent protest."
Bravo. Of course Australia is doing no such thing, ratifying its recent free trade deal with CCP authorities in another egregious display of grovelling.
Thankfully, however, business isn't buying it, owing to the risk the Australian parliament is so happy to ignore. Via the AFR:
The legislation to approve Australia's free trade agreement with Hong Kong arrived in Canberra this week in a very different political and economic environment from the hopes that accompanied the agreement's signing in March.

More and more Western companies that had been contemplating establishing offices in Hong Kong are now heading straight to Singapore.

"It's an easy decision now," says one chief executive. Many businesses already in Hong Kong are reducing their exposure or thinking about shutting their offices altogether.

One big global private equity player says it has brought forward the timetable for thinking about moving its headquarters from Hong Kong from a decade hence to a couple of years.
What will this do? Not much to help set a business in China, which was Hong Kong's bread and butter: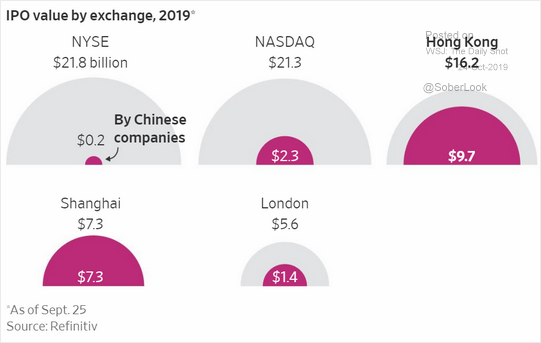 The pain is spreading, via Bloomie:
…"It's absolutely life and death for us," said Douglas Young, co-founder of Goods Of Desire, or G.O.D, a lifestyle and fashion store-chain operator in Hong Kong, in an interview with Bloomberg Television on Wednesday. "At the moment we're calculating whether or not it's cheaper for us to just fold or to continue, it's that serious."

…Total arrivals fell 39% to about 3.56 million visitors in August from a year earlier, according to the latest data from the Hong Kong Tourism Board. Hotel room occupancy also plummeted by almost a third to 66% in August, the data show.

…With protests driving away tourists, as many as 77% of hotel workers were asked to go on unpaid leave, according to a survey in August. Unemployment at city's restaurants and bars is at a six-year high.
Crashing the economy is apart of the protesters plan, I'd suggest, to intensify pressure on the government to compromise.
Even after any resolution, violent or otherwise, I can't see why any businessman would want to set foot in Hong Kong again for a very long time. The professional and personal risks will not abate for a generation.
Latest posts by David Llewellyn-Smith (see all)