The Joint Standing Committee on Trade (JSCOT) has released its report rubber stamping the Hong Kong and Indonesia Free Trade Agreements (FTAs).
The Indonesian FTA, in particular, will permit several thousand more Indonesians working rights, thus leading to more temporary migrant rorting, more low cost labour for business, and further undermining Australian wages and working conditions.
The Australian Council of Trade Unions (ACTU) is up in arms, claiming the Indonesian FTA will cost Australians jobs:
The Indonesian agreement increases temporary work visas, without first testing whether Australian workers can do the job. Worsening a system which is already rife with exploitation…

"Without testing whether local workers can do the work the Morrison government is increasing the numbers of short-term visa workers.

"This is bad for local workers, will worsen the wage crisis and increase the exploitation for visa workers…

"Reviewing trade deals after they are signed is a farce. JSCOT has consistently recommended that there be independent assessments of these deals, calls which have been ignored by this Government.
However, the fake Labor Party will wave the deals through the Senate:
Labor has flagged it will likely support the passage of new free trade agreements…

Guardian Australia understands that the Labor leader, Anthony Albanese, convened a meeting between senior members of shadow cabinet and union leaders in Sydney on Friday to thrash out concerns over the new trade deals, with the unions arguing that the party should block the enabling legislation when it comes to parliament next week.

The meeting was attended by the shadow ministers Richard Marles, Kristina Keneally, Jim Chalmers, Madeleine King, Katy Gallagher, Tony Burke, Pat Conroy and Stephen Jones, with a similar contingent of union leaders present.

While Labor has yet to formalise its position, MPs at the meeting are understood to have outlined arguments in favour of supporting the new trade agreements, but also committed to try to negotiate changes on labour market access and investor dispute clauses before supporting the bill's passage through parliament.

The negotiation comes as the Australian Council of Trade Unions ramps up pressure on Labor to oppose the legislation, releasing new polling that shows up to 80% of voters in key seats oppose trade agreements that grant foreign workers visas without labour market testing.
This has drawn scorn from ACTU president, Sally McManus: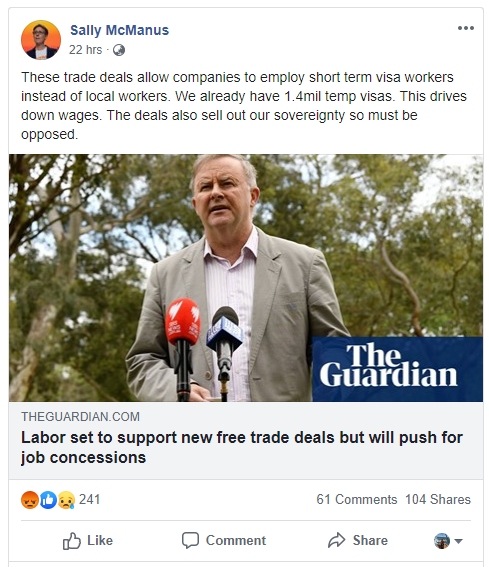 Commenters to McManus' post are especially scathing of Labor:
Alesoun Marsden More disappointment from Labor. Unless there's a boutique brewery to attend, Albo's been missing in action for a long time now. We really need a lot more right now…

Kerryn Blyth Can't believe Labor are even considering this. So disappointed!!

Kylie Blyth labor is just LNP lite these days

Wayne Wilson Par for the course for Labor these days. Do us a favour and dissolve, Labor

Richard Cain labor are not the traditional party anymore. They are more interested in getting photo opportunities with trans genders and going to the gay Mardi Gras than being seen with unionist.

Freetasman Plottier The ACTU should and all the union movement should walk out for the Labor party

Enn Priilaid ALP not doing what they originally stood for… disappointing to put it mildly… FTAs only benefit big business and not the Australian workforce…! This is another nail in the 'wage increase' coffin…

Russell Henry I think we are seeing the end of the labor party. Time for a new union political party that puts ordinary working people first.

Gary Foxall Two Liberal parties. Marvelous
These are only the first handful. There are literally dozens more similar comments attacking Labor for backing big business over workers.
While they are 100% correct, one wonders why the union movement still supports Australia's mass immigration 'Big Australia' policy, given it is one of the drivers of Australia's wages crush.
Migrant workers are way over-represented in cases of wage theft. Moreover, the 'skilled' immigration system has been systemically rorted in order to lower labour costs for employers by crushing wages and abrogating their responsibility for training, while also feeding the owners of capital more consumers.
Rather than focussing on tiny FTAs, unions need to push for root-and-branch immigration reform. This should start with dramatically lowering the overall permanent migrant intake, as well as setting a wage floor for 'skilled' migrants at the 80th to 90th percentile of earnings, thus ensuring the scheme is used sparingly by employers on only the highest skilled migrants, not as a general labour market tool for accessing cheap foreign labour and eliminating the need for training.
Leith van Onselen is Chief Economist at the MB Fund and MB Super. Leith has previously worked at the Australian Treasury, Victorian Treasury and Goldman Sachs.
Latest posts by Leith van Onselen (see all)