The NSW regional city of Tamworth is currently facing Stage 4 water restrictions, with the Chaffey Dam at just 18.9% capacity after experiencing record low inflows: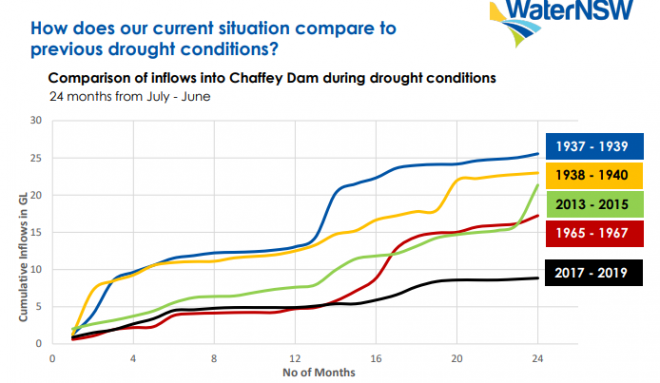 The Peel Valley region is also predicted to run out of water by June 2020 unless there is significant rain fall.
Not to worry. The NSW and Federal Governments have just approved the construction of a new $480 million dam near Tamworth:
After weeks of speculation about a new dam to secure the long-term survival of country towns and farmers, The Sunday Telegraph can reveal a new reservoir will be built at Dungowan, near Tamworth…

Prime Minister Scott Morrison said dams weren't built overnight but "we're working as quickly as possible"…

The new Dungowan Dam above Tamworth will be worth $480 million and will secure long-term water supply for 62,000 district residents and farms in the Peel Valley, which is expected to run out of water by June without significant rainfall or intervention.

The new Dungowan Dam will be more than three-and-a-half times the size of the ­existing dam, which will be knocked down once the ­replacement is built downstream. It will be the first new dam in NSW since Split Rock dam was built near Tamworth in 1987.
Obviously, it may take several years to build the dam and several more years to fill it (assuming above average rainfall). There's also the problem of Tamworth's growing population.
Tamworth's authorities are determined to lift the region's population from 62,000 currently to over 100,000 as quickly as possible:
At this rate it will take Tamworth until about 2073 to reach the 100,000 population target.

The local government area grew by just under 1 per cent from 2017 to 2018, Australian Bureau of Statistics data shows. Tamworth Regional Council has an ambitious plan to shave at least three decades off that.

"We need to increase the growth rate to a bit over 2 per cent," acting mayor Phil Betts said. "It is an ambitious target but it's possible…".
Tamworth Mayor Col Murray also believes that a growing population is needed to solve Tamworth's water crisis:
While water is a major concern for the city presently, the mayor said a growing city would demand government investment in a greater security.

"I would argue we have got no chance of increasing our water security without having population growth," [Mayor Col Murray] said.

"That'll force it to happen.

"I have absolutely got no concerns that there'll be water for the future, providing we have got the plan and got the population growth to strengthen it."
You cannot make this stuff up. Tamworth already has major concerns with water security – hence the severe water restrictions in place. But somehow we are not to worry about the extra demand that would come from 40,000 (60%) more people, especially in light of climate change, which is expected to lower rainfall and increase evaporation?
Remember, Tamworth is located far away from the ocean, meaning that water desalination is not available.
Water scarcity remains the elephant in the room of the population debate, and the key issue that 'Big Australia' boosters deliberately ignore, including Tamworth Mayor Col Murray.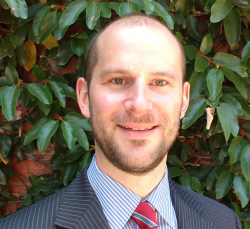 Latest posts by Unconventional Economist
(see all)