Oh yes, via Damien Boey at Credit Suisse:
Over the past few days, we have witnessed some rather sharp deterioration in the leading indicators of Australian growth:

Westpac consumer confidence fell sharply in early October to 92.8 from 98.2. For reference, readings below 100 have historically been associated with contraction.
Westpac home-buying sentiment fell in early October to 116.6 from 123.4, with NSW and VIC leading the declines. Sentiment is off its recent lows, but the relapse is concerning considering the extent of credit loosening and rate cuts.
NAB business confidence fell to -0.4 in September from 1.1, while business conditions improved slightly to 1.6 from 0.6. Capex intentions fell sharply to 2.9 from 6.2, while employment rose to 3.5 from 1.7.

Feeding the relevant data points into our proprietary domestic demand tracker, we find that the non-mining economy is in a deep state of contraction – in fact, the deepest contraction since the 1990s recession. The economy is in a lot of trouble from this perspective.

Is there any good news here to be aware of? We think so.

Firstly, updating our proprietary real yield curve model for the latest partials (in particular, home-buying sentiment, and the NAB business confidence-conditions spread), there is not much scope for curve flattening here. Granted, our original steepening signal has faded with the data. But the curve should not be inverting even more, especially with the RBA now in full-blown easing mode. Indeed, it should be steepening to catch up fundamentals from a little while ago given evidence of undershooting. Therefore, there is a limit to the narrative that rate cuts are a sign of bad news, and that consumers will respond to the bad news behind easing rather than the stimulus itself.

Secondly, we note that hiring indicators have actually improved. ANZ job ads rose slightly in September, while hiring sentiment improved in the NAB survey. Our proprietary labour market leading indicator, based on these indicators, as well as our proprietary domestic demand tracker, point to stagnation in hiring activity – but not a sharp retrenchment cycle (at least, not yet). We are not yet in a de-leveraging spiral. To be sure, we might get inadequate wage inflation on the back of strong migrant competition for jobs. But job losses leading to defaults are still looking unlikely.

Finally, we think that deterioration in the data will prompt a fiscal response, as Prime Minister Morrison hinted after the release of the soft 2Q national accounts data.
The trends for employment have not turned up and there have to be questions over the data today anyway given the structural shift towards underemployment.
As well, the global context is still deteriorating as political risk shocks the real economy: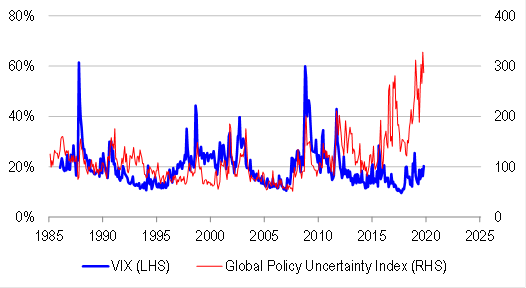 So there is just as likely to be further pressures from offshore, as sentiment and commodity prices fall, as there is any fiscal boost at home.
In short, I'd still be discounting good news not bad. That leading activity index is rapidly headed for fugly.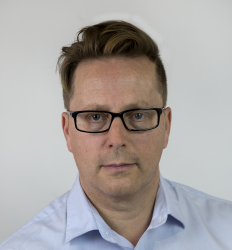 Latest posts by David Llewellyn-Smith
(see all)