We noted earlier this week how the Morrison Government's much vaunted regional visa scheme had turned into a farce, with the Government manipulating the data and deeming Perth and Gold Coast "regional" despite being bonafide metropolitan areas:
Perth is Australia's fourth largest city with a population of 2.1 million people.

And while the Gold Coast only has a population of 600,000, it is already fast growing, experiencing a population increase of 70,000 (13%) in the five years to 2018. The Gold Coast is also experiencing major congestion problems, with the M1 already at full capacity with people travelling from the Gold Coast to Brisbane for work and home again in the afternoon.

Is the Morrison Government seriously suggesting that Sydney, Melbourne and Brisbane are the only metropolitan areas in Australia, and that everywhere else is regional? That is ridiculous.
Now, former deputy secretary from the Department of Immigration, Abul Rizvi, claims the government is in "full panic mode" after Perth and the Gold Coast were made eligible for the 'regional' visa scheme:
[Abul Rizvi] believes the federal government's recent tinkering of its regional migration push reflects a "panic reaction" before the scheduled go-ahead of two new regional visa streams in November.

"You fall into this problem once you start making knee-jerk changes on the run and that's what's happening now and that is why I have described the government in full panic mode," Mr Rizvi told SBS News.

"These changes are being made … less than a month before these visas start and they are making such fundamental changes – you've got to ask yourself have they thought this through"…

"Being put on a provisional visa for three years I think significantly increases that risk that the individuals will be exploited by their employer," he said…

Mr Rizvi said having smaller country towns compete with the metropolitan areas over the migration program could have negative consequences.

"Where employers are in direct competition for skilled migrants with employers [from those cities] – then the employers in smaller country towns really are at an extraordinary disadvantage," he said…

"If the primary objective of designating Perth and Gold Coast as regional is to help their universities attract more students then we should be focusing on that," Mr Rizvi said.

"And not using Perth and Gold Coast for regional in other visa categories"…

Mr Rizvi is concerned existing regional pathways will be used to mask a "lack of demand" for the new provisional ones and "dominate" the makeup of the government's headline figure.

"What we will see is a significant lack of demand and then the government will need to ask itself what do we do now," he said.
Abul Rizvi is correct on all counts. The Morrison Government's new 'regional' visas are little more than a policy smokescreen to appease concerns surrounding the population crush in Sydney and Melbourne.
They do not fix the underlying problems with Australia's immigration system: 1) that it is far too big, at roughly triple the historical average: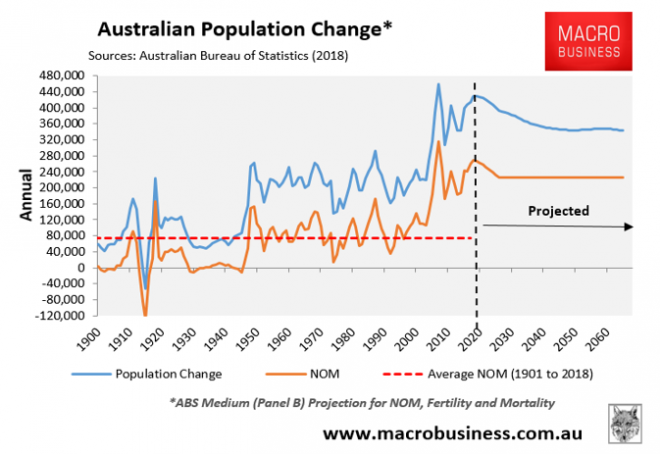 And 2) that the small minority of migrants that initially go to the regions typically move to the big cities once they gain permanent residency, as explained by recent ANU research:
An Australian National University study released Thursday found more than 60 per cent of migrants move to a capital city after about five years of living in a regional or remote location.

ANU material went as far as saying new migrants were "fleeing" regional Australia for better opportunities in the cities.

Australia has a number of visas that are designed to entice migrants to regional areas but the research suggests more needs to be done to keep them there.

ANU demographer Bernard Baffour told SBS News, "you can move migrants to areas, but you can't force them to stay there"…

The study found Chinese-born migrants are more likely to settle in Sydney. Erin Chew of the Asian Australian Alliance said, "a lot of the Chinese people are city dwellers, so they want to live in [places] where there's a huge concentration of their community"…

Elsewhere, Melbourne is the city of choice for most Indian-born migrants.
Short of placing electronic tags on migrants, how can decentralisation be achieved in practice when it has failed repeatedly in the past, with the visa system systematically gamed?
Let's also remember that many of Australia's regional areas are devoid of water. So how can they possibly accommodate many thousands of additional migrants?
The whole regional visa policy is a giant farce.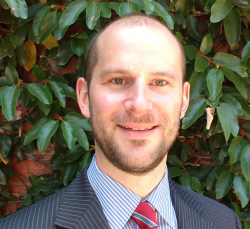 Latest posts by Unconventional Economist
(see all)