After Australia's abysmal June quarter national accounts were released earlier this month, Treasurer Josh Frydenberg swept aside the concerns and triumphantly declared:
"Today's National Accounts show that the Australian economy has completed its 28th consecutive year of economic growth – a record unmatched by any other developed economy.

It's a reminder of the economy's remarkable resilience and a repudiation of all those who have sought to talk it down".
At the time I lambasted Josh Frydenberg, explaining that when measured in per capita terms, Australia's economy has actually experienced several recessions over that 28-year period, alongside a collapse in trend growth: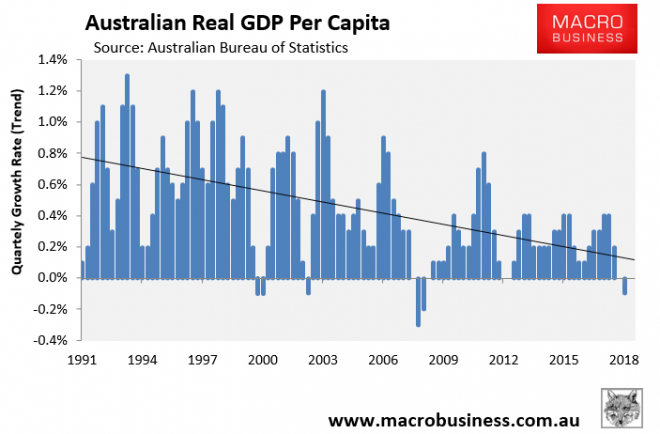 I also showed how Australia's real per capita GDP growth has underperformed all major economies and regions this decade, as illustrated below using OECD data: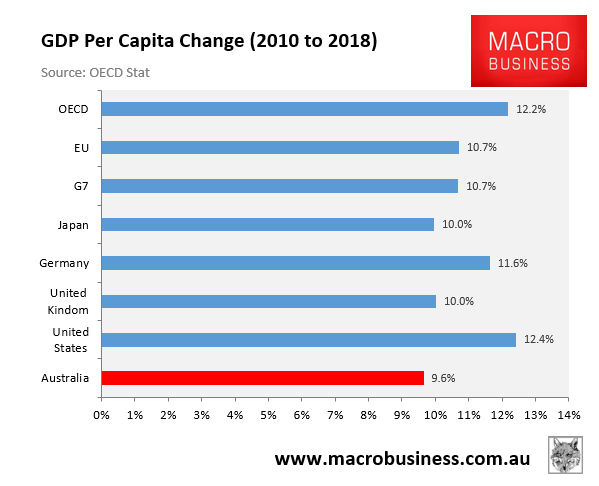 Whereas the gap underperformance has also worsened materially over the Coalition's term in government: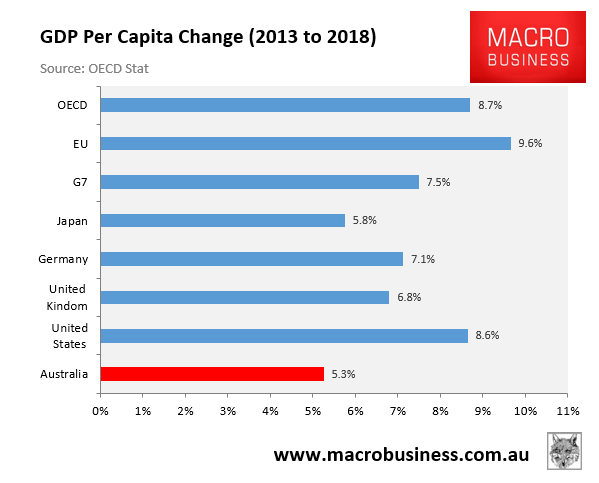 Now, the Federal Reserve Bank of St.Louis (FRBSL) has also debunked Josh Frydenberg's "no recession" claim, showing that Australia has only avoided a technical recession because it has run one of the world's biggest immigration programs:
The figure below shows Australia's per capita GDP growth rate. Again, recessions are shaded gray and defined as two or more consecutive quarters of negative growth.

As shown in the figure, Australia has had three recessions since 1991 when looking at GDP per capita, the most recent one being from the second quarter of 2018 to the first quarter of 2019.

This discrepancy between the growth rate of per capita GDP and the growth rate of GDP implies that population growth has been a key factor for Australia's economic expansion. A rising population increases the size of the economy, and therefore total output increases, which is reflected in the level of GDP.

However, the fact that we do see economic downturns in per capita terms means that population is growing faster than GDP. For nearly 40 years, Australia has had a higher population growth rate than other industrialized economies, as seen in the figure below.

In particular, it had a surge in population around 2008—during the height of the global financial crisis—due to migration. This population growth translated to overall positive GDP growth, but its effect on GDP growth hasn't been enough to prevent recessions in per capita terms. Per capita recessions are not unique to Australia. In the table below, we compare the number of observed recessions when using GDP growth versus per capita GDP growth for several OECD countries. Again, a recession is defined as two or more consecutive quarters of negative growth.

So should we use Australia as a benchmark when thinking about possible duration of expansions? If so, we have to take it with a grain of salt because looking at just GDP growth doesn't paint the whole picture. It is important to look at per capita GDP growth to have a broader view.
Former Treasurer, Peter Costello, also shredded Frydenberg's "no recession" claim:
"One of the significant drivers of growth in the Australian economy has been population," Costello said, noting that Australia has the highest population growth rate outside of Saudi Arabia in G20 countries…

"If you convert all of our statistics, even GDP to per capita, you would find we probably have had recessions," Costello said.

"But because we've had a growing population, the overall economy has been growing. I query whether we can continue that."
We also shouldn't forget that Australian households have experienced a seven year recession in real per capita household disposable income (HDI), which has fallen by 0.5% over the past seven years: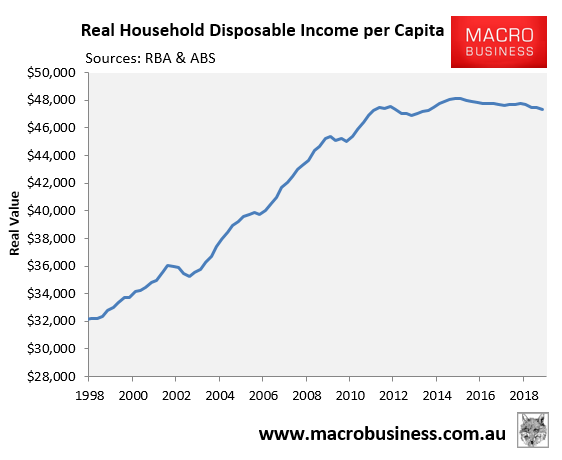 Worse, Australia's real per capita HDI growth was the lowest among OECD nations over the five years to 2019: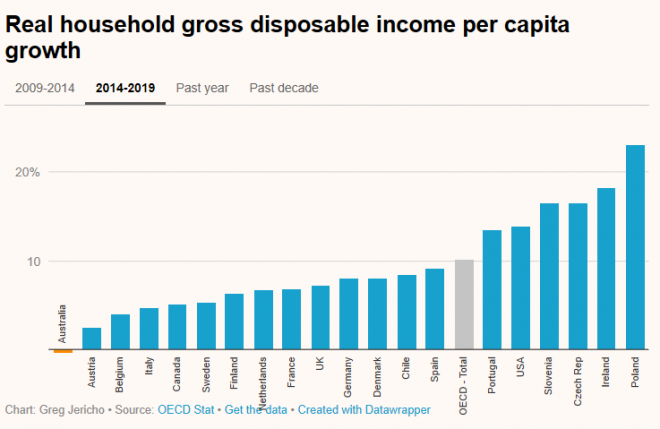 No matter which way you cut it, Australia's per capita economy is sick. Household incomes are going backwards, and per capita GDP is in recession. It is only Australia's extreme population growth that is keeping Australia from a 'technical recession'. And this is coming at the expense of productivity, amenity, housing affordability, and wage growth.
Per Capita outcomes are the primary measurements that Governments, economists and the media should be talking about. But of course they don't, because it is much easier to import migrants and report headline GDP growth than actually earning it the hard way through productivity.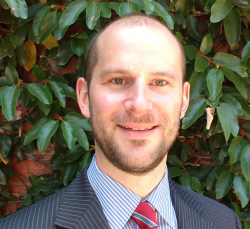 Latest posts by Leith van Onselen
(see all)