Earlier this week, I posted an article showing, among other things, that Australian households have experienced a seven year recession in real per capita household disposable income (HDI), which has fallen by 0.5% over the past seven years: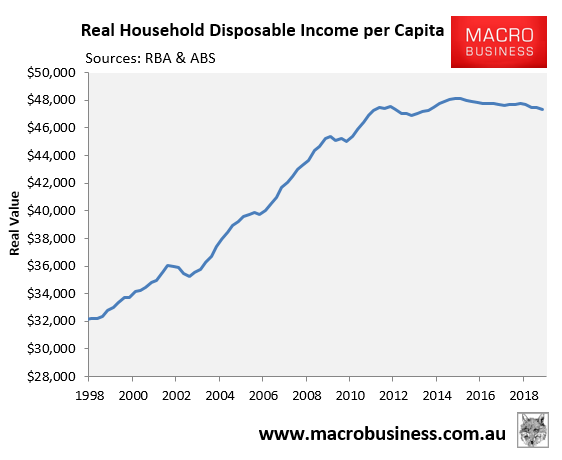 And that Australia's real per capita HDI growth was the lowest among OECD nations over the five years to 2019: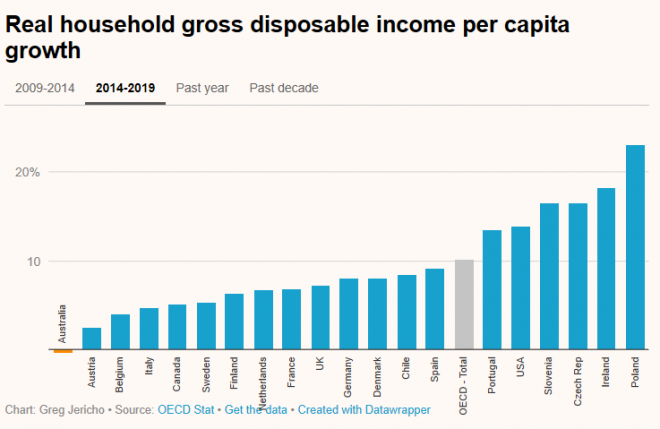 Yesterday, The Australian's Adam Creighton penned a superb article explaining how the Australian economy has become dangerously reliant on mass immigration, is badly underperforming other developed nations, and is experiencing a recession when measured in per capita terms:
Without migrants from Asia, Australia's economy would slide into recession.

In defending last week's poor economic growth figures, Scott Morrison pointed to Germany and Britain, whose economies shrank in the June quarter. Ours expanded 0.5 per cent and 1.4 per cent across the year, the slowest pace since 2009.

Yet their populations are growing at less than half the pace of ours. Per capita, economic output went backwards in Australia.

In Germany and Britain it went forwards. It's hardly a comparison to brag about: strip out the extra people, and we're doing worse than both…

In fact it's practically impossible for Australia to ever meet the technical definition of a recession — two quarters of economic contraction — when it accepts about 240,000 people a year, on top of natural increase of 150,000.
The situation is actually worse than described by Adam Creighton.
In the aftermath of last week's June quarter national accounts release, Treasurer Josh Frydenburg was quick to boast about the economy's "remarkable resilience" and purported 28 years without experiencing a recession:
Today's National Accounts show the Aust economy has completed its 28th consecutive year of growth in the face of domestic & intl headwinds. Real GDP grew to be 1.4% higher through the year, proving the Aust economy's remarkable resilience.

More here: https://t.co/7axsB7e7F6 pic.twitter.com/r3jfZfrDBA

— Josh Frydenberg (@JoshFrydenberg) September 4, 2019
Yet this myopic view disregards entirely what is happening at the household level (noted above), nor that when adjusted for population, Australia's GDP per capita growth has been slowing sharply and, in fact, went backwards in the 2018-19 financial year.
The next chart tracking Australia's trend quarterly per capita GDP growth illustrates the situation: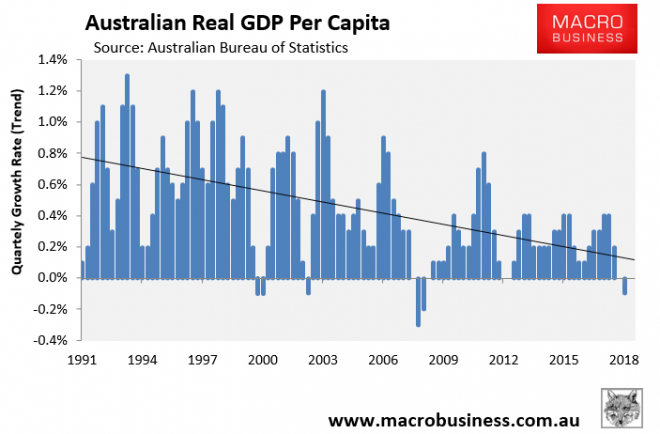 Not only has trend growth slowed massively since the early-1990s 'technical recession', but Australia has in fact experienced several per capita recessions over its purported 28 years of uninterrupted growth.
Moreover, the past financial year has been brutal, with per capita GDP growth of 0%. -0.1%, 0% and 0% recorded over the past four quarters, giving the below annual growth chart: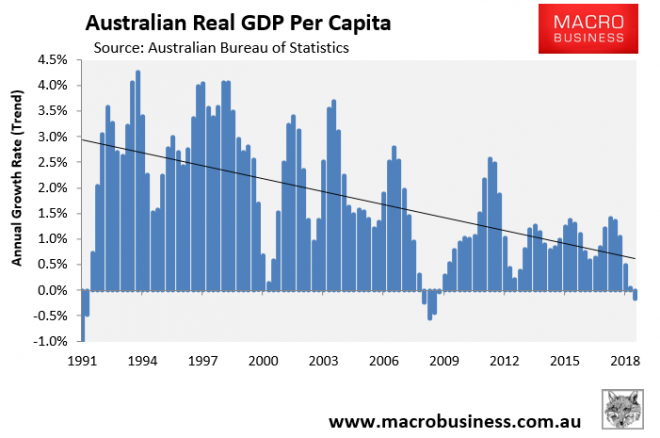 As you can see, the Australian economy has just experienced its second annual fall in real per capita GDP, which follows the deeper falls experienced during the Global Financial Crisis.
To make matters worse, Australia's real per capita GDP growth has underperformed all major economies and regions this decade, as illustrated below using OECD data: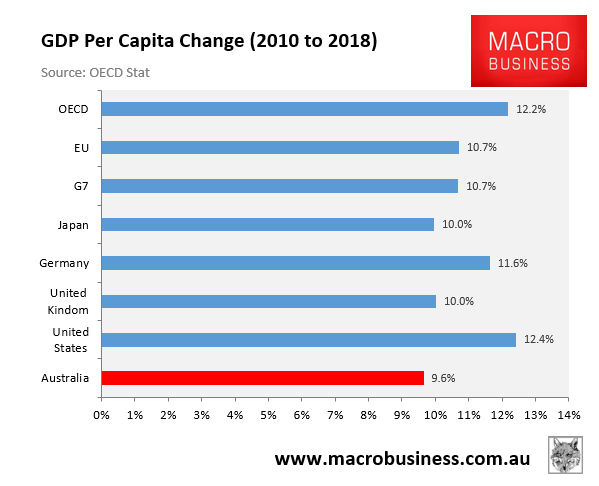 The gap underperformance has also worsened materially over the Coalition's term in government: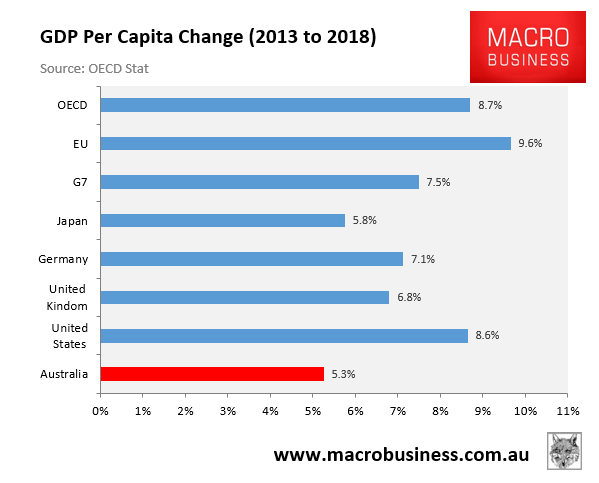 No matter which way you cut it, Australia's per capita economy is sick. Household incomes are going backwards, and per capita GDP is in recession. It is only Australia's extreme population growth that is keeping Australia from a 'technical recession'. And this is coming at the expense of productivity, amenity, housing affordability, and wage growth.
Per Capita outcomes are the primary measurements that Governments, economists and the media should be talking about. But of course they wont, because it is much easier to import migrants and report headline GDP growth than actually earning it the hard way through productivity.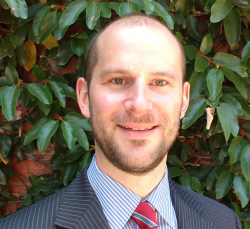 Latest posts by Unconventional Economist
(see all)