While Australian wages remain stuck in the mud, held down in part by the endless deluge of migrant workers, the lower immigration arising from Brexit continues to be a bonanza for UK workers, who are enjoying both strong wage growth and unemployment at 45-year lows:
Wages have continued to grow at a strong pace and employment remains at record highs, official figures show.

Earnings excluding bonuses grew at an estimated annual pace of 3.8% in the May to July period, down slightly from the previous reading.

Including bonuses, wages rose at an annual pace of 4% – the highest rate since mid-2008.

The unemployment rate dipped to 3.8%, while the estimated employment rate remained at a record 76.1%…

"Including bonuses, wages are now growing at 4% a year in cash terms for the first time since 2008. Once adjusted for inflation, they have now gone above 2% for the first time in nearly four years"…
UK unemployment has also plunged, in stark contrast to Australia: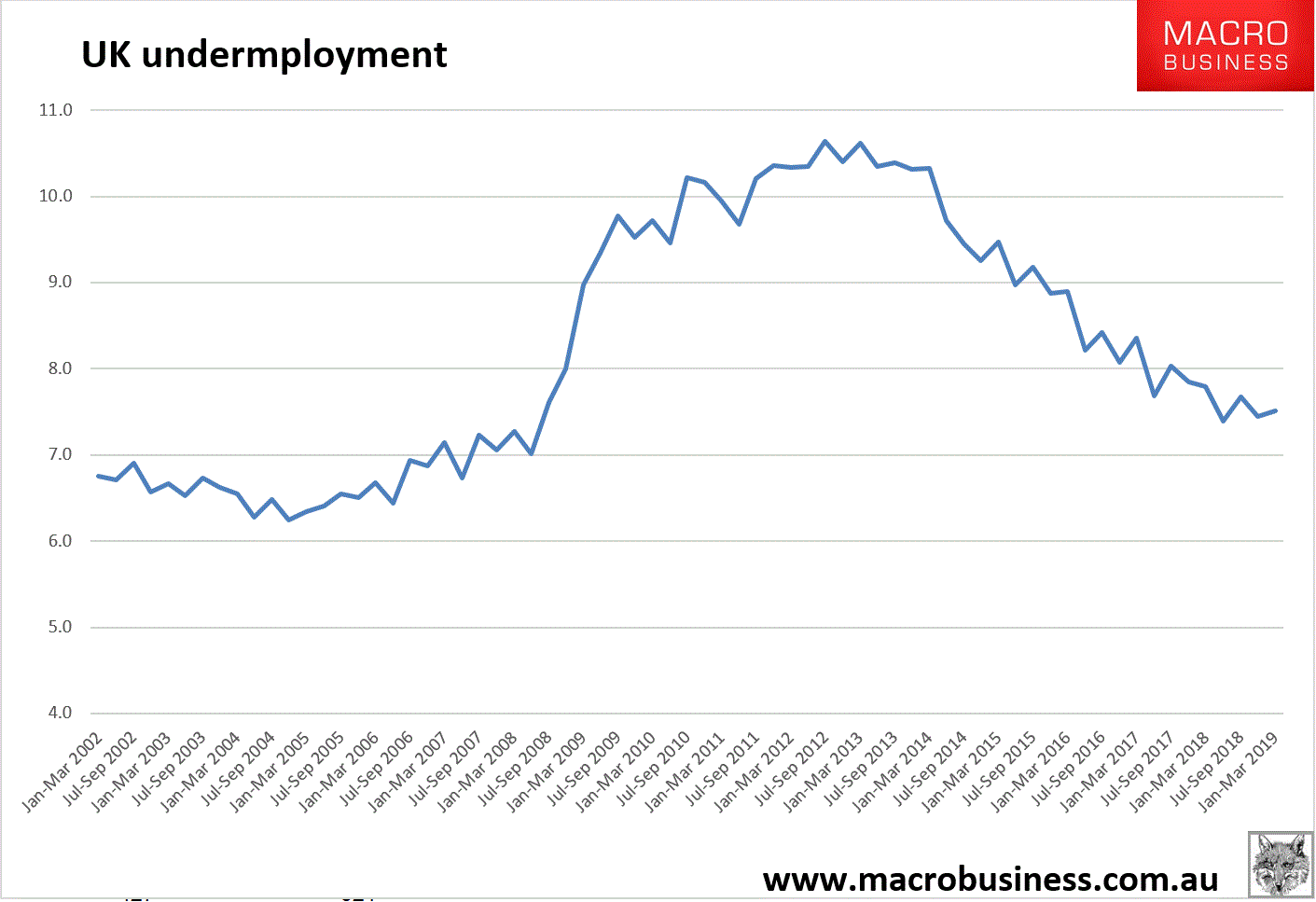 Even productivity is off the floor, via the FT:
Silvana Tenreyro, an external member of the BoE's monetary policy committee, said in a speech in Glasgow that fluctuations in output per hour had masked an uptick in productivity since 2014, leaving the UK economy with excess capacity and mitigating the need for further interest rate rises.

"Smoothing through some of the volatility, there is some evidence of a mildly improving trend emerging," Ms Tenreyo said, adding that according to BoE calculations, annual productivity growth had picked up from 0.4 per cent between 2010 and 2014 to 0.6 per cent in the next four years to 2018.

"Moreover, early estimates of [output] (and therefore productivity) are typically revised up over time," she said, pointing out that Bank of England economists believed revised statistics would show that the trend in productivity growth increased to 0.8 per cent per year between 2014 and 2018.

Productivity growth has been the missing piece of the UK's economic recovery since the 2008 financial crisis: it has been blamed for low wage growth and, until recently, slow growth in tax receipts.
As we know, the magic tonic has been Brexit immigration cuts: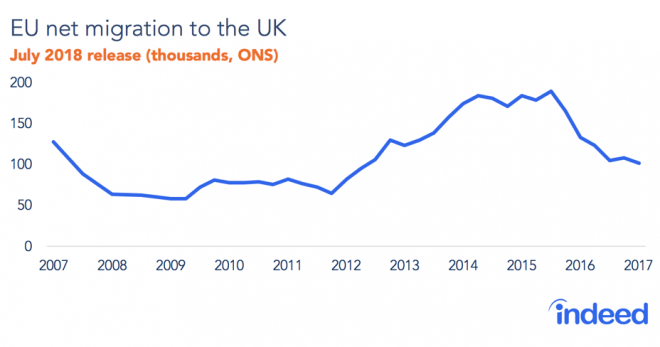 But with workers in the box seat for a change, employers have lashed-out at the government for stemming the flow of EU migrant workers:
"A tight labour market represents yet another headache for small business owners," the FSB said yesterday.

"One in five small UK employers rely on staff from the EU. The sharp drop in European arrivals is a real concern for many smaller firms."

The Recruitment & Employment Confederation also piped up – "our surveys show that firms are still experiencing shortages of key staff. This is a big risk to future growth" – while the British Chambers of Commerce bemoaned "the perennial skills shortages plaguing UK businesses"…
Take note Australia. If you ever want wages to lift, Australia's immigration floodgates must be shut. Otherwise, labour supply will forever run above demand, productivity will remain stillborn, and wage growth will remain in the gutter.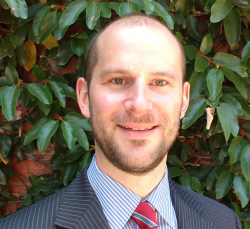 Latest posts by Unconventional Economist
(see all)