The NewStatesman has published a terrific article on how Britain has been flooded with worthless university degrees:
Over the past 30 years, successive governments, from Thatcher to Blair, to Cameron and May, have imposed a set of perverse incentives on universities. Their effect has been to degrade and devalue the quality of British degrees. Academic standards have collapsed…

At a glance, British universities are a national success story. They have increased the number of undergraduate degrees they award fivefold since 1990, while the proportion of Firsts they hand out has quadrupled – from 7 per cent in 1994 to 29 per cent in 2019. For every student who got a First in the early 1990s, nearly 20 do now. Masters' degrees, meanwhile, are nearly ten times as common as they were. Universities have, it seems, managed to surge in both size and quality. And they have done it all while spending comparatively little on teaching, and despite a wave of sudden changes to how they operate. In no other publicly funded sector has so dramatic an expansion seemingly cost so little and achieved so much. Our universities, we are regularly assured, are "world class". They are a prime British export; international students flock to study in the UK…

This narrative is useful. It allows government ministers to tout the UK's influence, university management to pay themselves befittingly, and students to appear exceptional. And with each year, it is propped up by record grades…

Grade inflation is the inevitable outcome of the system universities operate under. There is little reason to suspect that the system is about to change, or is even understood…

Never before has Britain had so many qualified graduates. And never before have their qualifications amounted to so little. Each year, far from creating graduates of an unparalleled calibre, Britain is producing waves of sub-prime students…

Employment rates among young adults are unimpressive. British productivity has been stagnant for the past decade, and the graduate premium is weaker than ever… "Graduate earnings have turned out to be so much worse than previously expected," says Paul Johnson…

How is it possible that a five-fold expansion in university numbers since 1990, the year Thatcher resigned as prime minister, has been so ineffective? The paradox is simpler than it seems. Universities are governed by a set of incentives, laid down by successive governments. What they are neither incentivised nor mandated to provide is a baseline of quality education…
It's exactly the same problem in Australia, where the number of students studying at universities has soared: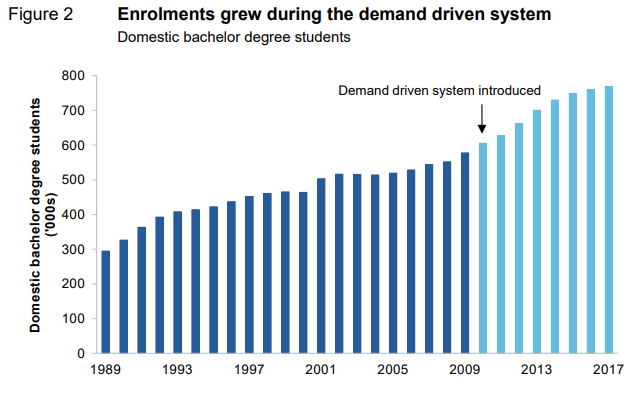 Basically, a university degree has become a prerequisite to gaining a job not because of any particular need or skills learned, but rather because employers now use it as a 'signalling' tool to sort job applicants.
Bryan Caplan – a professor of economics at George Mason University – explains how this signalling process works:
"Why is it that employers would pay all of this extra money for you to go and study a bunch of subjects that they don't actually need you to know?". The answer is "signaling"…

Yet the system as a whole is dysfunctional, he argues, because the signaling game is zero-sum. He illustrates the point with another analogy: If everyone at a concert is sitting, and you want to see better, you can stand up. "But if everyone stands up, everyone does not see better."

The advantage of having a credential, that is, comes at the expense of those who lack it, pushing them to pursue it simply to keep up. The result is "credential inflation." Today a college degree is a prerequisite for jobs that didn't previously require one—secretary, rental-car clerk, high-end waiter…

A college degree doesn't signal the same intensity of work ethic as it did then, but because of the zero-sum nature of signaling, those without degrees look lazier than before…
So, a bit like racial profiling used by police, university has increasingly become a sorting tool for employers, and one they don't pay for.
The results are entirely predictable. The record number of people attending university has degraded a degree's value, since almost everyone now has one. In turn, even the more basic entry level job now requires a university degree, despite the fact that these jobs have traditionally been performed just fine by those with only a high school diploma.
Rather than hosing more taxpayers' money on worthless university degrees, governments should cap university places at a level consistent with the economy's actual needs, and divert funding towards publicly run vocational education and training (VET), which have been starved of funding in favour of universities.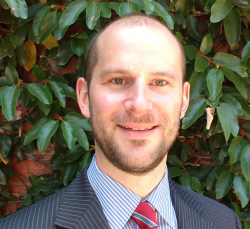 Latest posts by Unconventional Economist
(see all)