SQM Research's managing director, Louis Christopher, has released another report measuring the over/undervaluation of Brisbane's, Adelaide's and Perth's housing markets against GDP, which shows that Perth's is the only major market that is currently undervalued:
Brisbane

On our measurement, Brisbane is offering close to fair value. This comes after an extended period whereby there has been a slow wind-down of housing prices relative to incomes. The worst overvaluation recorded was early 2008 whereby the market was 45% overvalued. This occurred as a result of the Brisbane housing boom of 2003 to 2008 – a period where housing prices doubled in just five years. Our expectation for the remainder of this year is that the market will respond to the rate cuts and relative loose credit. We are forecasting a 0.6% rise in housing prices for the current September Quarter and a further 1.5% for the December quarter.

Adelaide

Like Brisbane, Adelaide is also offering fair value. Arguably, housing prices to incomes are at the lowest multiple since our records begun in 2002. Going forward we are expecting a flat housing market read for the current September Quarter and a marginal lift in prices (0.2%) for the December Quarter.

Perth

Perth is currently offering the deepest value out of nearly all the capital cities at this point. Indeed, housing prices are now lower compared to where they were over 13 years ago. Clearly the mining downturn has affected the market and then, the restrictions in lending also contributed to the price slide in recent years. But when will the market finally turn? Well, despite all the stimulus thrown at it in recent months, there is no sign as yet. We are forecasting another 1% fall for the September quarter and a flat result for the December Quarter. However, it should be noted the falling rental vacancy rate.

Overall, these three cities are currently offering fair to good value. Of course, that does not mean prices are about to snap up. Nevertheless, we will be watching developments closely.
As I noted previously, I am not a fan of SQM's choice of valuation metric, which has simply compared the growth of median house prices (as measured by the ABS) against the total growth of the economy (as measured by nominal GDP). This is the wrong approach as nominal GDP includes the impact of population growth, which has risen strongly over the period. Moreover, it does not account for the fact that Australian households' share of GDP has been falling: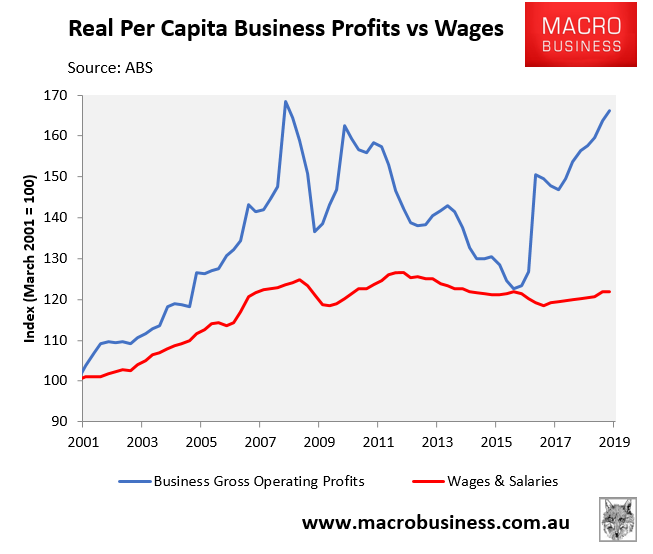 A more consistent methodology would be to compare either:
Median house prices against nominal GDP per capita;
The total value of dwellings against nominal GDP; or preferably
Median house prices against household income.
Pedantry aside, SQM's conclusions look right and these markets are reasonably valued, especially when compared against Sydney and Melbourne.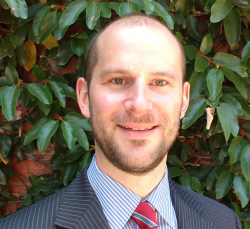 Latest posts by Leith van Onselen
(see all)