SQM Research's managing director, Louis Christopher, released a report claiming that Sydney's housing market remained 21% overvalued when measured against GDP.
This week Christopher has returned with a similar report on Melbourne, which claims property values remain 27% overvalued:
Last week we posted our preferred measurements of housing market valuation – House prices to Nominal GDP. The chart was on Sydney. This week we are running the chart for Melbourne

Like Sydney, we believe the Melbourne housing market has bottomed out. Many leading indicators now suggest the current September quarter will record about a 1.5 to 2.00% rise in Melbourne dwelling prices and I am expecting a rise of another 3 to 4% for the December Quarter. That should take the full year to about a 1% decline compared to 2018.

Like Sydney, Melbourne has also bottomed out at an overvalued point. That overvalued point though is at a considerably higher level than Sydney. On our numbers, we believe Melbourne is currently 27% overvalued after being at an unprecedented 52% (Dec Qtr 2007) and 45% this time last year. BTW apologies to viewers of Seven's Sunrise. I did mention 45% this morning as the current number. I got mixed up with June 2018. Feel free to blame dementia!

The combination of falling prices and rises in nominal GDP over the last 18 months have helped lower the massive overvaluation of Melbourne dwelling prices. But still, the overvaluation remains unprecedented in that previous corrections have enabled the Melbourne housing market to return to some sense of fair value. Not this time. Valuations remain stretched to say the least.

The overvaluation has been driven by a combination of easy and cheap credit plus overtly strong population growth numbers. Melbourne's population has been expanding by some 120,000 people each year. That is about 2.5% per annum – a huge growth rate for any first world city.

Our housing market valuation measure is all based on our view that there is a relationship between nominal GDP and housing prices. And when you read this chart I think the evidence is there. Logically there should be a relationship. Housing price rises cannot outpace income growth forever. And the more the gap between the two, the more housing prices have to be supported by cheaper and easier access to credit.

Historically, the Melbourne went through an extended phase of undervaluation in the early 90s – a period where the city was in recession and both residential and commercial property prices were hit hard. As the city recovered from the mid 90s onwards, property prices rose and kept rising until the brief slowdown of 2004, which was triggered by the interest rate rises at the time. The beginning of 2010 recorded what was at that point, a record overvalued market of some 30% which was driven by a surge in first home buyer activity and, once again, lower interest rates as part of the RBA's emergency measures to combat the GFC. Melbourne property prices had a minor correction between 2010 and 2012 which helped bring valuations back to an extent. However the ongoing rate cuts between later 2011 through to 2016 together with a surge in population growth rates triggered a massive rise in Melbourne housing prices taking our valuation measure to record high levels.

In an ideal world, Melbourne, along with Sydney could have done with at least another 10-15% correction in the most recent downturn, which would have brought valuations back to 'normal' levels. But this wasn't to be. The surprise Coalition Federal Election Victory, the cuts in interest rates, the loosening of lending restrictions and the ongoing population increases have all contributed to this new upturn, despite the Melbourne housing market being fundamentally overvalued.

Next week we will look at the other capital cities, which at this point are not responding as much to the stimulatory measures.
As I noted last week, I am not a fan of SQM's choice of valuation metric, which has simply compared the growth of median house prices (as measured by the ABS) against the total growth of the economy (as measured by nominal GDP). This is the wrong approach as nominal GDP includes the impact of population growth, which has risen strongly over the period. Moreover, it does not account for the fact that Australian households' share of GDP has been falling: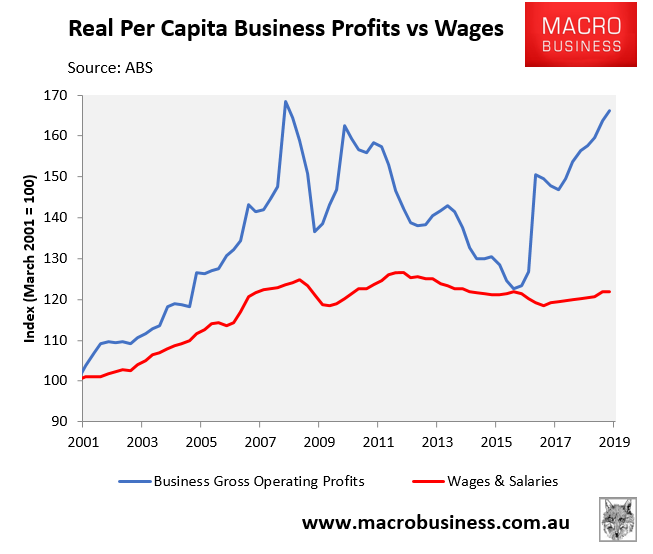 A more consistent methodology would be to compare either:
Median house prices against nominal GDP per capita;
The total value of dwellings against nominal GDP; or preferably
Median house prices against household income.
Pedantry aside, separate data from SQM also shows that despite the heavy price falls, gross rental yields across Melbourne remain at ridiculously low levels: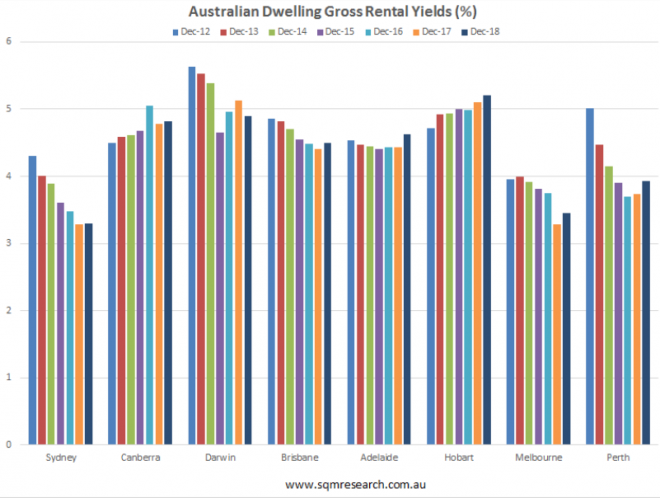 This also suggests that Melbourne housing remains way overvalued and further heavy price falls are necessary to restore valuations back to sensible levels.
Latest posts by Leith van Onselen (see all)