Goodbye Budget. Via Mining:
The Australian export price of metallurgical coal (FOB hard coking coal Fastmarkets MB) used in steelmaking tanked 7% to $122.50 a tonne. That's down almost $70 a tonne compared to the start of the year.

Fastmarkets MB in a market report says the availability of ample cargoes of lower quality seaborne coking coal and a lengthy, uncertain customs clearing process "have raised the possibility of traders engaging in panic selling":

"There seems to be some panic selling among traders who are concerned about a further drop in demand with the import quotas at Chinese ports nearly exhausted," a buyer source in the country said.

Beijing's imposition of import quotas and onerous customs procedures was aimed at shoring up local coal miners, but to date it has had little impact.

The country imported 220m tonnes of coal (steam and coking coal) during the first eight months of the year compared to 280m tonnes for all of 2018.

Montel quotes Vivek Dhar, commodities analyst for Commonwealth Bank in Melbourne as saying higher prices for domestically-produced coal is behind the strong import numbers, but Beijing is keen to limit imports to around last year's volume:

"What has happened has definitely irked policymakers in China," said Dhar. "That puts a lot of pressure on coal imports for the end of the year."

At least two northern ports – Qinzhou and Fangcheng – had already imposed additional customs delays, he said, with a chilling effect on imports likely to gain in the coming months. 
The cost curve shakeout is back:
US coking coal producers are starting to show signs of strain from the steep drop in seaborne coking coal prices in the last quarter, as the outcome of 2020 domestic price discussions emerge and buying remains cautious in Europe and Asia.

In July, US coking coal exports fell to 3.66mn st from 5.07mn st in the same month last year. Shipments to Europe plunged to 1.59mn st from 2.22mn st, while exports to Asia dropped to 698,714st from 1.28mn st.

The Argus daily assessed high-volatile B price at $134/t fob Hampton roads yesterday touched its lowest level since February 2018, down from a high of $170/t at the start of this year. The high-volatile A price has hit $144/t fob Hampton roads, the lowest point since July 2017 and down from a peak of $211/t in January.

Steel production cuts in Europe since the second quarter have been compounded by a quieter-than-usual summer and there continues to be little in the way of fresh demand emerging in the fourth quarter.
The chart (forgive the debauched data):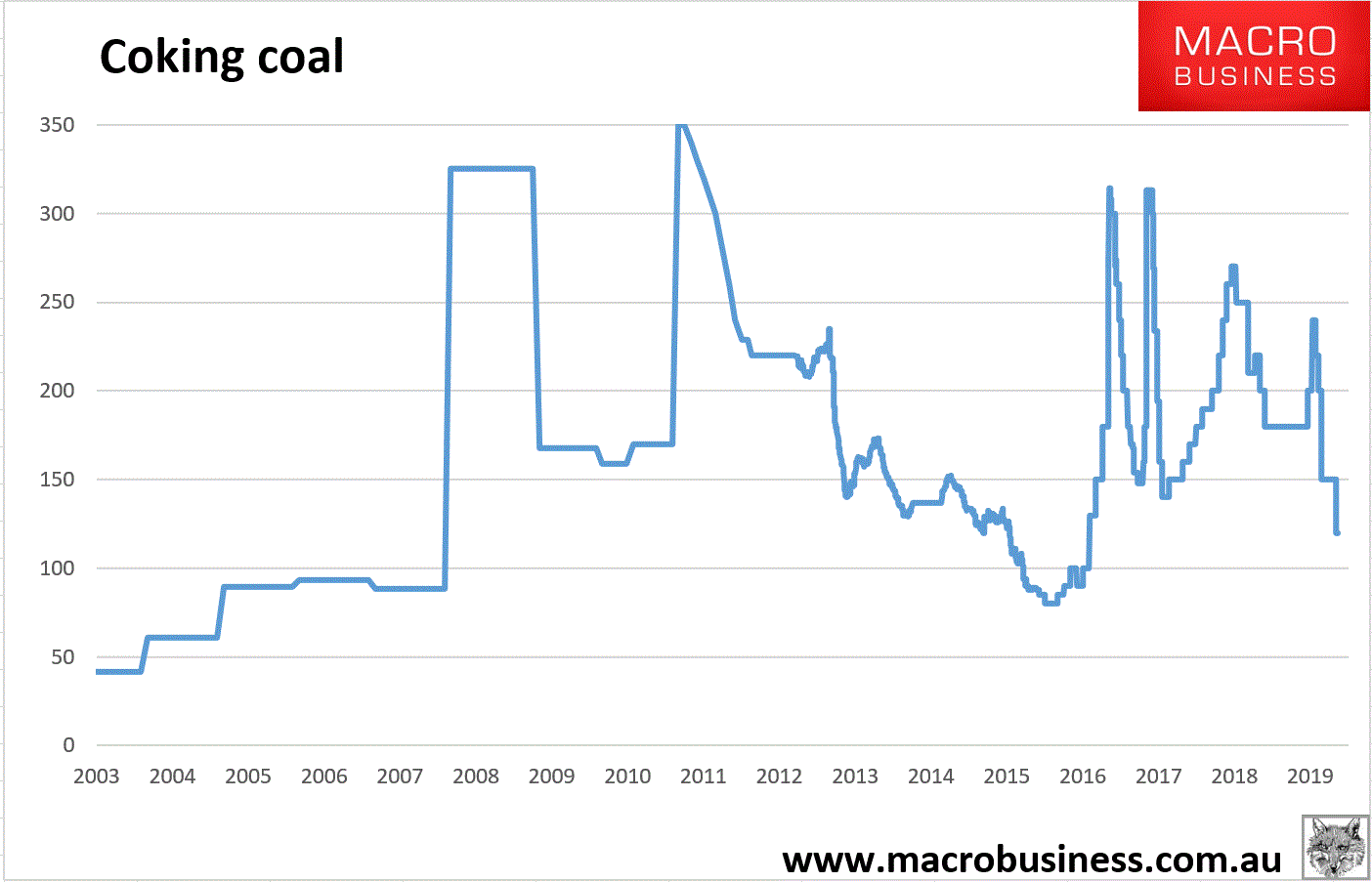 That's the first time since since 2016 that the coking coal price has crashed below the Budget outlook which was recently hiked to $150 per tonne as Treasury discipline gave way: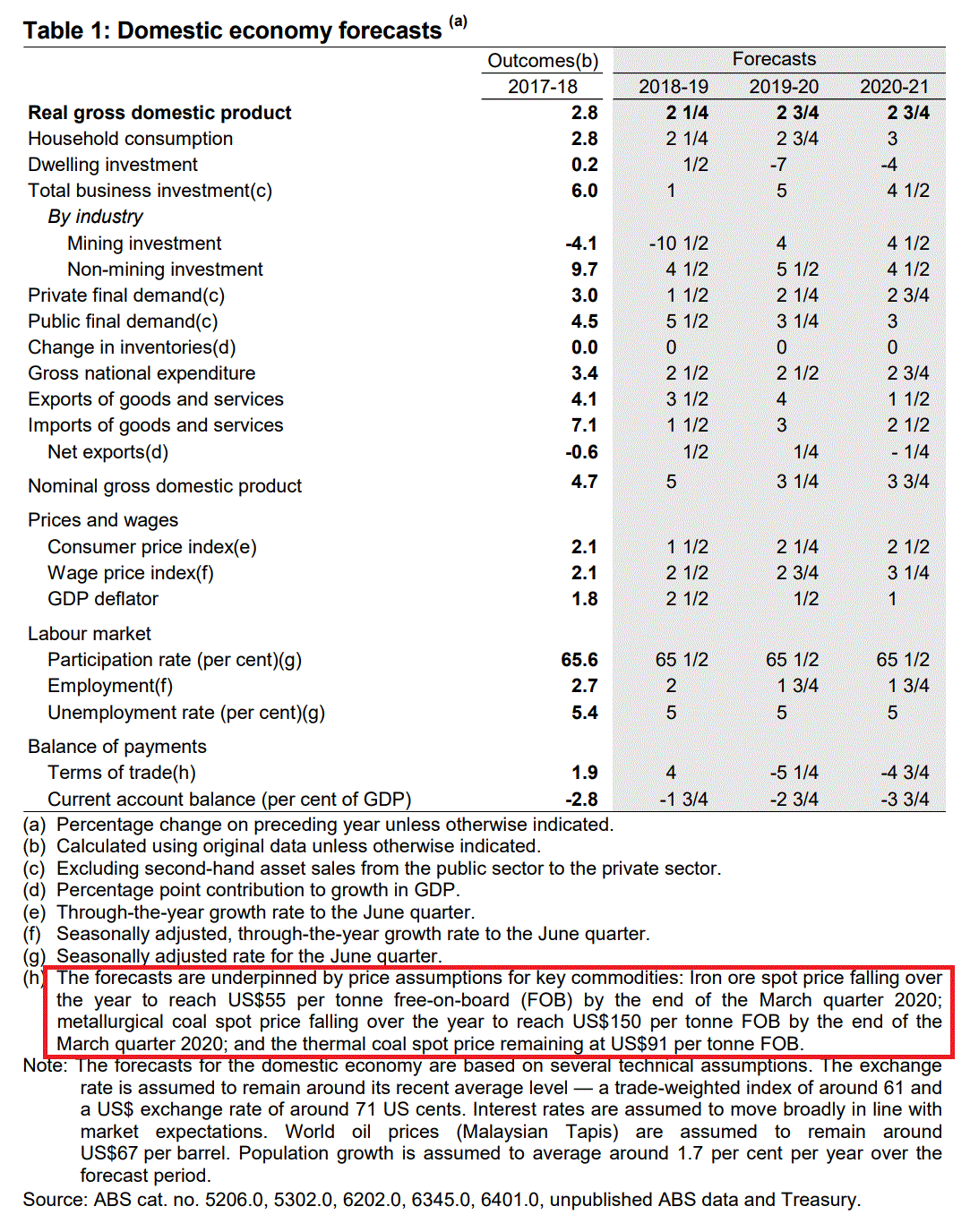 The damage if prices stay here is around $8bn of nominal GDP: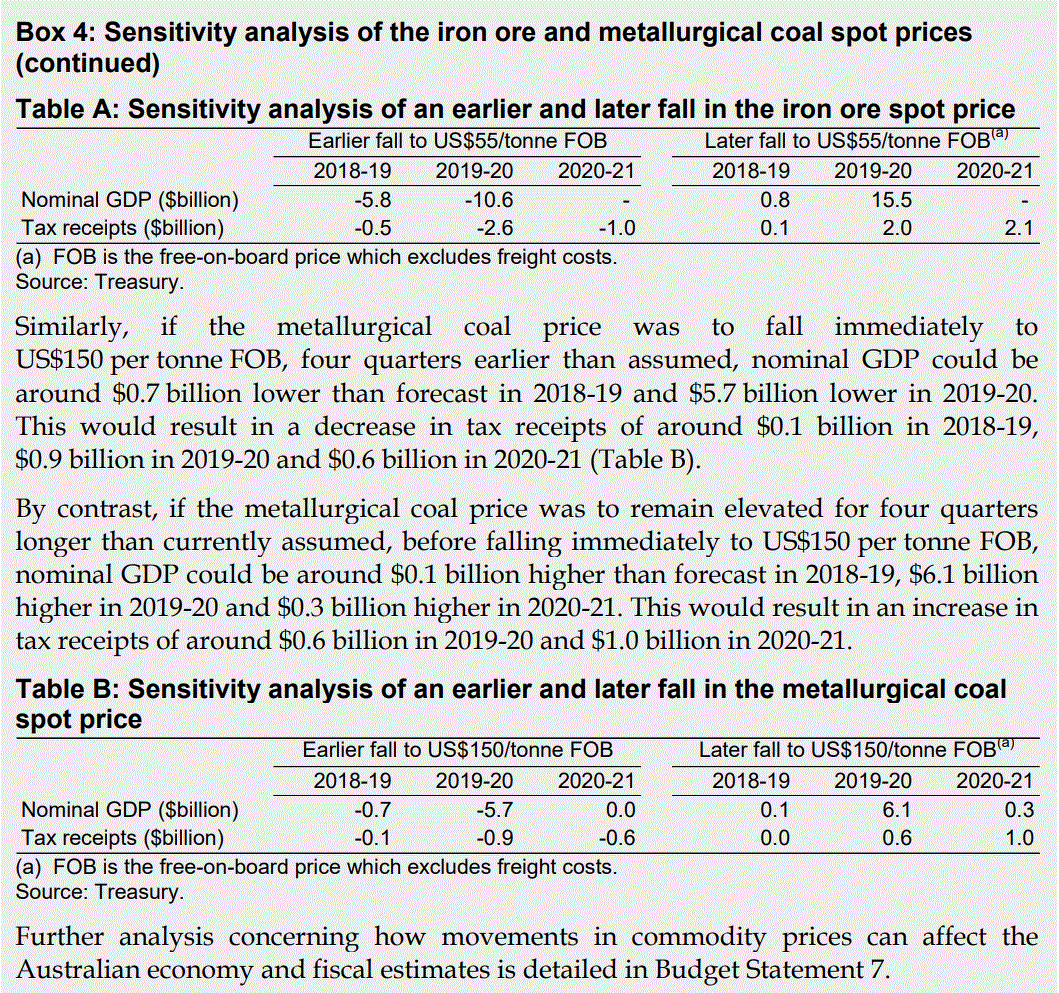 Alas, I expect prices to keep falling to $100 for 2020.
It gets worse. Thermal coal has already crashed to $70, 25% below Budget outlook. Next, I expect iron ore to join in, falling to $60 or lower for 2020.
Adding all of that up, the damage to the terms of trade is pretty nasty: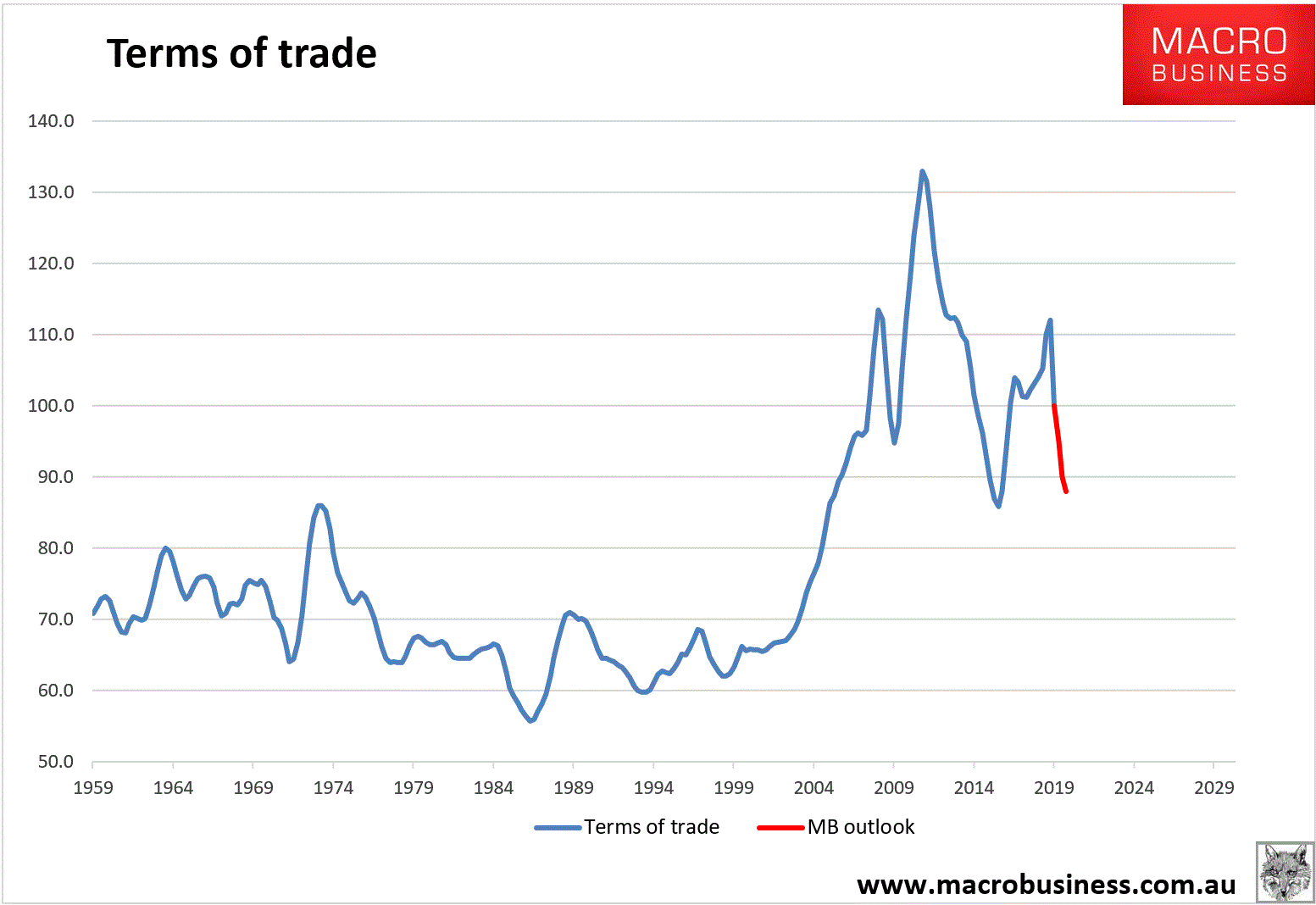 That is way below the Budget and RBA outlook. It means no more corporate tax growth to cover the domestic economy revenue misses. Indeed it will be a corporate tax receipt black hole to fill. Wage growth will fall more heavily as well as national income dries up.
Recessionberg's 2019/20 Budget is coming apart as he crows. Get long the Stupidity Index: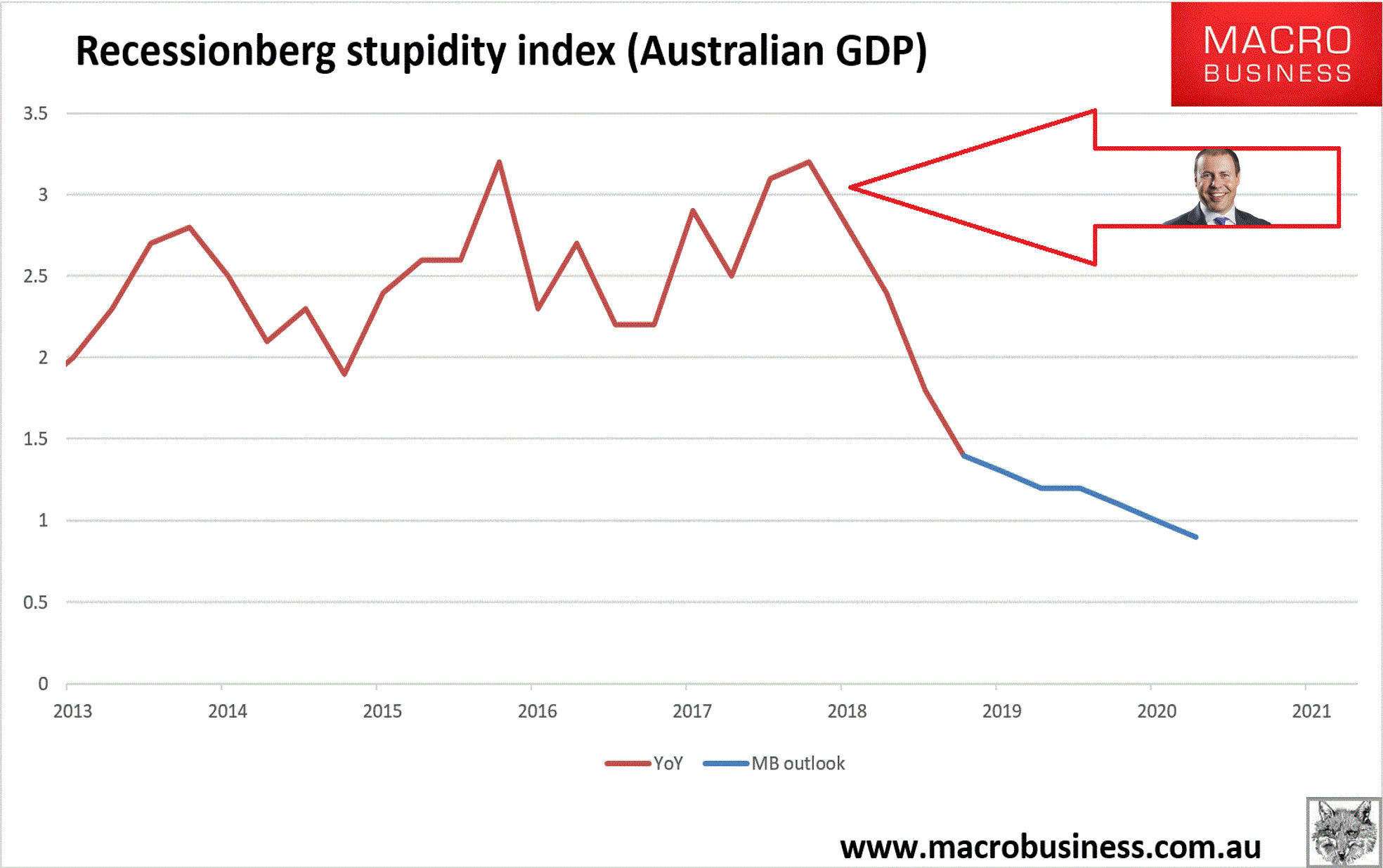 Or short the AUD!
David Llewellyn-Smith is Chief Strategist at the MB Fund and MB Super. David is the founding publisher and editor of MacroBusiness and was the founding publisher and global economy editor of The Diplomat, the Asia Pacific's leading geo-politics and economics portal.

He is also a former gold trader and economic commentator at The Sydney Morning Herald, The Age, the ABC and Business Spectator. He is the co-author of The Great Crash of 2008 with Ross Garnaut and was the editor of the second Garnaut Climate Change Review.
Latest posts by David Llewellyn-Smith (see all)