Several commentators have warned that Australia's long boom in Chinese international students is finally coming to an end, brought about by the US-China trade war, a weakening Chinese economy and yuan, as well as souring relations between Australia and China.
Here's Bloomberg's Michael Heath:
Australia is losing its appeal for Chinese tourists and students as the harmful trade war between the U.S. and Beijing, paired with a slowing economy at home, spooks them into staying put.

The number of visitors from China increased just over 1% in the 12 months through July, matching the weakest rate in nine years, while the growth in students traveling Down Under to attend university has also slowed rapidly. Even a weakening Aussie dollar hasn't managed to halt the downturn.

"We suspect the trade dispute is a large reason for the decline," said Hayden Dimes, an economist at Australia & New Zealand Banking Group Ltd. It "creates uncertainty for both visitors and, in particular, students."
The New Daily's Michael Pascoe has raised similar concerns:
The combination of Chinese demand, reduced Brazilian production and a weaker Australian dollar has delivered a trade bonanza, lifting the GDP growth count and providing windfall tax income for a federal government budget surplus.

But it's the services side of our China trade (tourism and education) that does most for job creation here – and there's been no effective growth in Chinese visitor numbers for two years…

Chinese travel agents, for the first time in years, were not increasing the number of forward hotel bookings they made in Australia in 2019.

"Travel agents in China and analysts also warn that Australian tourism is vulnerable to any moves by Beijing to 'weaponise' its services industry…
These warnings come after China's authorities last month rolled-out a raft of measures to stem capital outflows and protect the yuan from depreciation.
The most recent international student enrolment data from the Department of Education does indeed show that Chinese student growth is fading. Chinese student enrolments increased by just 4.3% in the year to June 2019, versus 15.1% growth in the year prior: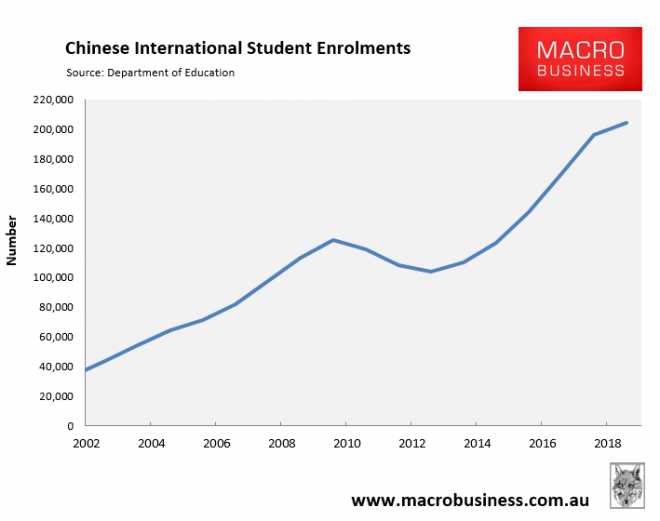 However, there is a bigger story with the crash in Chinese student visa applications, which are a forward indicator for enrolments.
According to the Department of Home Affairs, visa applications granted to Chinese students fell by 3.3% in the second half of 2018 versus the same period in 2017: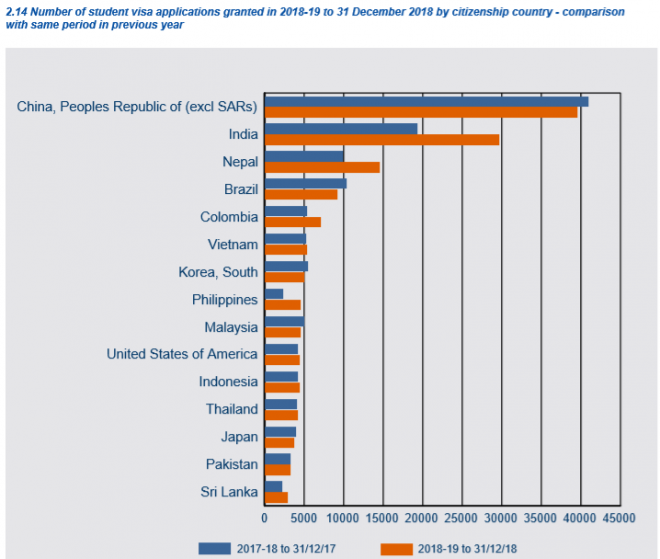 Moreover, the falls continued in the first half of 2019, down a further 3.3% compared with the same period last year: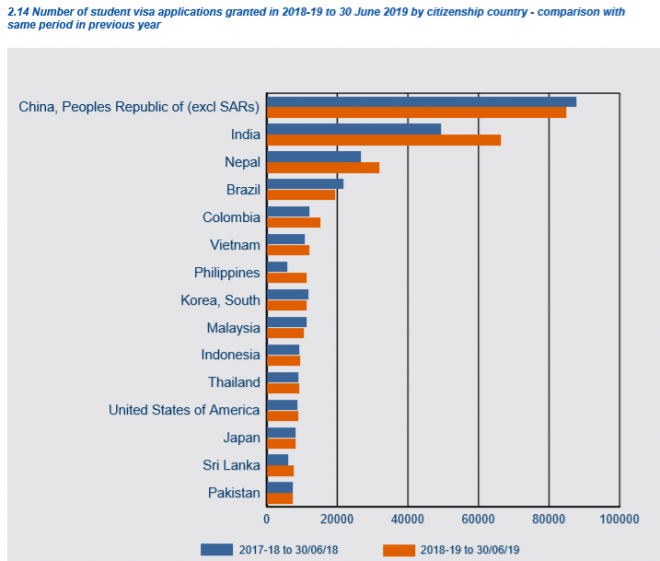 Therefore, the Chinese international student boom looks to be on borrowed time. And any decline will have an acute impact on Australia's universities and economy, given our world-beating over-exposure to China: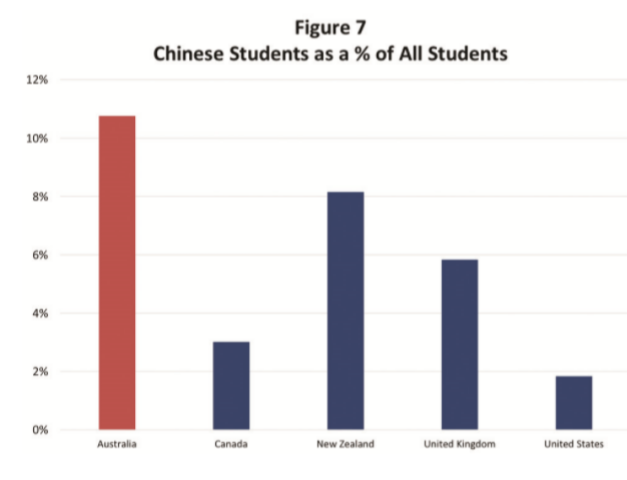 So, why have Chinese student and tourists stopped coming? There has not been any official sanction of Australian travel but there has been plenty of bad press around Australia's response to the trade war and Australia's push back against the CCP sharp power in Australia, not to mention Hong Kong, so that will be playing a role.
There has also been substantial capital account tightening in China, specifically targeting the export of capital for property purchases which will deter tourists to Australia. More recently that has also been extended to students as well.
Australia has also tightened the permanent migrant intake and potential Chinese migrants are facing tougher scrutiny by security agencies.
We also wonder if Australia's relentless debauching of pedagogical standards is playing a role as international students realise an Australian degree is one step short of toilet paper.
None of these about to better and probably all will get worse.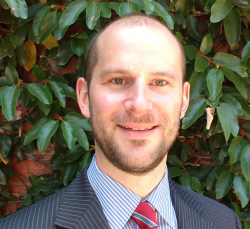 Latest posts by Unconventional Economist
(see all)