New car sales have now declined for 17 months, longer than a 15-month decline that occurred during the global financial crisis (GFC):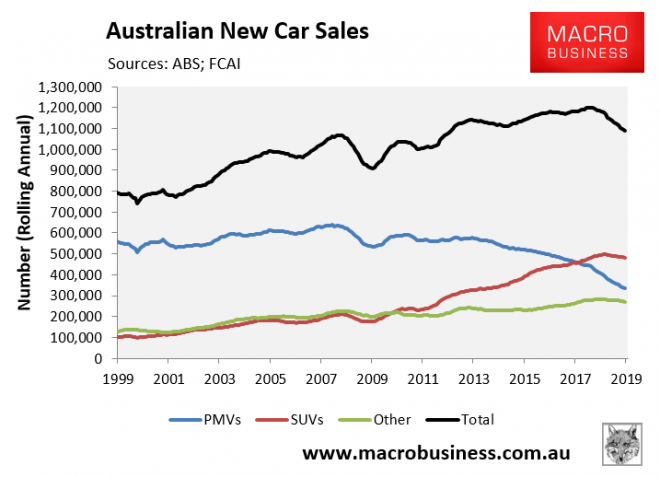 Now, a new report from KordaMentha indicates that car ownership is viewed as 'more optional' than in the past. Cars are not well suited to high-density living in Australia's congested cities while young people are less interested in car ownership or even acquiring a licence. Other factors behind the decline in car sales include the growing popularity of food delivery and car subscription services. From The AFR:
[The fall in new car sales] comes at a time when Australia's population increased by 405,000 in 2018, with about 250,000 of that annual increase stemming from migration, increasing the pool of potential buyers. The population has risen by almost 600,000 since the new vehicle decline began in April 2018.

But a structural shift is happening in the background, adding to the strain on the car industry.

Many younger people who a generation ago would have headed straight to the local car dealer to upgrade their first set of wheels for a better vehicle, are now thinking twice. Some are even delaying obtaining a driver's licence at all…

Restructuring firm KordaMentha says in a new report that societal and technological change are putting extra pressure on the industry and that car ownership is now considered "more optional".

Those changes in consumer behaviour as people look to ride-sharing firms like Uber and Taxify, combined with higher-density living in Australia's congested big cities, mean that the industry could be approaching an "inflection point".
Alongside the above, households are also financially stretched, which is shifting buyers towards used cars, according to John McConnell – chief executive of Australia's biggest car dealership group, Automotive Holdings Group (AHG):
"If we look at our total results in FY19, we saw private buyer retail drop by 5.4 per cent in volume terms. Our used car sales, over a period which was pretty tough, actually went up by 3.6 per cent," he said.

"You're seeing at a consumer level some substitution between buyers that would otherwise have been looking for new cars, into used"…

"It's still tough to get deals done. That's the brutal reality of the market at the moment," he said.
The weakness in new car sales follows similar trends for retail sales, which plunged to their lowest level since the early-1990s recession in real chain volume terms: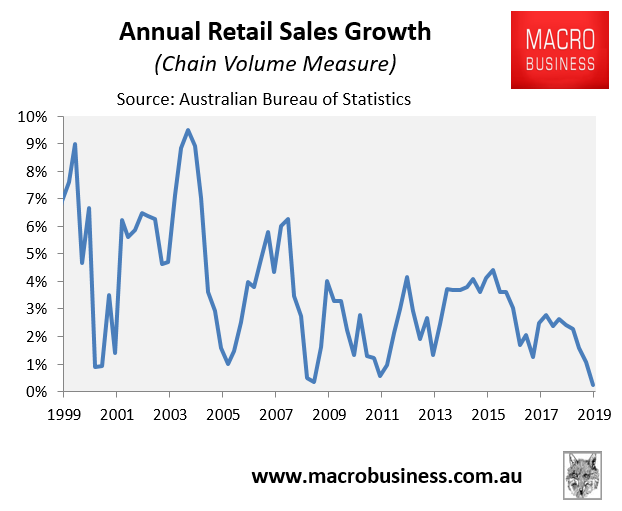 In short, the Australian consumer is sick, which is hammering both car sales and retail.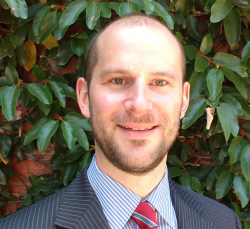 Latest posts by Leith van Onselen
(see all)