Great stuff from George Magnus, former UBS chief global economist and China doyen, in a terrific article by Angus Grigg:
Magnus, who last year published Red Flags; Why Xi's China is in Jeopardy, cites demographics, debt levels and the lack of independent institutions as the key points of Beijing's vulnerability. And he says any faltering of the economy would have a "big impact" on China's military spending at a time when strategists are already raising doubts about its ability to exercise dominance across the region.

…"It's about having the institutional flexibility to foster the productivity growth you rely on after running out of labour and the physical accumulation of capital," he says.

…Magnus names the need for an independent legal system, strong competition policy, regulators with teeth and a creative education system as the drivers for this next phase of productivity growth.

…Beijing's borrowings now exceed 300 per cent of GDP, a red-line that is unlikely to deliver a Lehman-style crisis, according to Magnus, but will take a decade to fix and have a big impact on growth.

Magnus predicts China's inability to digest more credit will push annual growth below 4 per cent in the medium term, forcing some hard fiscal choices on Beijing.

"They can't continue to throw money at problems and still expect to have high growth, full employment and double-digit defence spending," he says.
This is China going ex-growth, as MB has argued is relatively imminent. The corollary is the end of "catch-up" military spending as well.
This is the key repudiation of the Hugh White Doctrine that argues Australia must kow tow itself out of existence based upon Treasury's trend line analysis of forever Chinese growth. According to White, Chinese economic power will be so much larger the America's that the latter will abandon the western Pacific militarily in due course. This, despite the Australian Treasury being unable to forecast its way out of a wet paper bag vis the local economy.
As White distracts us with dangerous clap trap, Magnus is asking the real question that Australia faces: what comes after the slide in Chinese growth?
Alas it is pretty obvious. As the CCP's social contract with repressed Chinese frays, it will turn increasingly hostile to the region to arouse nationalism at home. This is already underway in the South China Sea and sharp power operations in Australia.
So, it is a paradox. As China's relative power trajectory weakens, it will become a lot more threatening.
Thus we are likely to see a lot more of this, via The Australian:
The Newspoll shows 56 per cent of Australian voters believed that if Australia had to prioritise one relationship over the other, it would be the US that was more important. This compared with a quarter of voters believing China should be the priority.

…Newspoll showed 46 per cent of Labor supporters were strongly inclined to see the US remain as Australia's key relationship ahead of China, with Coalition voters overwhelmingly in favour of the US relationship at 70 per cent.
The last of the Lowy Polls showed consistent support for ANZUS: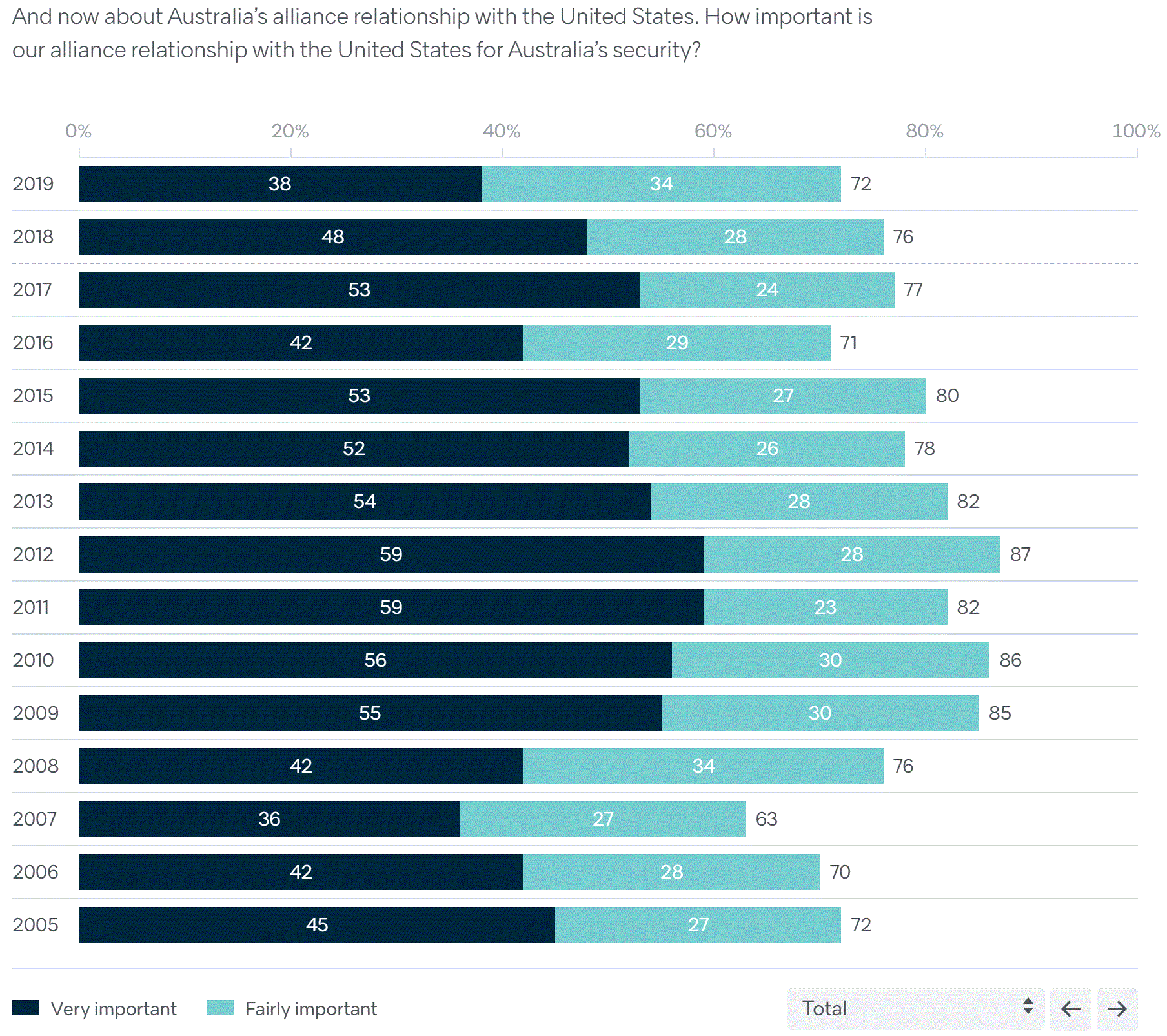 And crashing trust in China: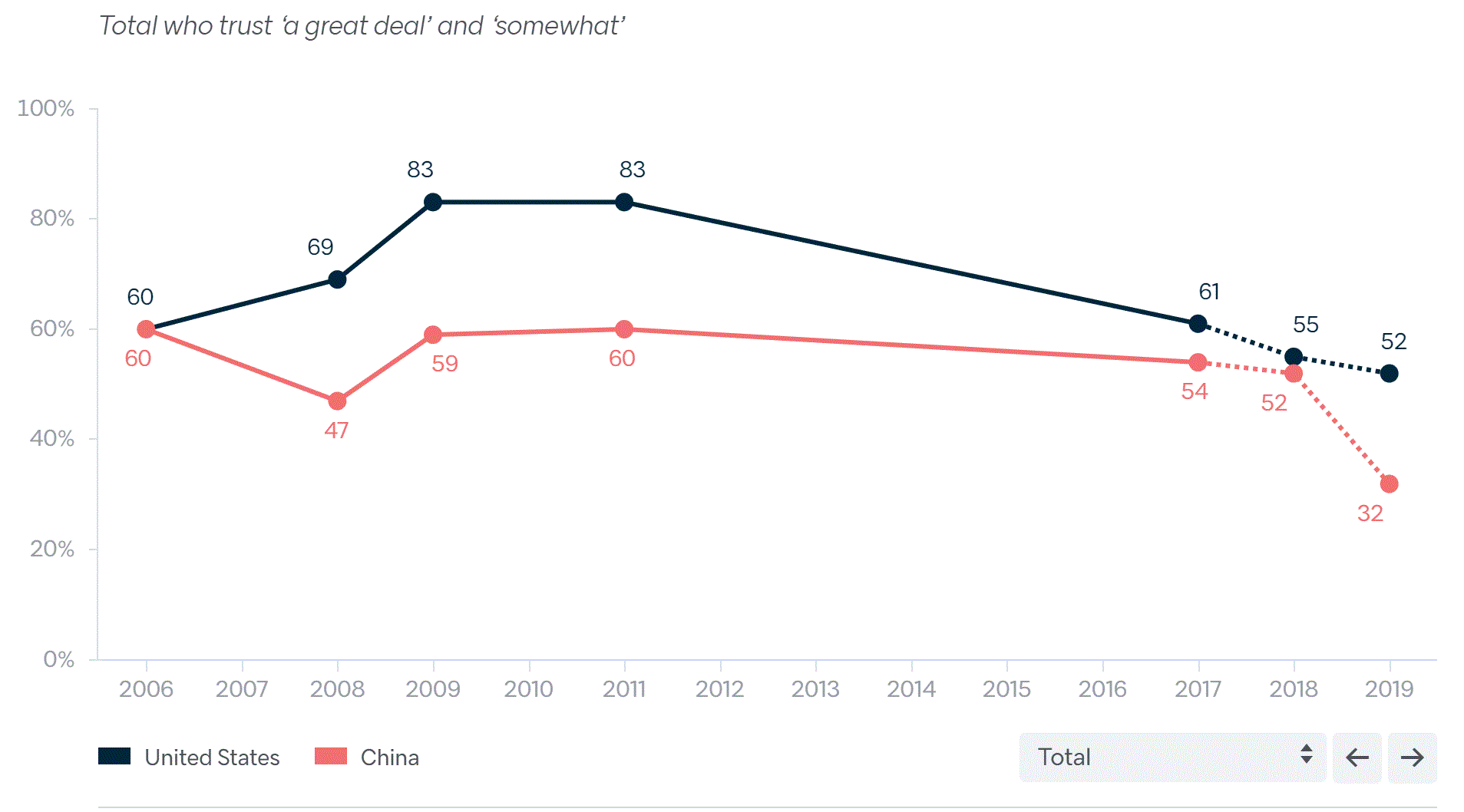 The implications of this are enormous on every front. We'll need economic diversification; we'll have massive deflation, an endless income recession, lower asset prices and a much lower AUD.
The political fallout will also be enormous, especially for Labor, which has no idea what it is doing. Today via its supposed China hawk Richard Marles at the ABC:
Labor deputy leader Richard Marles says Australia's relationship with China is "terrible", accusing Prime Minister Scott Morrison of using "megaphone diplomacy" against the nation's largest trading partner.

"The state of the relationship as it exists between Australia and China right now is terrible," Mr Marles told ABC's Insiders.

"I think there is a sense in which we are falling down their ladder of relevance.

"China is not seeing us in the serious way in which it has seen us in the past."

Mr Marles took aim at Mr Morrison, who last week during a visit to the United States called for the superpower to no longer be considered a developing country and to face tougher trade obligations.

"There are trade tensions brewing between the United States and China, and those tensions are causing enormous anxiety for people in this country," Mr Marles said.

"And in that place (the United States), you know, essentially, wearing his baseball cap, [Morrison] takes pot shots at our largest trading partner.

"The context in which he has engaged in this megaphone diplomacy is absolutely the issue and it's not the way in which this issue should be dealt with in a respectful way."

Space to play or pause, M to mute, left and right arrows to seek, up and down arrows for volume.
The problem is this, via The Australian:
Mr Marles… travelled to China on a sponsored study tour last week with Labor frontbencher Tanya Plibersek and Queensland LNP MP Ted O'Brien…Mr Marles, who met Chinese government officials and advisers during his sponsored travel, said the communist nation no longer viewed Australia in the "serious way in which it has seen us in the past".

…On Sunday, Mr Marles and Ms Plibersek defended a meeting last week with Wang Huiyao — the founder and president of the Centre for China and Globalisation.

Dr Wang last year pulled out of a US panel after his links with the United Front Work Department were raised by a Republican senator.
They never learn.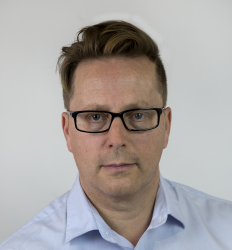 Latest posts by David Llewellyn-Smith
(see all)