Texture via Reuters:
"Steel mills across China are ramping up their steel production as Tangshan sintering cuts kick in. This means firm demand for iron ore in the ferrous complex," said Darren Toh, a data scientist with Singapore-based steel and iron ore analytics firm Tivlon Technologies.

"The rebound in prices recently echoed robust demand in September and October, but it has come to an end now," said Wu Shiping, an analyst at Tianfeng Futures, adding market expects cooling demand in winter.
Meh. More steel into a huge glut, and slowing demand, means crashing prices for both it and iron ore. To the charts: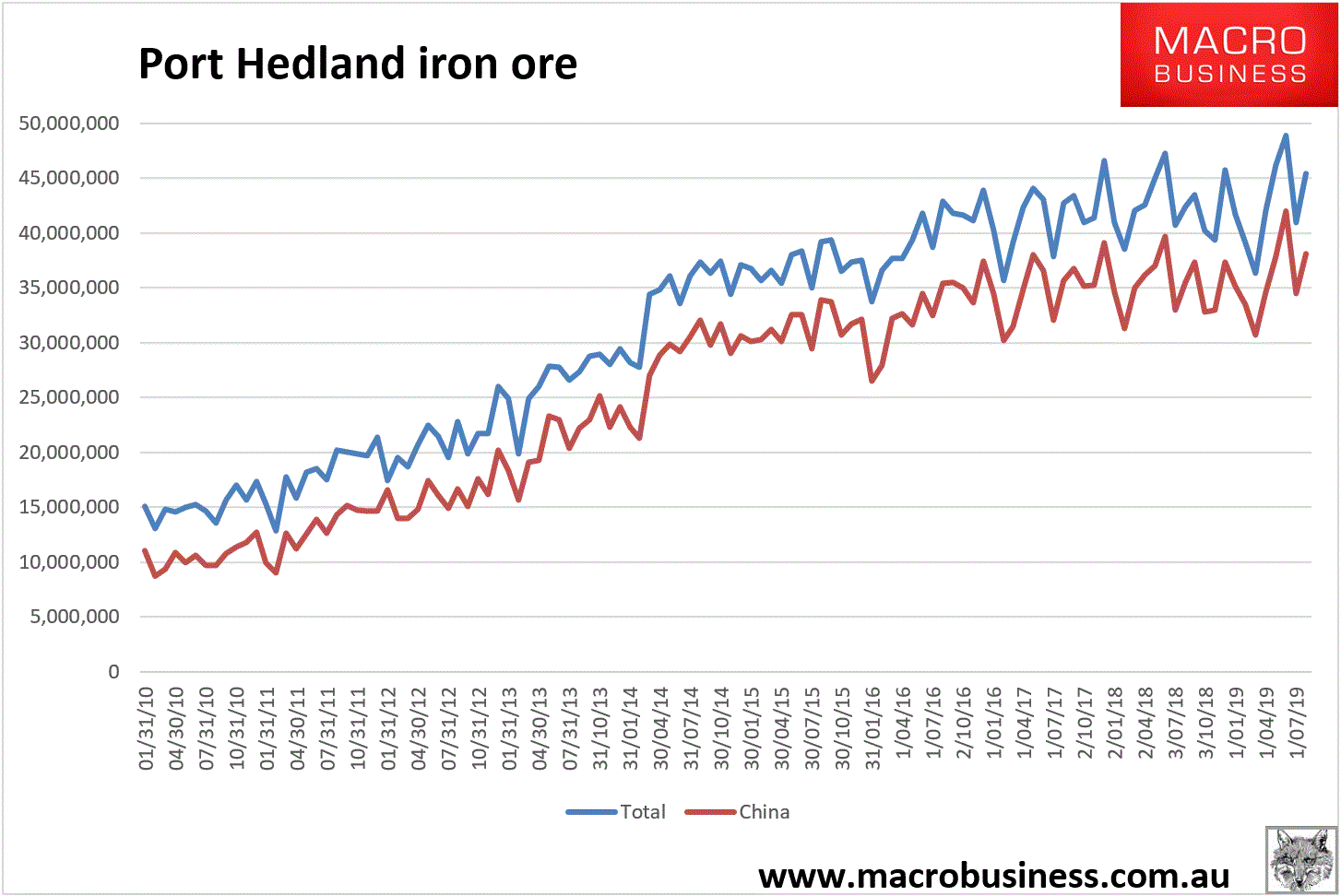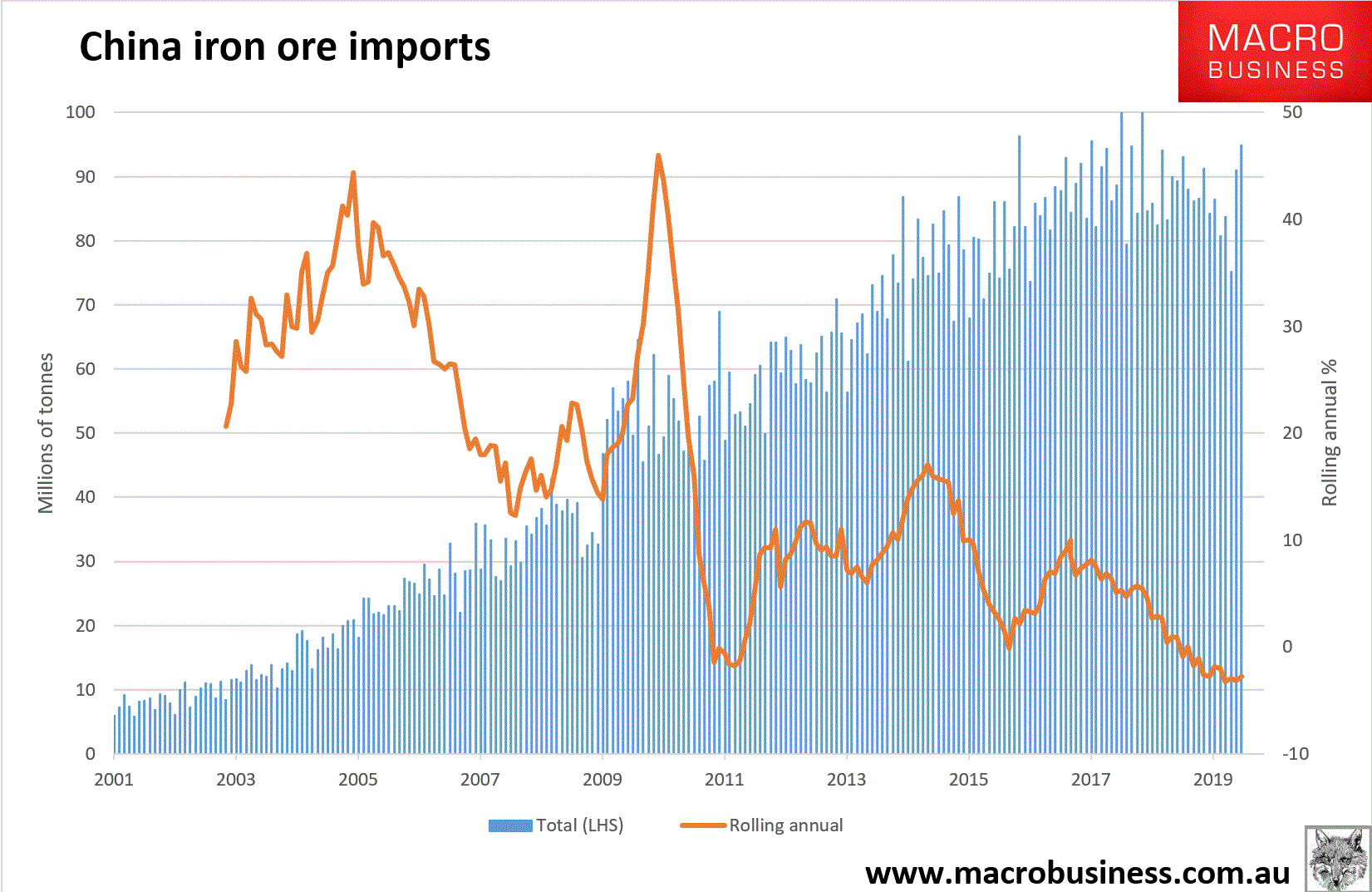 Spot fell, paper more, steel has a long way to fall. Port Hedland puked big ore in August, totaling 45mt. Chin imported 94.85mt in the same month as mills restocked after Brucutu reopened. However, the rolling annual remains around -3%.
Now, get a load of this, at the AFR:
Foreign buyers of Australian coal have deferred shipments over the past two months, adding to evidence of fading demand for several export commodities.

Peabody Energy said its financial performance had "materially" deteriorated since June 30 on the back of "demand-driven deferrals" of coal shipments, slumping coal prices and a slower than expected return to production at Queensland's Middlemount mine after safety incidents.

Peabody told AFR Weekend on Friday that its Australian coking coal and thermal coal exports were among those affected by the "demand-driven deferrals".

The deferrals add to mounting evidence that the resources boom that has fuelled Australia's strong recent trade performance is now in decline.
More at Argus:
Europe continues to creak under oversupply of certain iron ore and coking coal products as summer comes to an end, with redistribution efforts continuing and talk of significant iron ore supply being redirected from Europe to China in the fourth quarter.

Australian hard coking coal exports to Europe fell by 33pc month on month to 1.2mn t in July, and US exports to Europe dropped by about 30pc to 1.4mn t (1.59mn t short tonnes) over the same period, trade data released this week show. Exports of Australian semi-soft coking coal and PCI to Europe came to 188,350t in July, up slightly from 169,962 the previous month.

Australian hard coking coal exports to Turkey fell by more than half to 80,080t in July from 163,938t in June. The US exported 105,301t to Turkey in July, up from zero in June — linked to Turkey's decision to reduce its import tariff on US coal — but down from 318,880t in May.

Sales show little sign of picking up in the near-term, with European market participants returning from a particularly slow summer to continued weakness in the steel market and blast furnace-based mill margins still under significant pressure, despite raw materials prices having fallen from this year's highs — iron ore, in particular.

Yesterday the Argus daily northwest Europe hot-rolled coil (HRC) index stood at €462/t ex-works, compared with the ICX index for 62pc Fe iron ore fines at $91/dry metric tonne cfr Qingdao — a healthier scenario than July but some way off from late November 2018 when the ICX dropped to $65/dmt cfr Qingdao against the northwest Europe HRC index of €535/t ex-works.

On the coking coal side, Europe's situation is seen as worrying but not dire, and contracted tonnes are making it through as scheduled for the most part. Many Atlantic market participants hope Asia-Pacific benchmarks may be bottoming out as fresh deals emerge this week, also anticipating the imminent return of Indian buyers and a potential revival in Chinese bookings next month as mills gear up for the country's annual coal import quota renewal. The Argus daily fob Australia index for premium hard low-volatile coking coal today moved up for a third consecutive day, by 95¢/t to $151.10/t fob — although it is still hovering around a critical threshold for many coking coal producers' profit margins.

Some European steelmakers have been able to take advantage of summer maintenance schedules to make adjustments — extending upgrades at previously earmarked facilities and adjusting coking times in order to trim production volumes without having to take any blast furnaces off line. But this exercise can only be pushed so far and summer is now winding down.

US coking coal producers have managed to stave off as steep a price drop as their Australian counterparts in the past three months, thanks in part to the highly structured nature of their term sales contracts and already-limited availability of most key brands as the seaborne coking coal market began to drop in May-June. The Argus fob Australia index for premium hard low-volatile coking coal has fallen by about $64/t since mid-March, while the fob Hampton Roads low-volatile assessment has come down by $44/t.

But US producers are keen to see some more positive demand signals across the whole seaborne market as 2020 approaches, and some trading firms are slashing offer levels for spot high-volatile coking coal at the moment as they attempt to offload their ascribed monthly supply.

The compression of fob Hampton Roads vs fob Australia price spreads suggests there may be scope for US prices to drop further, some market participants say — albeit this week all eyes are on Hurricane Dorian, wondering how long Hampton Roads port will remain closed and how extensive any disruptions might be.

On the metallurgical coke side, some European mills are still occasionally dipping into merchant metallurgical coke to buy extra cargoes but this activity is sporadic and far outpaced by the supply picture — particularly since mills continue to sell small clips of their own excess coke.

A German trading firm described "huge competition among sellers for whatever [metallurgical coke] business is available" and multiple onlookers are asking how Poland's metallurgical coke plants are faring, given Italy's reduced requirements and ArcelorMittal's decision to delay the idling of its Krakow blast furnace.
Chinese demand is set to slow further. China's weekend RRR cuts will do nothing to turn that around as property joins industry in contraction.
Both iron ore and coking coal are going to fall more in the near term and even further in 2020, barring a turn towards all-in stimulus everywhere.
David Llewellyn-Smith is Chief Strategist at the MB Fund and MB Super. David is the founding publisher and editor of MacroBusiness and was the founding publisher and global economy editor of The Diplomat, the Asia Pacific's leading geo-politics and economics portal.

He is also a former gold trader and economic commentator at The Sydney Morning Herald, The Age, the ABC and Business Spectator. He is the co-author of The Great Crash of 2008 with Ross Garnaut and was the editor of the second Garnaut Climate Change Review.
Latest posts by David Llewellyn-Smith (see all)