Texture from Reuters:
China's biggest steelmaking city of Tangshan will carry out output restrictions on industrial firms for September and early October, to further strengthen improvement of its air quality, state media reported on Tuesday.

More than 30 steel mills in Tangshan have been asked to cut operations throughout the month. From Sept. 1 to 27, sintering operations at mills will be cut between 20% and 50% and blast furnaces by 30%, the state-backed China Metallurgical News cited a notice issued by Tangshan government. A sintering plant uses heat to process iron ore ahead of smelting into steel.

During the second phase of Sept. 28 to Oct. 4, near to the National Day holiday starting Oct. 1, mills will have to limit both their sintering and blast furnace output by 30% to 50%, China Metallurgical News reported.
Not bullish. Charts for September 3, 2019:

A few more charts today on the Chinese reflation, such as it is. Not strong: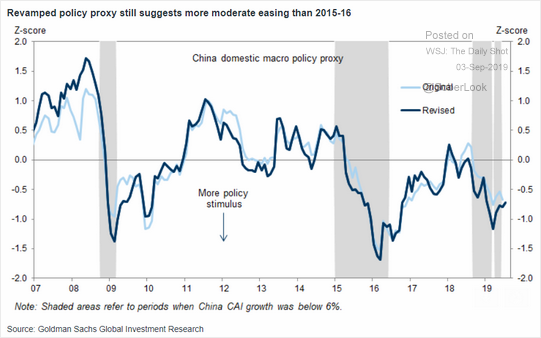 And very focused on the consumer over building: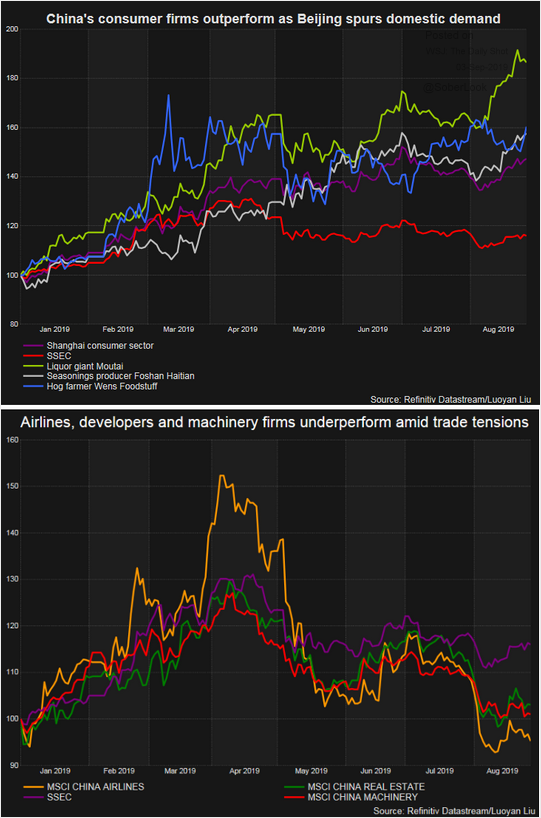 Iron ore supply continues to gush:
Shipments of iron ore from major Australian mining companies rebounded in August following maintenance outages in July, easing supply concerns that had sent prices to five-year highs.

Total exports from Australia-based producers Rio Tinto, BHP, Roy Hill, Atlas and Fortescue rose by 8.8pc to 80mn t in August from 73.5mn t in July, according to port and vessel tracking data.

BHP accounted for the largest month-on-month increase of 2.5mn t to 26.5mn t from July. BHP conducted shiploader maintenance that halted shipments from its Finucane Island A and B berths in early July.

Rio Tinto, Australia's largest iron ore producer, increased shipments by 2mn t to 32.3mn t. Roy Hill shipped 5.6mn t in August, up by 1.7mn t. Fortescue shipments rose by 295,995t to 14.1mn t.

A rebound in Brazilian iron ore shipments has also eased supply concerns, aided by Vale mine restarts after regulators and courts forced the shutdown of more than 90mn t/yr of capacity early in the year. Brazil will release August shipment data later this week.
The BDI is at new highs: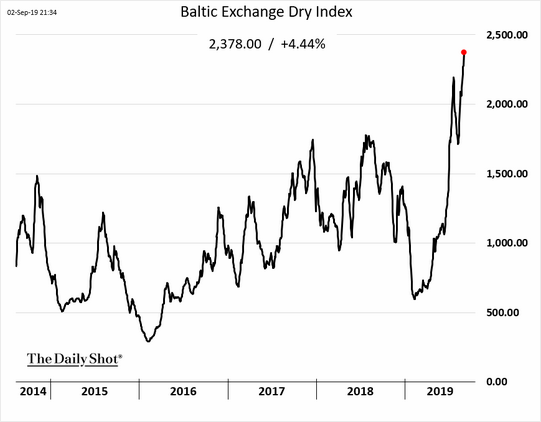 Iron ore has further to fall.
David Llewellyn-Smith is Chief Strategist at the MB Fund and MB Super. David is the founding publisher and editor of MacroBusiness and was the founding publisher and global economy editor of The Diplomat, the Asia Pacific's leading geo-politics and economics portal.

He is also a former gold trader and economic commentator at The Sydney Morning Herald, The Age, the ABC and Business Spectator. He is the co-author of The Great Crash of 2008 with Ross Garnaut and was the editor of the second Garnaut Climate Change Review.
Latest posts by David Llewellyn-Smith (see all)