The RBA has released its commodity price index for August, which dived by 6.5% in SDR (currency weighted) terms – the key determinant of the terms-of-trade – and by 4.2% in Australian dollar terms:
Preliminary estimates for August indicate that the index decreased by 6.5 per cent (on a monthly average basis) in SDR terms, after increasing by 3.1 per cent in July (revised). The non-rural, rural and base metals subindices decreased in the month. In Australian dollar terms, the index decreased by 4.2 per cent in August.

Over the past year, the index has increased by 6.2 per cent in SDR terms, led by higher iron ore, gold and beef & veal prices. The index has increased by 13.1 per cent in Australian dollar terms.
Over the August quarter, the index of commodity prices fell by 2.6% in SDR terms and by 0.7% in Australian dollar terms. But over the year, they rose by 6.2% (SDR terms) and by 13.1% (Australian dollar terms) respectively.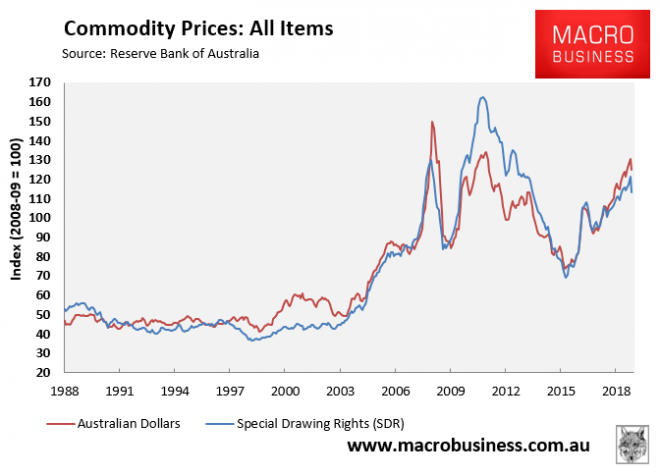 Later this morning we will receive the terms-of-trade (ToT) results for the June quarter, which will feed into tomorrow's GDP. The RBA index of commodity prices rose by 1.6% over the June quarter in SDR terms, suggesting a small rise in the ToT.
However, based on the above result, commodity prices look to have peaked. If true, this will drag down the ToT when the September quarter's national accounts are released in early December.
Leith van Onselen is Chief Economist at the MB Fund and MB Super. Leith has previously worked at the Australian Treasury, Victorian Treasury and Goldman Sachs.
Latest posts by Leith van Onselen (see all)