The thing about terms of trade booms in bulk commodities is that they are highly volatile. While everybody is today reporting on spectacular rises in iron ore and coking coal plus record mining dividends over H1, the arse has well and truly begun to fall out of the boom already in H2.
Australia's terms of trade are roughly 60% iron ore, coking and thermal coal and all three are imploding.
Iron ore is down 15% from its peak: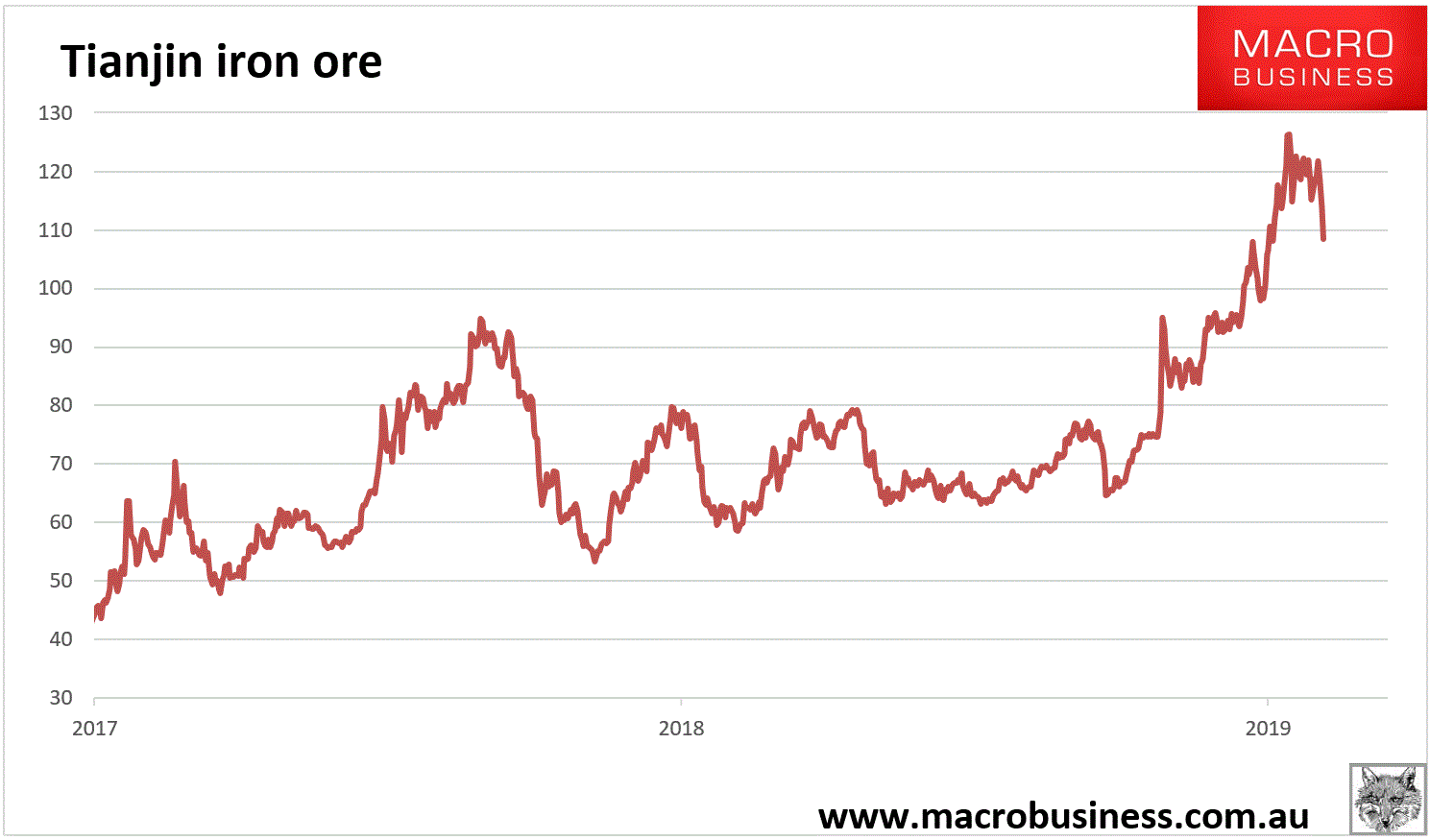 It is on pretty much a straight line dive to $80 before year end. From there I expect it keep falling in 2020 back to a $60 average as Chinese and global growth slow, plus Vale returns more volumes, and lower if it turns global recession, an unsettling high prospect.
Coking coal is tracking iron ore, now down roughly 22% from its persistent peak: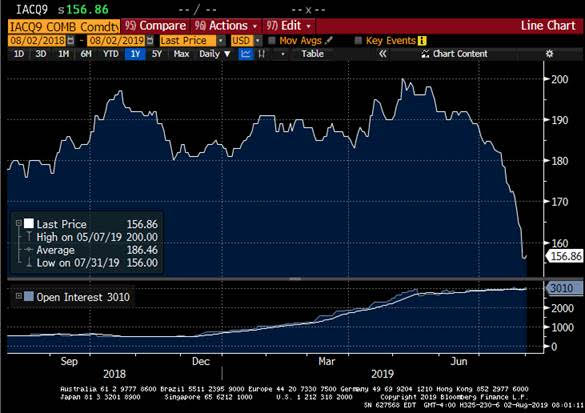 I expect it to keep falling as well, right back to $120 before year end and, if the global recession transpires, then well below $100.
The third member of team swoon is thermal coal. It is down 40% from its 2019 high: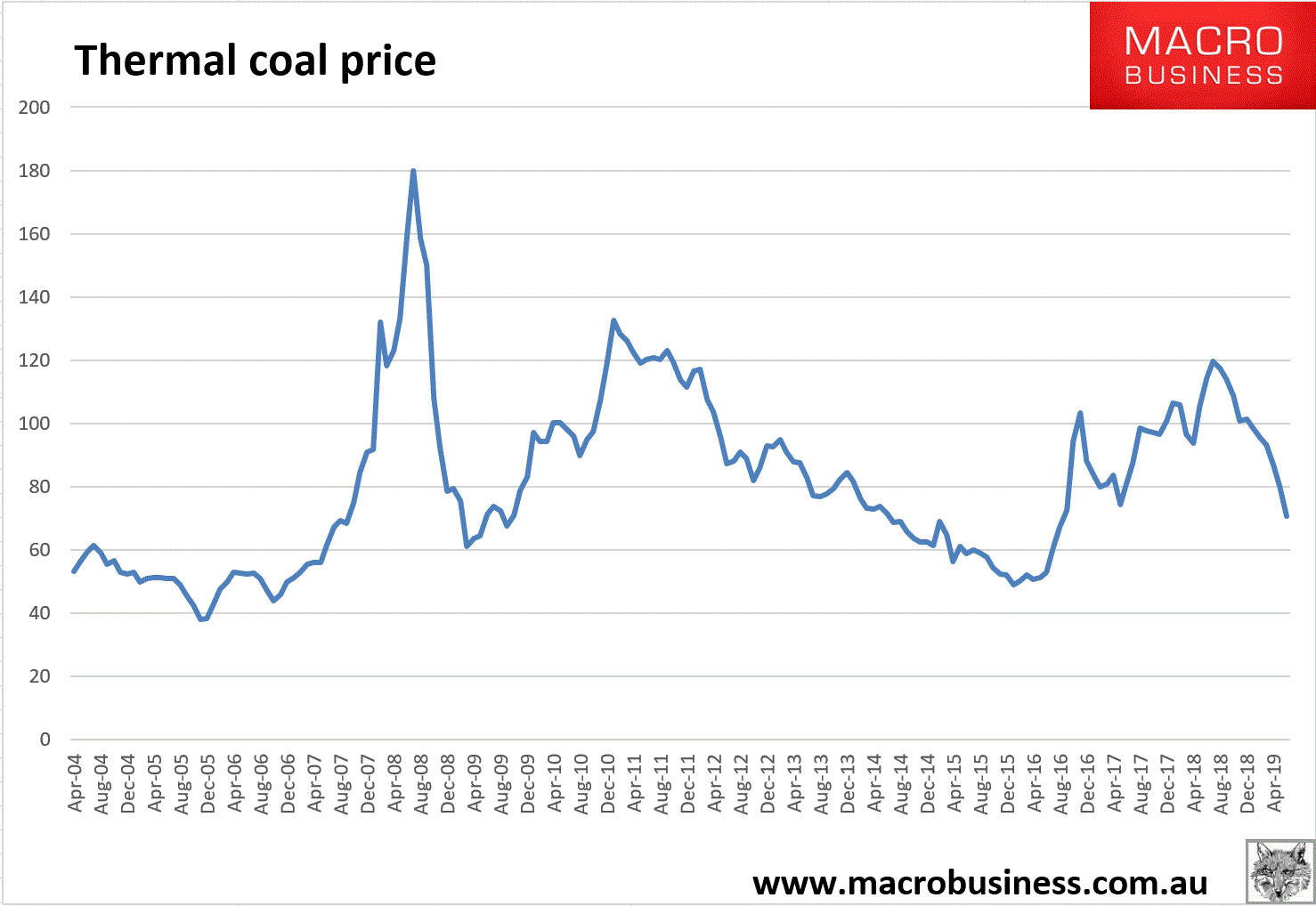 In short, Mining Boom 3.0 is going bust and Australia's third terms of trade boom in a decade is unwinding. If iron ore crashes to $60, coking coal to $120 and thermal coal to $60 by mid next year then the terms of trade are going to look like this: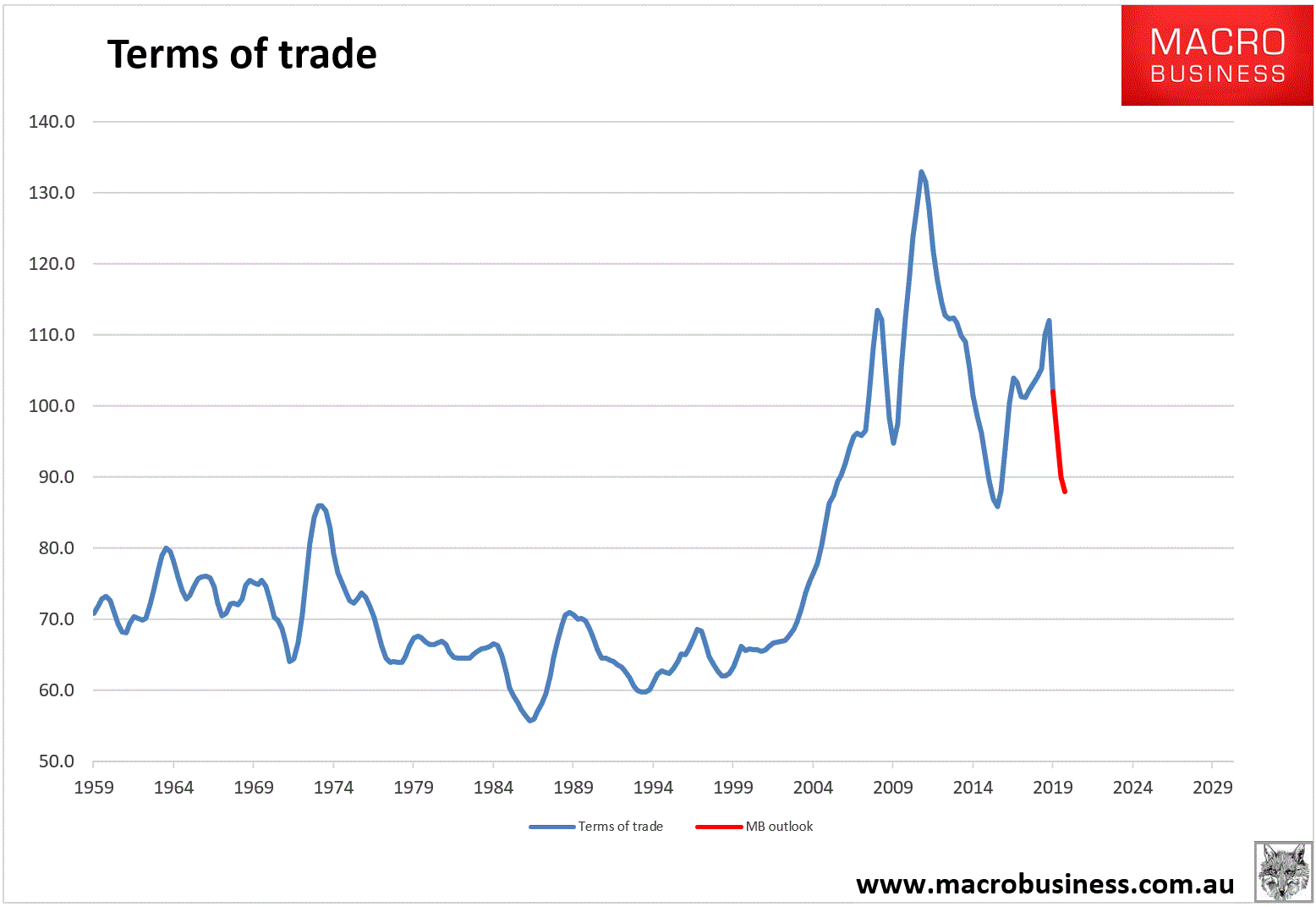 Any technical analyst looking at the chart will also see a head and shoulders topping pattern of deeply disturbing proportions. But let that pass!
What matters is that this is a GFC scale income shock in the making. And, to be honest, it doesn't even require global and Chinese growth to fall off a cliff. The vast majority of the adjustment is simply the end of serendipitous coking coal and iron ore supply squeezes.
The economic implications of this are bad though not quite so severe as previous ToT corrections in and of themselves. This price boom was quite limited in the scope of its economic benefits. It delivered some share market windfalls which will crater, the odd job in the Pilbara which will reverse, but it was mostly soaked up in massively accelerated Budget repair federally, as well as in WA and QLD.
Thus the biggest economic blow will be public austerity as the "rivers of gold" dry up. The ScoMo Government (along with states) has been pumping public consumption and investment like mad, but the commodity boom has also enabled them to repair balance sheets at the same time: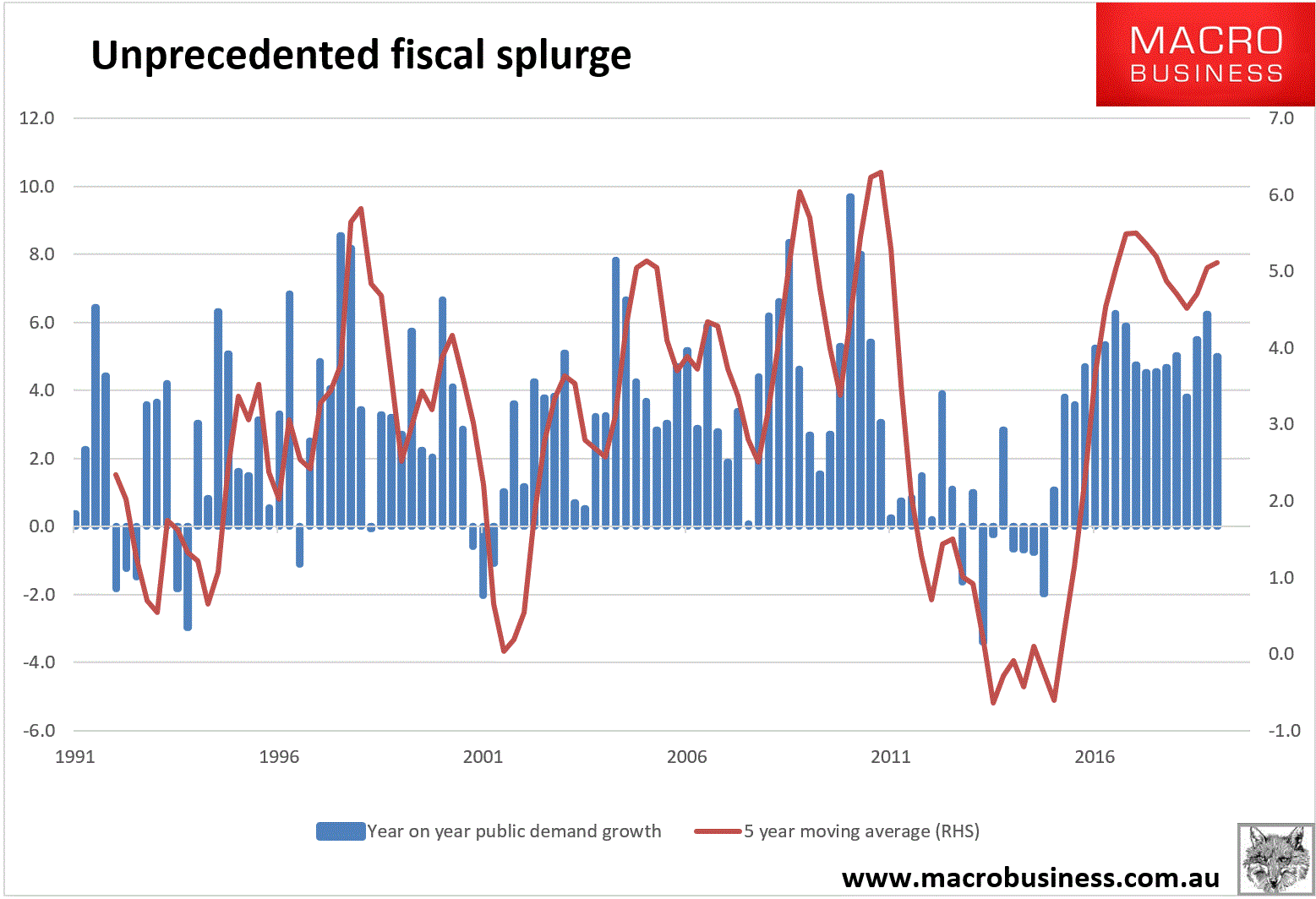 Simultaneous fiscal stimulus and deficit reduction has been made possible by the terms of trade boom, which has so flooded Budgets with resources revenue that it overwhelmed weakening broader private sector tax receipts as the housing bust killed private sector growth.
This is so much the case that public spending has added nearly all of Australia's GDP and jobs growth over the past year or more.
Well, no longer. Austerity is coming to Josh Recessionberg's Budget and that of WA and QLD. It is already underway in NSW and VIC thanks to the stamp duty bust.
In short, Australia is in no position to weather an external shock of this magnitude. It will smash into an economy already operating at stall speed and hanging on only by a fiscal thread that is about to snap. As unemployment rises, the great danger is that house prices roll over into a 2020 double dip just as the RBA runs out of ammunition.
If so, Australia's extraordinary and illusory run of 30 years without a recession will come to a bowel-loosening end.
Latest posts by David Llewellyn-Smith (see all)