Some amusing stuff today on US/China trade talks. They're going nowhere, via Reuters:
U.S. and Chinese negotiators wrapped up a round of trade talks on Wednesday without visible signs of progress and put off their next meeting until September, extending an uneasy truce between the world's two largest economies for at least a month.

…The White House and China's Commerce Ministry each described the meetings in Shanghai as constructive but offered differing views about Chinese purchases of U.S. agricultural goods.

U.S. Trade Representative Robert Lighthizer and Treasury Secretary Steven Mnuchin left Shanghai with little in hand save a pledge to keep talking, following a working dinner at Shanghai's historic Fairmont Peace Hotel on Tuesday and a half-day meeting on Wednesday.

…China's Commerce Ministry said "both sides … had a candid, highly effective, constructive and deep exchange on major trade and economic issues of mutual interest." It said negotiators discussed more Chinese purchases of U.S. agricultural products, but did not say there was any agreement to buy more.

"We expect negotiations on an enforceable trade deal to continue in Washington … in early September," White House spokeswoman Stephanie Grisham said in a statement. "The Chinese side confirmed their commitment to increase purchases of United States agricultural exports."
Whenever you see the word "candid" used to describe a diplomatic exchange you know they were at each other's throats.
Meanwhile, the Politburo met, via the AFR:
China's leaders have ruled out using the property market to stimulate the slowing economy, but are expected to introduce policies encouraging consumption in automobiles, telecommunications and aged care as they struggle to negotiate a trade war truce with Donald Trump

China's Politburo, the Communist Party's top-decision making body, also warned that downward pressure on the world's second-largest economy was increasing as it seeks to maintain stability as Mr Trump's trade tariffs start hitting exports.

…"It is unusual for the Politburo conference to make a specific deployment on boosting domestic demand," Liu Xuezhi, an economist at China's Bank of Communications said.ANZ economists said Beijing's policy stance was similar to the first quarter, but signalled that future policies would support reforms rather than be aimed at boosting growth rates.
There is no need to stimulate property because they already have. Prices are booming: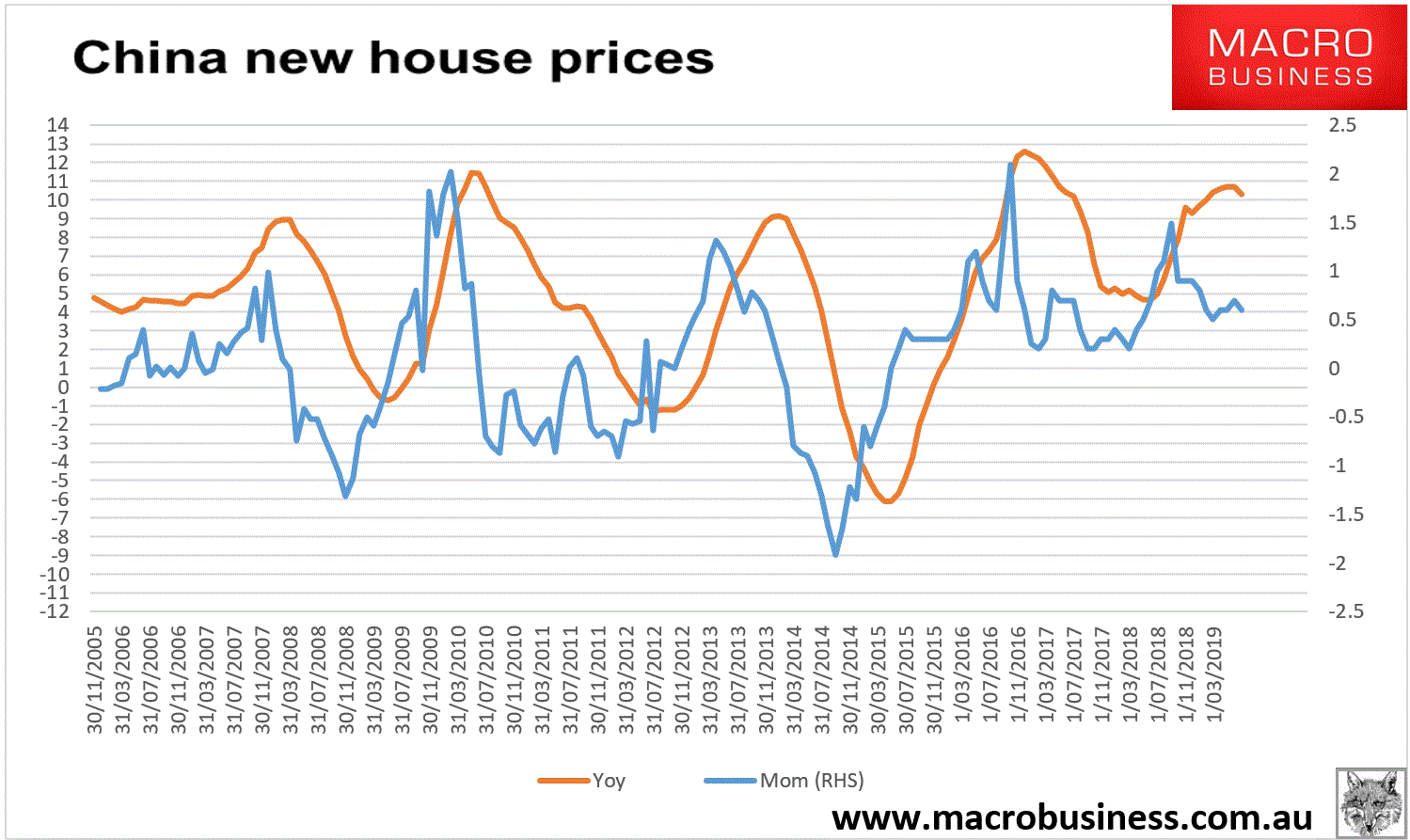 Starts are at all time records: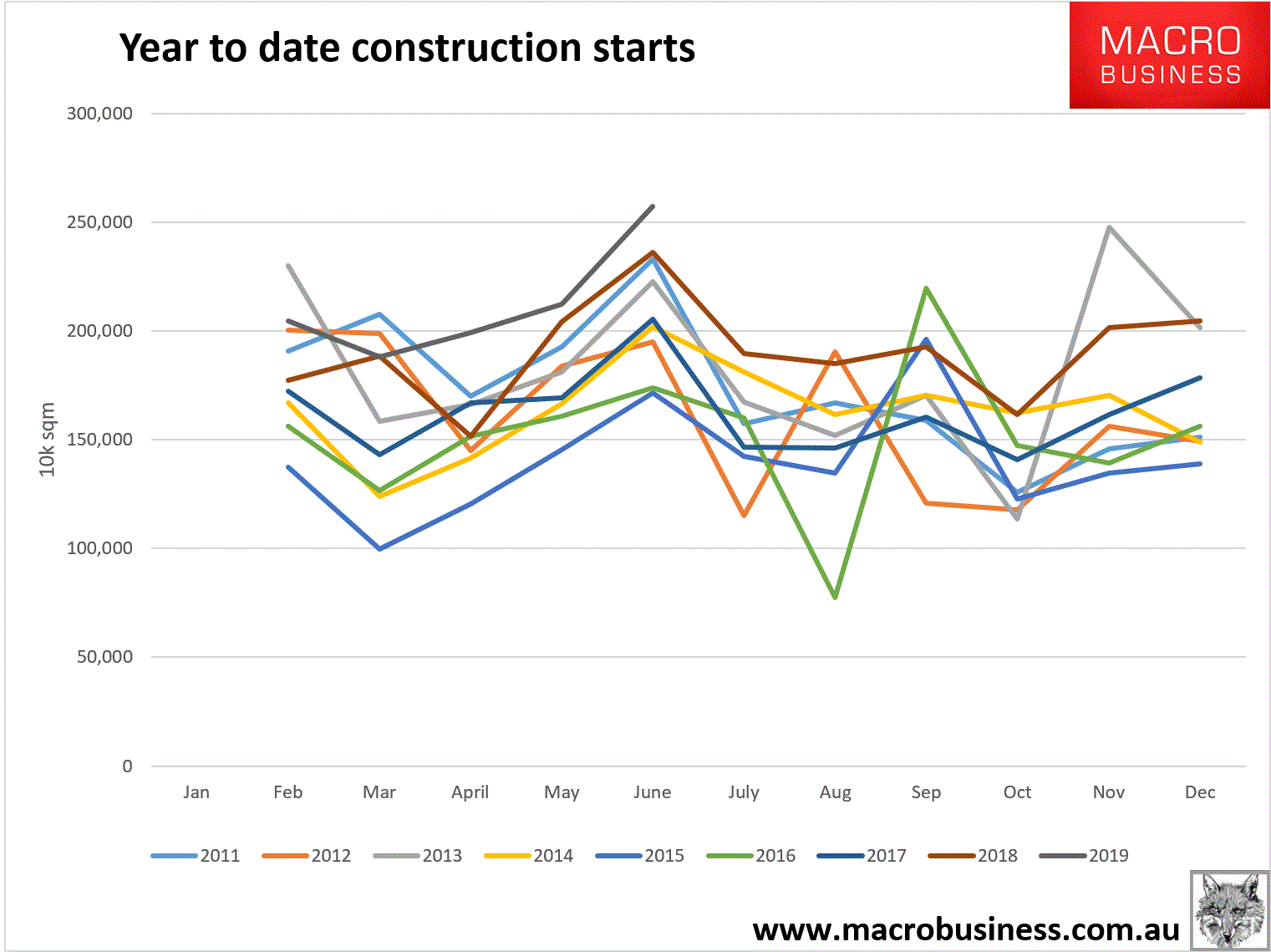 Floor area under construction is double what it was when China said it was unbalanced in 2011: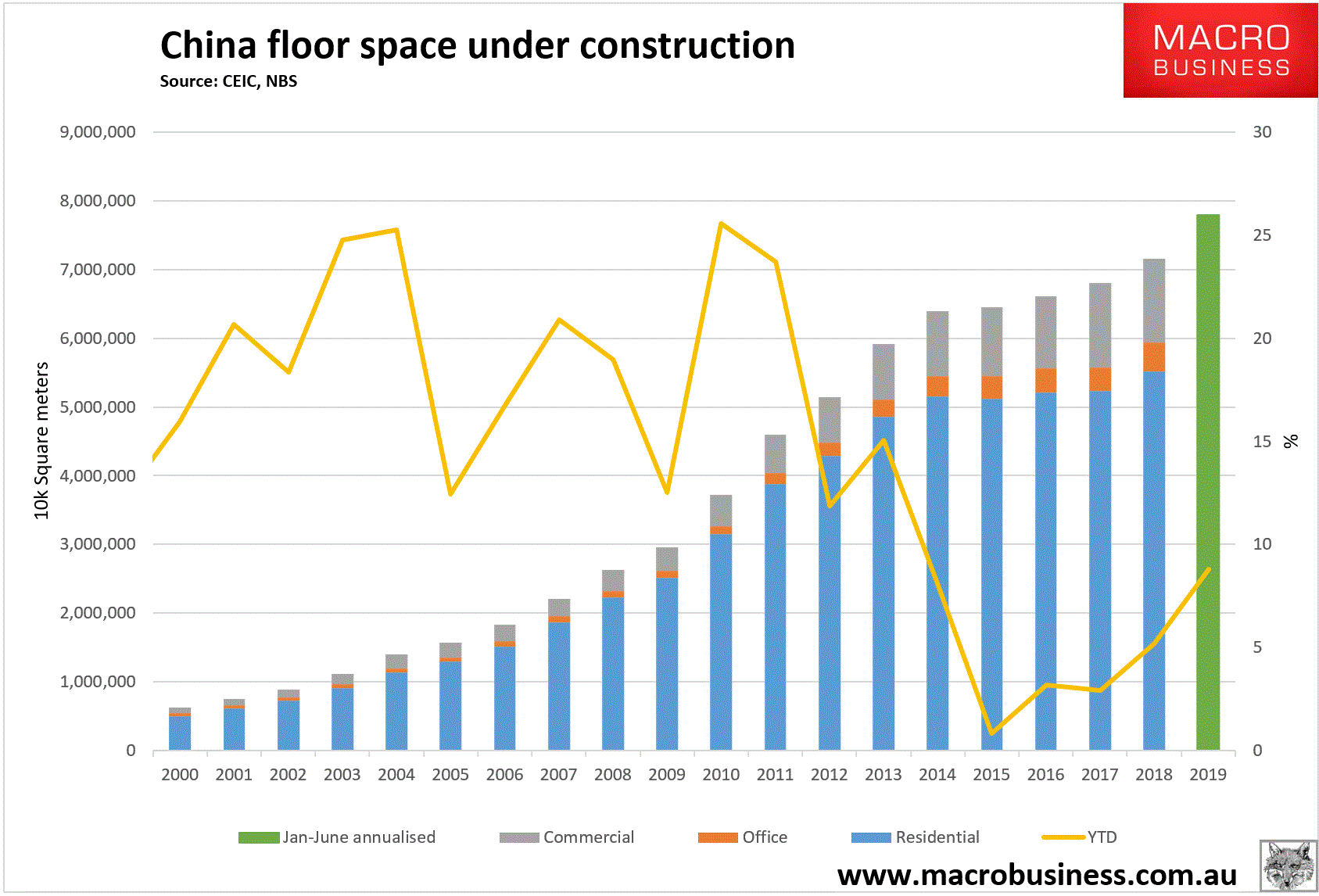 That said, the leading indicators are bad with developer land purchases down 27% year on year. So, if the Politburo is true to its word then expect the Chinese economy to collapse forthwith.
In short, empty apartments is all that they have and they had better keep building 'em!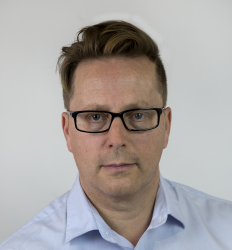 Latest posts by David Llewellyn-Smith
(see all)