Earlier this month, the Federal Chamber of Automotive Industries reported that annual new car sale had hit the lowest level since November 2012: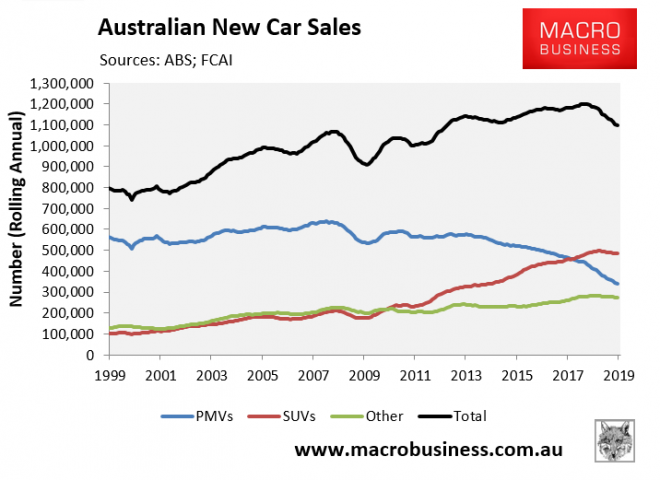 Today, The AFR blames part of this decline on tightening automotive credit:
In a post-royal commission world, where the banks are struggling to come to grips with what "responsible" lending really means, every dollar of income and every expense can be tested and prodded…

Much has rightly been made of the wider economic impact from the tightening of standards in home lending…

But as the Australian Securities and Investments Commission prepared to hold its first public hearing on responsible lending on Tuesday in Sydney, the automotive industry would argue that the credit crunch in car lending is in some ways more spectacular.

Some struggling car dealers are grumbling that the brake pedal has been pressed so hard by the banks that loan application rejection rates are running as high as 50 per cent…

Industry sources say the days of getting instant loan approvals for car loans are over, with the average application taking between 24 and 48 hours to process, depending on the level of supplementary information the lender might ask for…
However, CommSec reports that for the first time in two years, rolling annual luxury vehicle sales rose in July, coinciding with a lift in home prices:

This suggests that declining wealth via the housing bust was behind part of the decline in car sales.
As we already know, the weakness in new car sales follows similar trends for retail sales, which have plunged to their lowest level since the early-1990s recession in real chain volume terms: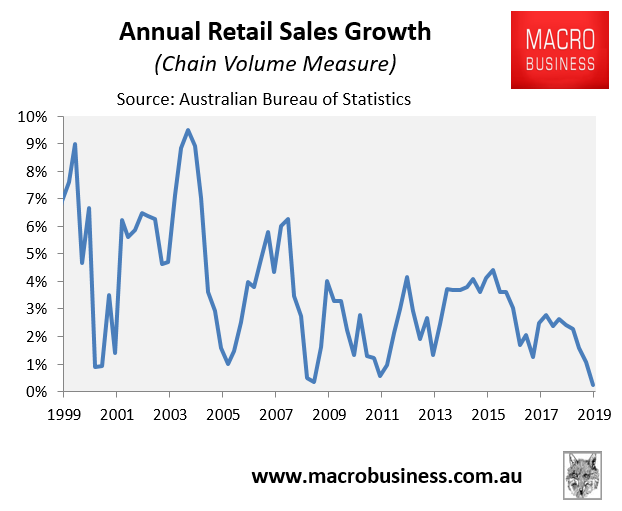 Thus, rather than being a credit issue, it's probably more a case of the Australian consumer being caught between anaemic wage growth, job insecurity, record debt, and falling wealth, with the latter stabilising alongside the budding rebound in property prices.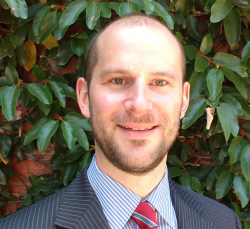 Latest posts by Leith van Onselen
(see all)