The Federal Chamber of Automotive Industries (FCAI) has released its new car sales figures for July, which revealed a 2.8% year-on-year decline in overall car sales, with annual sales hitting the lowest level since November 2012: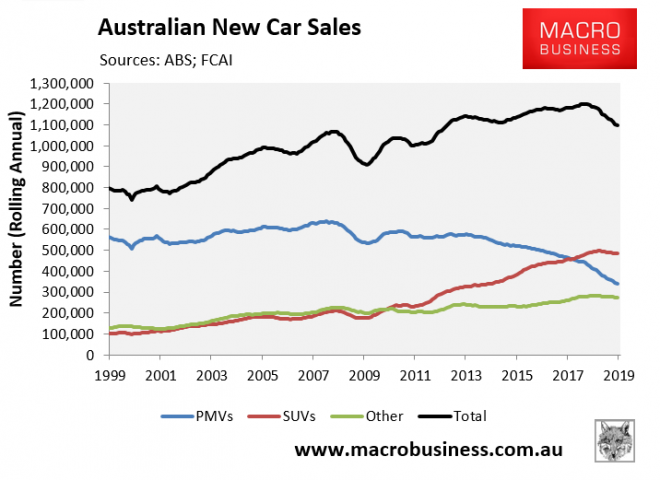 According to the media release:
Sales of new vehicles in Australia fell for the 16th successive month in July, relative to the same month in the preceding year…

This takes the running annual tally to 637,750 units, 7.7 per cent below where the market sat at this point in 2018. The cumulative total is the lowest it has been in seven years, given the YTD tally at the end of July 2012 read 634,495 units…

As the FCAI summed up, the present market situation is bad news for car brands and their franchisee dealers, but good news for prospective car buyers.

"The consumer… is spoiled for choice with attractive new car offers as automotive brands provide excellent deals to stimulate sales growth," said CEO Tony Weber.
The weakness in new car sales follows similar trends for retail sales, which plunged to their lowest level since the early-1990s recession in real chain volume terms: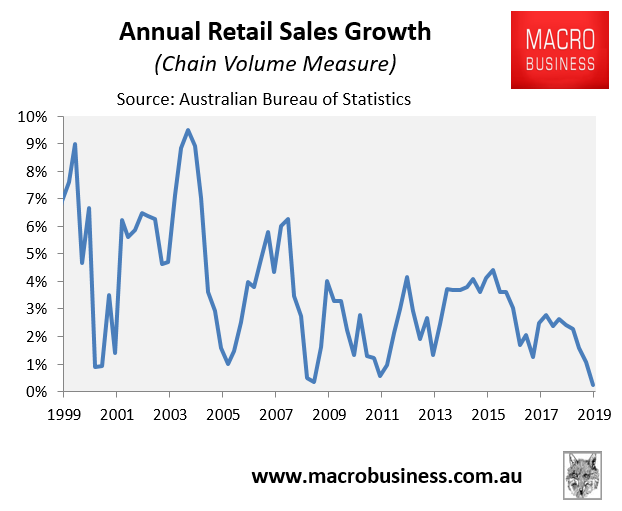 When viewed together, it is obvious that the Australian consumer is sick – caught between anaemic wage growth, job insecurity, and record debt.
Latest posts by Leith van Onselen (see all)