MB has frequently questioned the efficacy of Australia's private health insurance system and whether it should receive taxpayer subsidies.
Today, The ABC has published a report on the patient cost of cancer, which reveals that those holding private health insurance cover are charged double the fee of those without:
A surprising finding was that those with private health insurance faced double the out-of-pocket expenses as those without it, and ultimately a greater financial impact.

Privately insured patients may be charged not only the private health insurance excess and the gap between coverage and a surgeon's bill, but also costs associated with anaesthetic, diagnostic procedures or hospital stays.

Many of these costs are covered by Medicare when a patient is treated in the public system."
Little wonder, then, that Australians are exiting private health insurance en masse.
Premiums continue to rise every year, which comes at a direct cost to the federal budget of some $9 billion. Whereas the list of policy exclusions has also surged, alongside exorbitant out-of-pocket expenses: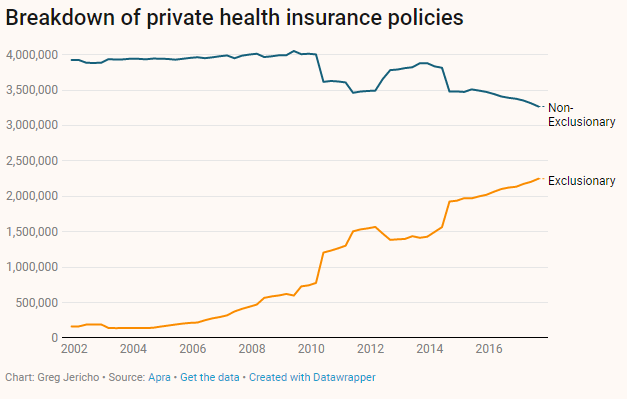 Consumers are rightfully viewing private health insurance as poor value for money.
Moreover, there is no evidence that private health insurance buys patients extra quality and safety, with the Productivity Commission (PC) finding that the larger, most comparable public and private hospitals had similar adjusted premature death ratios. Further, the PC found that the team-based care in large public hospitals also leads itself to better coordination of care.
Australia needs a national debate about the efficacy of the private health insurance system and whether we should shift towards a single national insurer.
Leith van Onselen is Chief Economist at the MB Fund and MB Super. Leith has previously worked at the Australian Treasury, Victorian Treasury and Goldman Sachs.
Latest posts by Leith van Onselen (see all)