Last week we reported that the NSW Government had belatedly appointed a dedicated building commissioner to return integrity to the construction industry amid the proliferation of flammable cladding and structural faults across the apartment market. This commissioner is slated to "drive legislative reforms of the industry" and would be there to convince developers to "do the job properly".
As I noted last week, this appointment of a dedicated building commissioner amounts to shutting the gate long after the horse has already bolted, given the explosion of high-rise apartment construction over the past decade, which has seen an unprecedented 200,000 high-rise apartments approved: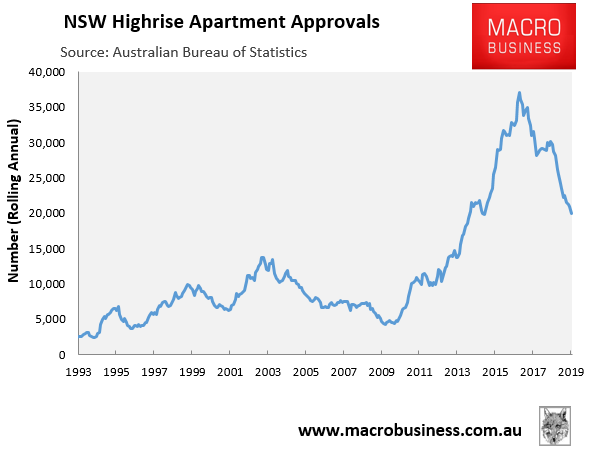 To make matters worse, the NSW Government also passed laws 10 month ago, which it claimed would "clean up" the residential construction industry and "give confidence to the community and home buyers", but has failed to implement them:
In October, the NSW Parliament passed the Building and Development Certifiers Bill. The bill provided new powers for state agencies to monitor the behaviour of participants in the building industry, and cancel the registration of private certifiers offending conduct provisions.

It also included provisions to ensure certifiers who inspect construction sites and issue development certificates confirming legal requirements have been met, do not have conflicts of interests.

"We're closing a number of loopholes that shonks were taking advantage of, under the old legislation, and making it harder for them to rort the system," Matt Kean, the former minister responsible for building regulation, said in October last year.

"We want to reinstall public faith in the work of certifiers because they have a very important job, and that's exactly why we're cracking down on the industry," Mr Kean said.

But the changes to be introduced by the legislation touted by Mr Kean have not yet been introduced. They will only come into effect when the government proclaims them as such – an administrative step that it has not taken.
Clearly, the NSW Government has sought to appease residents' concerns by given the appearance of taking action, rather than actually doing so. It has chosen spin over substance.
The NSW Government is too late the hero and should never have allowed this situation to develop in the first place.
The cost of rectifying faults will be massive and will likely fall on both apartment owners and taxpayers alike, with most developers getting away scot-free.
Latest posts by Leith van Onselen (see all)