After undergoing an unprecedented boom in high-rise apartment construction over the past decade: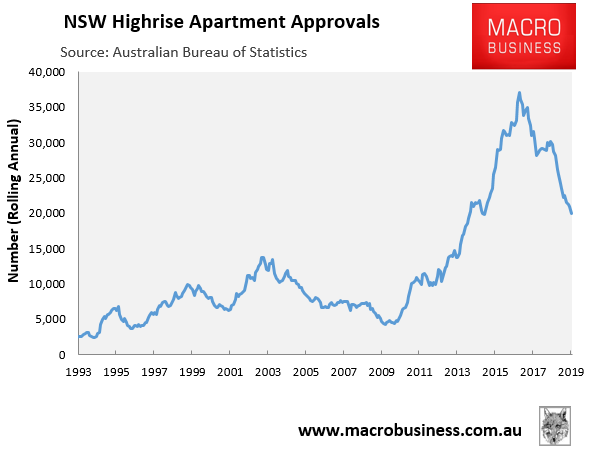 And with flammable cladding and structural faults proliferating, the NSW Government has finally taken action by appointing a dedicated building commissioner:
NSW Premier Gladys Berejiklian has appointed a building industry expert who is a professor at Western Sydney University, David Chandler as her new building commissioner to deal with the apartments mess.
"The commissioner will drive legislative reforms of the industry," a statement says…

Mr Chandler said his role would be a "leadership role" and he would have to convince developers to "do the job properly."

"What we need to do is get onto the frontline and remind people what their obligations are.

"We're going to have to turn it around … we are custodians of the public realm.

"People walk down the street and expect things not to fall on their head. I think people have forgotten that."

A statement from the government said "the building commissioner will be responsible for the investigation and disciplinary action for misconduct in the industry while overseeing the need to end licensing and auditing across the building industry."
"Convince"? What about policing the Building Code?
This appointment amounts to shutting the gate long after the horse has already bolted.
Going by the ABS' approvals data, around 200,000 high-rise apartments were built across NSW over the past decade, many of which likely contain significant faults.
The cost of rectification will be massive and will likely fall on both apartment owners and taxpayers alike, with most developers getting away scot-free.
The NSW Government is too late the hero and should never have allowed this situation to develop in the first place.
Latest posts by Leith van Onselen (see all)