Yesterday the MSM finally tore the scab off the international students wound MB has been picking at for years. The driver was a CIS report that made plain what MB readers have long known, that Aussie uni's have whored themselves horribly to Chinese international students, via The Australian:
Universities are "taking massive fin­ancial risks" through over­exposure to the Chinese student market that will prove costly if China has a financial crisis, a University of Sydney academic says.

In a paper for the Centre for Independent Studies, China scholar Salvatore Babones also accused universities of compromising Eng­lish language standards to boost international student enrolments. He said seven top universities — Melbourne, ANU, Sydney, UNSW, UTS, Adelaide and Queensland — relied heavily on international students for revenue and revenue growth and seemed to have "extraordinary levels of exposure to the Chinese market".

The most China-reliant is the University of Sydney, which earned more than $500 million in Chinese student tuition fees in 2017, 23 per cent of its revenue, the report estimated. Others with high China exposure include UNSW (22 per cent of revenue) and UTS (19 per cent). "They should act now to mitigate the risk of a sudden revenue collapse by raising admissions standards and reducing international student enrolments," said the report.
More at Crikey with Bernard Keane:
Australia is, per capita, easily the world leader in educating foreign students: our number of foreign students per capita is more than twice that of the second-highest country, the UK. International students make up more than 25% of all enrolments at Australian universities, but ten universities, including most of the major institutions, have between 35-40% of enrolments from overseas. They are particularly dependent on Chinese students — at more than 10% of all enrolments, Chinese students form a much higher level of enrolments here than anywhere else. The specific location of our addiction is business schools, where at five major universities more than 40% — and in two cases closer to 70% — of enrolments are of foreign students.

Babones demonstrates how, to facilitate this, major institutions not merely waive basic English language requirements but actually turn the lack of English language skills on the part of foreign students into a money-making opportunity. They charge tens of thousands of dollars for enrolment in English language courses offered by university-linked, private providers that mean students are never required to meet enrolment standards. They have also lowered their academic standards: the University of Sydney accepts Chinese students with low Chinese domestic examination scores, using the same scores at middling regional universities elsewhere.

…The risks identified by Babones are only one sub-set of the problems created by our dependence on foreign students. The nearly-five hundred thousand foreign students currently in Australia provide a rich resource for employers to exploit, with wage theft and other forms of exploitation rampant among industries that rely on visa holders, such as hospitality and retail. This in turn provides downward pressure on wages for others workers, adding to wage stagnation, and harms the image of Australia in the eyes of exploited students and their families.

The growth in foreign student numbers also makes a mockery of government claims that it is reducing permanent migration to reduce pressure on infrastructure in Sydney and Melbourne: instead, the rapid rise in student numbers has added to congestion on key transport routes and put further pressure on urban housing markets. The presence of large numbers of Chinese students, and the thirst of universities for foreign funding, has also provided a mechanism for the Chinese regime to exert its malignant influence in Australia, both directly via Confucius Institutes and other platforms for propaganda and academic intimidation, and via intimidation and surveillance of Chinese students in Australia — especially those tempted to take advantage of university traditions like free speech and protest.
The Scummo Government pretended to react, as usual, at the AFR:
Education department officials as well as national security and cybersecurity experts will meet university representatives on Wednesday to thrash out guidelines governing collaborative research, amid government concerns over growing Chinese encroachment.

Senior sources said the government was especially concerned with collaboration in such areas as artificial intelligence, quantum physics and some engineering disciplines.

In addition, the government worries that the access China has secured to the sector may have enabled the massive data breach at the Australian National University in late 2018, and only discovered in June, which resulted in two decades of student and staff date being accessed.
But the universities, and in particular their million dollar club vice-chancellors, immediately stroked the Chinese moneystream, at Domian:
Universities Australia chair Deborah Terry, the vice-chancellor of Curtin University, said the growth in international student enrolments had allowed universities to "enhance the very high quality of education for both international and Australian students".

Professor Terry said international students were funding their own education and made an "invaluable contribution" to universities, the community and the nation's economy.

"Universities give constant and careful attention to future trends in student recruitment, and nurture diversity within and across regions, as part of their business planning," Professor Terry said, seeking to address concerns about the concentration of students from China.

…Education Minister Dan Tehan has called on universities to implement protections for students' free speech in response to the concerns. He has "strongly" urged them to adopt a code of conduct proposed by former High Court chief justice Robert French.

Universities Australia chief executive Catriona Jackson said the sector was always working to ensure "that students are able to exercise their rights to freedom of expression, and lawful and peaceful protest, in a safe environment". She said the sector was carefully considering Mr French's model code.

Amid concerns about the growth of research collaboration with Chinese academics and entities, Dawn Freshwater, chair of the elite Group of Eight research universities, said the sector understood the "vital importance of ensuring sensitive technology is not misappropriated or misused".
All motherhood balderdash. This can easily be demonstrated by looking at the ratio of students to teaching staff, a key measure of pedagogical standards. For instance, at Professor Terry's sagging Curtin University: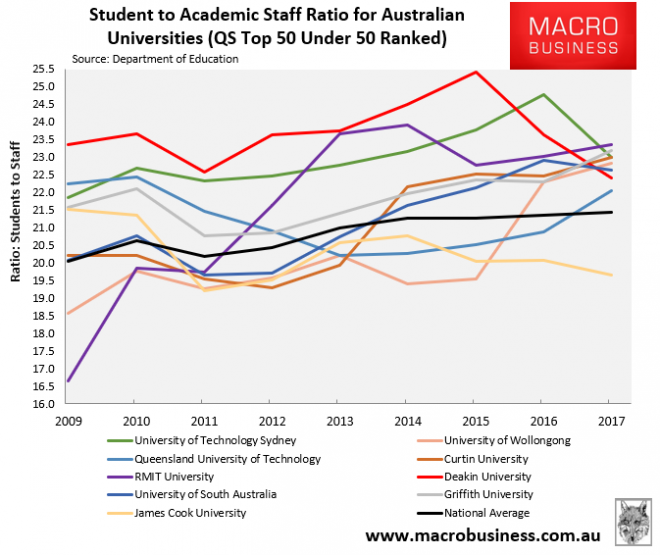 That is a clear decline in education quality for local kids. The Daily Telegraph had a bunch comments form readers which nicely summerised what we all already know:
Reader Al: "When I was completing … an engineering degree I was emailed exactly this at 2:30am to compile into a group project due at 9:30am that day by a mature age Chinese student: "Personnel Issues lack of expert to execute the project and labors get exhausted because every year there are many infrastructures ongoing and require a large number expert and experience labors…" And so on.

Reader JohnO: "Whilst doing my undergrad degree (at Monash), I was quite often the only Anglo… I was appalled at the utter lack of English capability in the students I was working with. In many cases their work was literally cut and pasted from the internet … To make things even worse, Monash began failing entire teams of people if even one member was guilty of plagiarism."

Reader J: "When I did my Bachelor of Laws, I was put in a group of five for a presentation… One student rarely turned up to class, and the other three had issues speaking English. I ended up having to write a script for each person, which we then delivered to our tutor. One student couldn't read the script (English wasn't his first language) …. We got 62 per cent (a pass) for the assessment, which dragged my final mark down to a credit as opposed to a High Distinction."

Reader Z: "I did an accounting degree with roughly 80 per cent foreign students… I was in a group with two foreign students… Their parts consisted of paragraphs of terrible English that you would expect from a primary school student, plus very well written sections that were clearly copied from reference material. As all group members were given the same mark, I was up all night editing the assignment, improving the English and rewriting the plagiarised sections. The foreign students got a high mark due to all my hard work."

Reader Stuart: "I lectured at (university name withheld) in the business school from 2006 until 2012… I had to basically mark as softly as I possibly could to allow these students through… Group assignments are a huge curse. The idea is there will be someone in the team who will keep things in line to make sure there is no plagiarism. But it severely disadvantages good students."
Not to mention US anger, at the AFR:
The university sector fears the government could be pressured by the United States to crack down even harder on its collaboration with China, following a series of measures being proposed by US Republicans, one of which directly implicates Australia.

Group of Eight chief executive officer Vicki Thomson declined to comment on the content of Wednesday's meetings but indicated the sector was willing to work with the government and national security agencies to iron out concerns.

Education Minster Dan Tehan said it was likely universities would have to liaise more closely with national security agencies.
This has been happening for many years. It is time to stop it. The entire sector needs an overhaul. A major public investigation followed by policy reform to bring the universities back to their core function of educating Australians for brighter and better lives:
international student numbers must be severely cut;
public funding must be boosted;
freedom of speech and sensitive research must be brought into line with the national interest.
Australian universities are the future of productivity and living standards. They have literally been pimped out to Asia's dumbest kids to save the budget a few bucks, boost property prices, smash wages and drive population growth.
The whoring has to stop!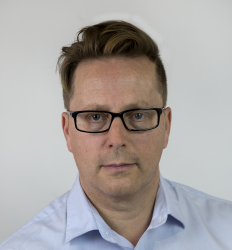 Latest posts by David Llewellyn-Smith
(see all)