Fixing cracks in the Mascot Towers apartment building's primary support structure will cost $10 million – half the initial building cost of $22 million – according to information to be presented at an owners meeting on 22 August. Owners of apartments in the evacuated building in Sydney have been told that they will have to make their first payment for the proposed repairs on 1 January, with the remaining payments to be paid quarterly over 15 years. They are also being told that it will be at least four months before the building can be re-occupied. Apartment owners have indicated that they plan to sleep in the street in protest over the repair bill, which amounts to at least $76,000 per unit. From The AFR:
Finding those responsible to pay for the $10 million repair will be a long legal tussle as four out of five of the companies that held and built Mascot Towers have been wound up. Directors of one company still registered cannot be contacted.

Angry owners will vote to start legal proceedings against the developer of the neighbouring project at 27 Church Avenue, Aland Developments for damage to common property…

"As the NSW premier has said, self-regulation has failed, leaving a legacy of defects and distress," Owners Corporation Network executive officer Karen Stiles said.

"The immediate task is to put in place a rescue package for strata schemes struggling right now."
As I keep saying, this is likely only the tip of the iceberg given the unprecedented boom in high-rise apartment construction over the past decade: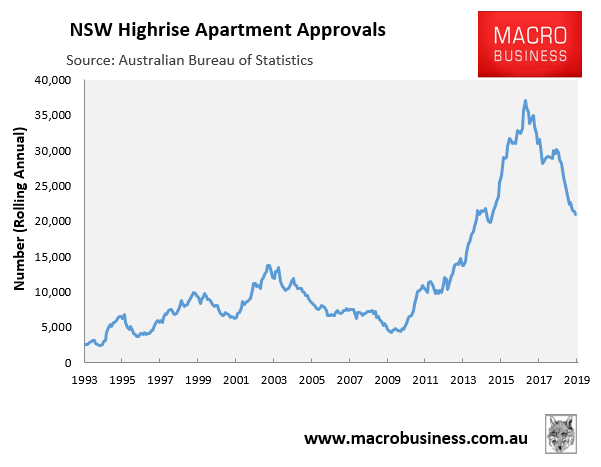 Going by the ABS' approvals data, around 200,000 high-rise apartments were built across NSW over the past decade, many of which likely contain significant faults.
The cost of rectification will be massive and will likely fall on both apartment owners and taxpayers alike, with most developers getting away scot-free.