As we all know, Australia's universities have experienced an incredible boom in international student numbers over the past six years, with enrolments ballooning by 327,000 (89%) over this period: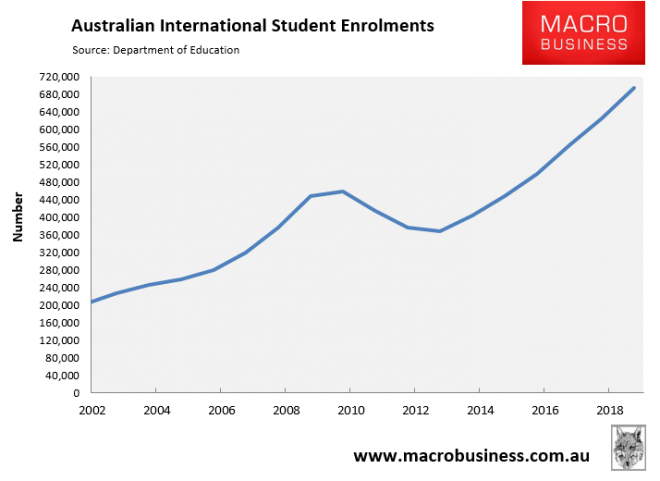 One of the deleterious side effects of this boom has been the degradation of teaching standards alongside increasing reports of plagiarism and cheating across Australia's universities.
For example, "functionally illiterate" Chinese students were embroiled in an elaborate "ghost writing" scandal in 2014.
In 2015, ABC's Four Corners aired an explosive report, entitled "Degrees of deception", which documented widespread cheating by international students, and featured one university lecturer accusing half of their students of plagiarism.
Shortly afterwards in 2015, dozens of international students across New South Wales were caught in an elaborate cheating racket, prompting the Independent Commission Against Corruption to demand reform from the state's universities.
Earlier this year, international student associations urged regulation of overseas agents amid systemic cheating on English language tests.
In May this year, Four Corners aired a second alarming report that again highlighted widespread plagiarism and misconduct from international students.
And last month, The AFR reported that "cheating has spread like wildfire" across Australia's universities, driven by international students, whereas The ABC reported a "proliferation of ghostwriting" services targeted at international students.
With this sordid background in mind, the University of New South Wales has now reported a 2000% increase in cheating:
The number of students found to be cheating in assessments and exams increased by about 2000 per cent at the University of NSW when it moved resources from deterring cheating to detecting it…

"We've gone from a detection rate of almost nothing to quite a substantial detection rate," Cath Ellis, UNSW's associate dean of education in the faculty of arts and social sciences, said.

"All of us inside and outside the sector have been putting our efforts [into] deterrence … but we've found that assessment design cannot prevent contract cheating; you can't design it out…

Associate Professor Ellis said the actual proportion of students who cheat could be as high as 12 per cent…

"We've got a serious new issue here of contract cheating," Mr Thorley said.
Not surprisingly, the University of New South Wales has the equal second highest share of international students in Australia: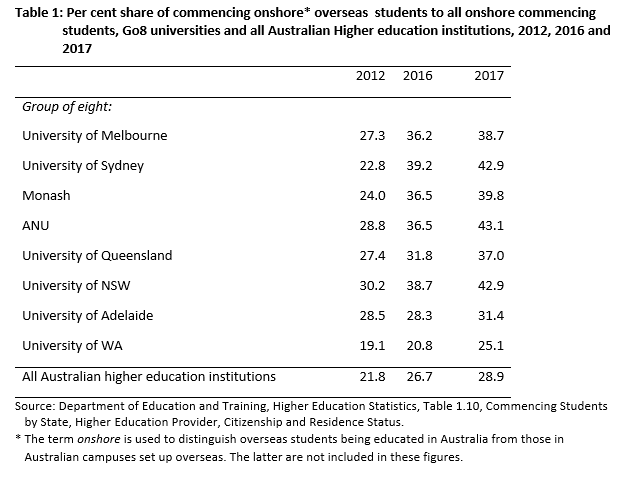 These international students are overwhelmingly from Non-English Speaking Backgrounds, and have paid large fees, so obviously they are more inclined to pay for someone to write their assignments.
Make no mistake, this is the inevitable outcome from Australia's higher education system being turned into a commodity and universities selling places to international students to maximise profits.
Universities have dropped entry standards so low that almost any international student now qualifies provided they can pay the tuition fees. And since these students have paid so much for entry, and many lack basic English language skills, they inevitably turn to cheating services.
The biggest victims in all of this are domestic students. Not only has the quality of their education been dumbed down to cater to the lowest common denominator, but the value of their degrees is being trashed.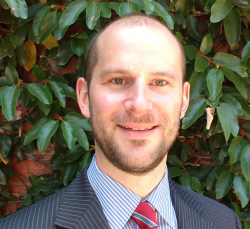 Latest posts by Leith van Onselen
(see all)