There's nothing like the smell of Green's immigration hypocrisy.
Recall last year's Facebook post where The Greens attacked NSW Premier Gladys Berejiklian's sensible call to halve immigration: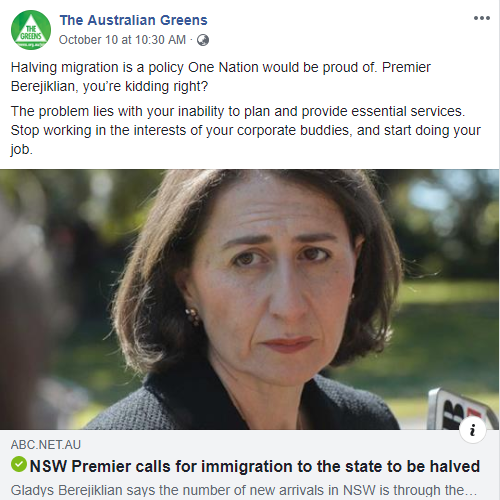 As I noted at the time, we truly are living in Bizarro World when the self-proclaimed defenders of the environment and social justice champion the very policy – mass immigration-driven population growth – that is most destructive to Australia's natural environment, causes mass disenfranchisement among working classes and youth, as well as robs developing nations of their talent. And all of this simply to favour a corporate clique of banks, realty and retailers.
With this background in mind, Greens councillor Tom Kiat has joined the hypocrites lamenting the destruction of housing affordability, amenity and the environment, while ignoring altogether the underlying mass immigration driver. From SBS News [my emphasis]:
A Liberal councillor inspired by US President Donald Trump's immigration policies has proposed a border wall be built around inner-western Sydney to solve the area's parking woes.

Councillor Julie Passas said she decided to submit the "tongue-in-cheek" motion to Inner West Council…

"It's a wake-up call. I'm trying to say to the residents we cannot guarantee you a spot outside your home or even in your street."

Cr Passas said Sydney's Inner West had not had any major upgrades to its local streets in decades and the area struggled to keep up with the growing population…

Greens councillor and social justice lawyer Tom Kiat told SBS News the motion was in "bad taste".

"We shouldn't make a joke about the migration crisis we've got across the world and the way the governments are treating refugees," he said…

Cr Kiat said he would not be voting in favour of the motion, and urged Cr Passas to spend more time on important issues rather than ­"publicity stunts".

"Lack of affordable housing, chronic under-investment by the state government … lack of open and green space, and environmental degradation intensified by climate change and development pressures," he said.
Sure, it was a publicity stunt by Councillor Julie Passas to highlight that Sydney's West is being crush-loaded by endless population growth. That said, everything that Cr Kiat bemoans (bolded above) has been caused, to a significant extent, by Sydney's relentless immigration. So why won't he speak up and push back against the 'Big Australia' dogma?
The answer is simple: the Greens would rather see residents' living standards burn than dare lower immigration back to sensible levels. Because to do so could be perceived as racist.
The irony is all of this is that mass immigration overwhelmingly favours corporations over ordinary Australians and recent migrants, as explained by former Treasury secretary and NAB chairman, Ken Henry:
Research NAB carried out earlier in the year showed that among our customers there's not wholesale support for a larger Australia. For many, the prospect of a higher Australian population means more stress in the ability to buy a house, to live where you want to live, to get to work with a reasonable commute time. And many in the community are also concerned about our ability, as a nation, to maintain norms of Australian social and economic inclusion, and to continue to provide access to high quality services in areas such as healthcare and education…

But what is the business perspective? The same NAB research showed that most of our business customers would strongly prefer a larger population, which supports better business growth.
Former leader, Bob Brown, made a similar point:
"It's no good in complaining about the world's environmental problems if you vote for the people that want to put their foot on the accelerator of a growth economy."
Given most corporations and wealthy families are headed by white males, the Greens' support of open borders directly plays into their hands and perpetuates the racism and disadvantage that the Greens lament. As noted by Crispin Hull this month:
…the top end which benefits from high immigration has a much larger portion of white males in it than the rest of Australia.

The big corporations and their shareholders are dominated by wealthy white males. So you might well argue that the high immigration that favours them and helps keep them in a position of privilege perpetuates racism while hitting hard everyone else – including almost all recent immigrants from non-English-speaking countries – as they struggle to find and pay for health, education, transport and energy.
Basically, the identity politics 'Fake' Greens are the useful idiots of blood-sucking capitalism via their extreme support for environmental and worker destroying mass immigration.
Someone should sue them to get the name back.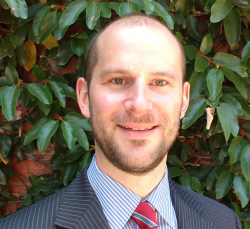 Latest posts by Leith van Onselen
(see all)