Earlier this week I posted a detailed expose on the systemic exploitation of migrant farm workers, which has been exposed repeatedly by a raft of major studies.
Shortly afterwards, it was revealed that the Morrison Government plans to grant farmers even more slave migrant workers:
Backpackers from 13 countries are being targeted by Immigration Minister David Coleman as he seeks to find workers wanted by regional businesses.

Australia is in discussions about expanding the work and holiday visa to people from India, Brazil, Mexico, the Philippines, Switzerland, Fiji, Solomon Islands, Croatia, Latvia, Lithuania, Andorra, Monaco and Mongolia.

Any places made available to backpackers from these nations would be in addition to the existing caps for other nations…

Only this month Greece and Ecuador were added to the program, places were increased for some countries, and the option to stay in Australia for a third year was made available to workers…

Mr Coleman countered suggestions that the scheme was becoming a channel for low-skill migrant workers…

Shanthi Robertson, a senior research fellow at Western Sydney University, said two aspects — the extension of the scheme to a third year and the tweak to allow workers to stay at the same employer for 12 months, up from six months — were concerning.

"The fundamental issue is with tying a particular work situation to obtaining a visa and obtaining more time in Australia," she said.

"That always opens things up to huge amount of exploitation."

Joanna Howe, associate professor in law at the University of Adelaide, wrote a report on migrants within the horticulture sector earlier this year and found problems with the working holiday-maker scheme.

"It doesn't have any of the sponsorship obligations or additional approval requirements that are there in dedicated labour market programs like the temporary skills shortage or seasonal worker program schemes," she said.

"Plus the tie of further stay to the performance of work — there are real risks in expanding the scheme both in terms of exploitation … and industry, in terms of the sustainability of its labour supply."
Yesterday, farm lobbies said the Government's expansion of the backpacker visa scheme didn't go far enough and demanded a dedicated agricultural visa that gives farmers guaranteed access to cheap migrant labour. From SBS News:
Australia's Farmers' Federation has been asking for a stand-alone visa for the agriculture sector. Despite initially signaling its willingness, the Government has all but killed the proposal…

A blueberry farmer in New South Wales' Coffs Harbour area, Amandeep Singh Sidhu says the problem of labour shortage is 'very severe'…

Mr Sidhu says the existing arrangements in the form of backpackers visa and seasonal workers visa don't address this problem… "But the inclusion of developing countries, such as India and Brazil may solve that problem to some extent because they are likely to be more accustomed to the farming work environment."

However, Mr Sidhu says their demand for a standalone Ag visa remains.

"This is only a temporary solution to the problem. We know the issue of labour supply for the farming sector will only be resolved with a special visa for this sector," he said.
Here's more via The ABC:
The Victorian farm lobby says it is insane to expect backpackers alone to address the industry's labour shortages…

Victorian Farmers' Federation vice-president Emma Germano said her industry needed an agriculture-specific visa to attract workers that wanted to work on farms.

"We need something more sustainable than that," Ms Germano said, referring to the Government's proposal…

Ms Germano said she was frustrated with the Government's response to her industry's plea for an agriculture specific visa.

"I feel like we keep being appeased, like these are measures to appease the calls for an agriculture visa.

"We don't understand why that is such a big issue."
Hilariously, on the same day, EBA data released by the federal government showed that agricultural workers have received the lowest pay rises of all sectors: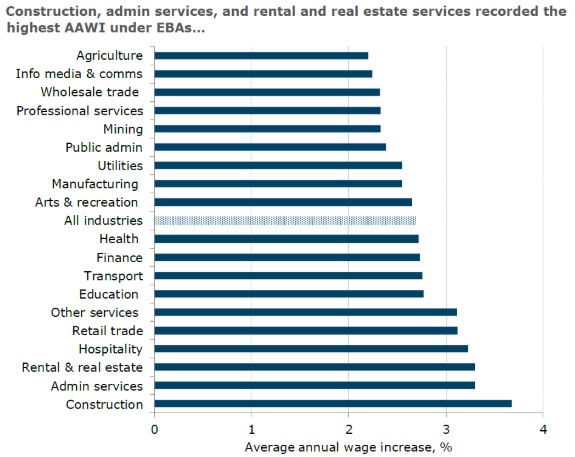 Call me an economist, but isn't the best way to deal with so-called 'labour shortages' to lift wages and encourage workers to shift to your industry? This is a market, after all, and the principles of demand and supply should apply.
Of course, there is no need to lift wages when farmers can simply exploit cheap migrant labour en masse, which would be made even worse under the proposed dedicated agricultural visa.
Remember, the farming sector this year labelled "outrageous" a Fair Work Commission ruling requiring that fruit pickers be entitled to overtime if they work excessive hours.
Farmers have also deliberately chosen to employ migrant workers over locals because they are easier to exploit:
It's the tale of two job seekers: International backpackers versus Aussie travellers.

Now, some Australians claim they are being pushed out of the job market by overseas visitors.

Charley Newton, 20, is travelling through Queensland on a working holiday, but after applying for 20 picking jobs and finding no success she felt something was awry.

Newton put up a post on Facebook searching for work, but says most responses were the same.

"Good luck, you're Australian… Australians don't get work out here," she said…

Steve Baker from the Australian Workers' Union says, most likely, the difference is the ease with which overseas workers may be exploited.

"At the end of the day, Aussie workers are not lazy," Baker said.

"They are being overlooked because overseas workers are easier to exploit."

For Newton, she's now facing a return home after failing to find employment.
In addition to the expanded backpacker scheme, there are already two existing visas for agricultural workers from the Pacific: (1) the Seasonal Worker Program (SWP); and (2) the Pacific Labour Scheme (PLS).
The SWP, which has grown some 40% per year, allows workers from the Pacific or Timor Leste to pick fruit and vegetables for up to six months: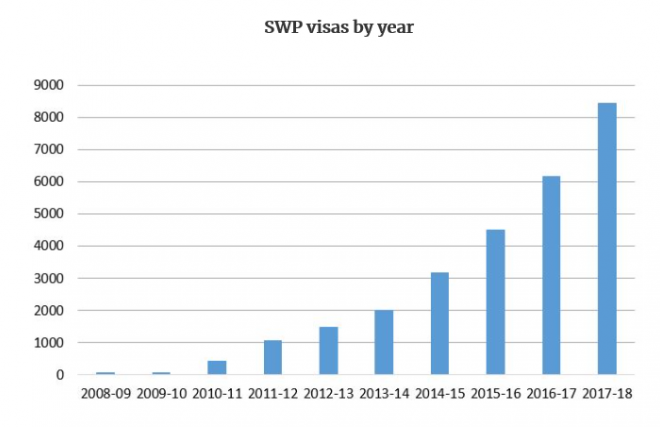 Whereas the PLS, which has operated for around two years, allows Pacific Islanders to work in regional Australia in any sector for up to three years.
Given farmers can already hire SWP workers to meet their short-term needs (up to six months) and PLS workers for their long-term needs (up to three years), there is little rationale in also granting them access to a dedicated agricultural visa, especially given these proposed visas are being touted as being "more flexible" (read more open to exploitation).
Migrants are already being exploited en masse across Australia's farms, crushing wages and working conditions. Why make the situation even worse by further expanding access to cheap foreign workers.
Latest posts by Leith van Onselen (see all)