Reuters has the texture:
Steel inventory in China stood at 12.6 million tonnes, as of July 26, the highest level in three months and 27% higher than the year-ago stockpile, said Argonaut Securities analyst Helen Lau.

Steel production may remain brisk amid market talk that China's top steelmaking city of Tangshan will extend but loosen its anti-pollution production curbs throughout August.

"Steel inventory may go up further, while domestic demand remains sluggish as the PMI (Purchasing Managers' Index) leading indicators show," Lau said.

About 1.34 million tonnes of pig iron will be added to the supply, which will also lead to an additional 2 million tonnes of iron ore demand, if the Tangshan curbs are relaxed as proposed by the local government, she said.

"Therefore, we expect steel prices to be under pressure," Lau said, adding that iron ore prices should thus remain supported.
You shouldn't. Iron ore will follow steel. There's just too damn much of it. Way too much: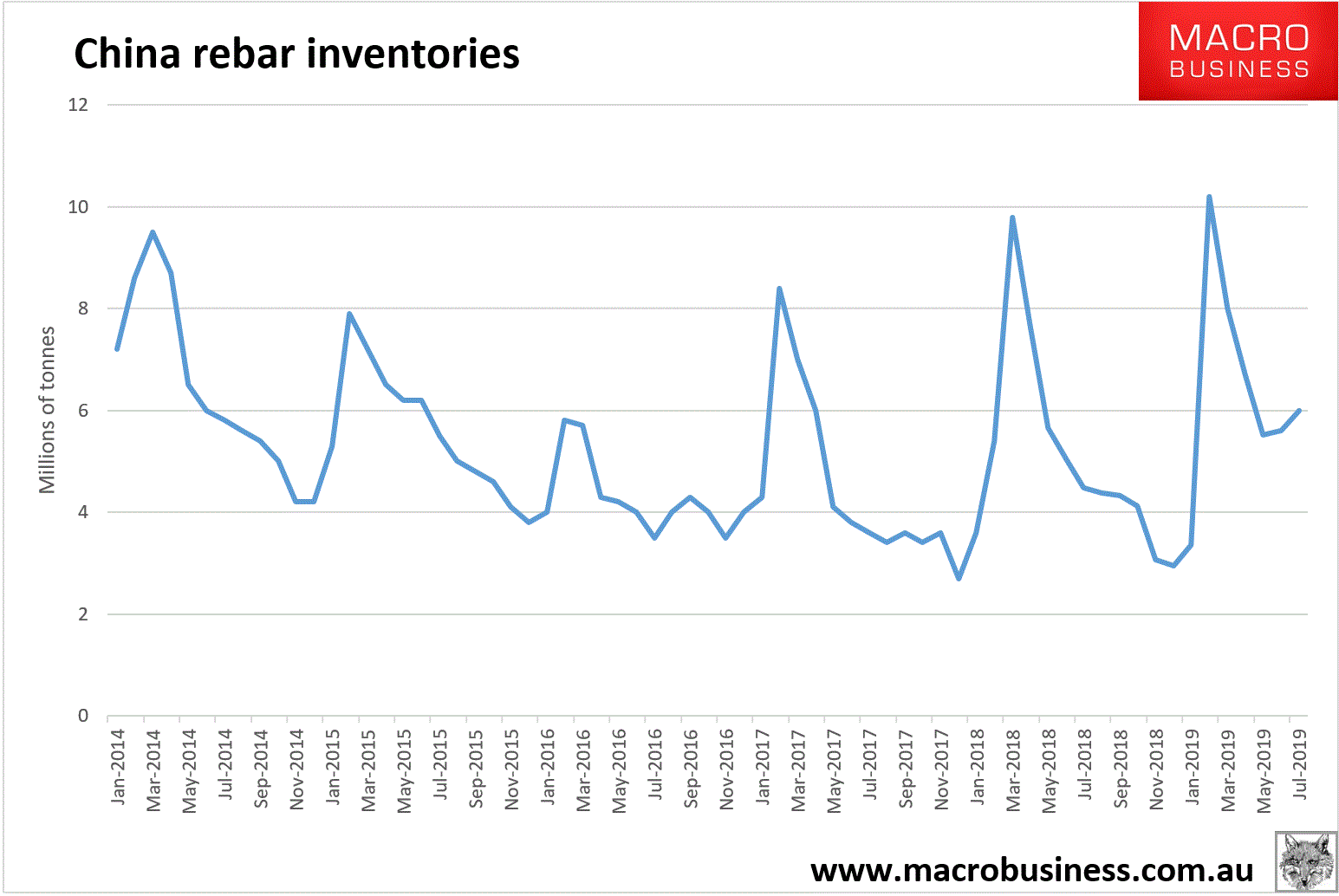 The other charts:
Spot was belted. Paper was worse overnight, before the trade war news. Steel is falling.
The news flow is also garbage. Vale says its capacity has rebounded more than its outlook suggests:
Siani said Vale now has an annual iron ore capacity of between 340 million and 345 million tonnes, and said he expected strong copper and nickel output in the second half of the year.
And there are rumours in the market, from a trader source, that it is about to have a lot more:
Samarco mine is expected to regain its mining license within 10 days. This is more likely to affect the pellet market but will have an overall effect on sentiment with Brazilian supply recovering;
Steel inventory continues to tick up leading to the view that rebar prices, which have been under pressure, are unlikely to find short term support with a lack of supply tightness;
Miners are being more accommodative in their marketing, allowing traders to buy cargoes for August delivery priced against Sep index;
In this trader's view all the above factors support the view that we are off or near the 'top'.
Time to die.