Bloomberg has texture:
"Some large trading firms are dumping holdings at low prices, and there is no sign of prices bottoming out," Shanghai Cifco says in note. Steel mills in China are "remaining on the sidelines" on expectations for more declines, it said.
More from Reuters:
Rebar oversupply has been getting worse since mid-June, Zhuo said, adding that prices need to go lower or mills need to cut production as a result, especially with environmental curbs becoming more lenient.

"The pressure is being passed on to upstream raw material (prices)," he said.
Oh yeh. The charts tell the tale loud and clear: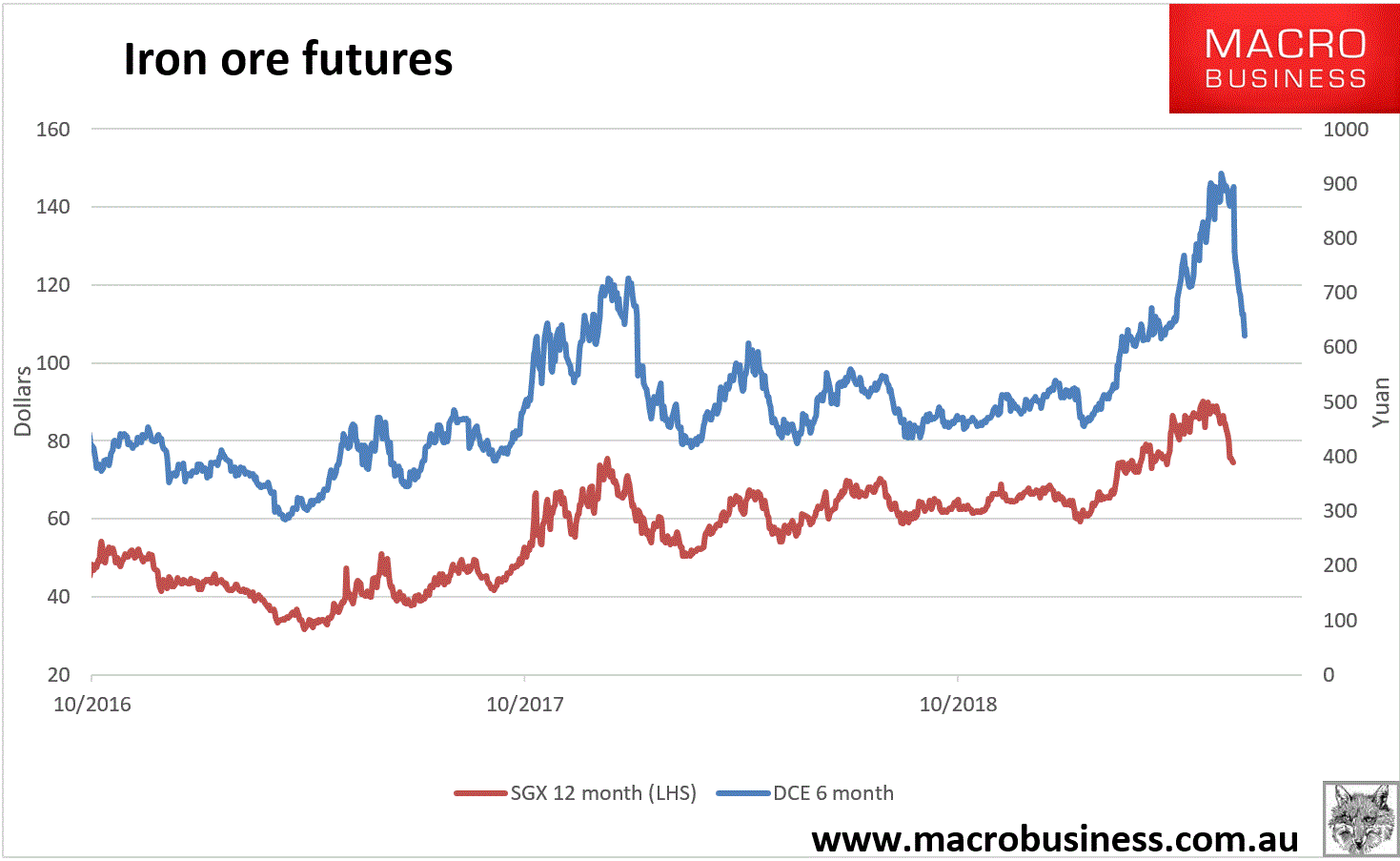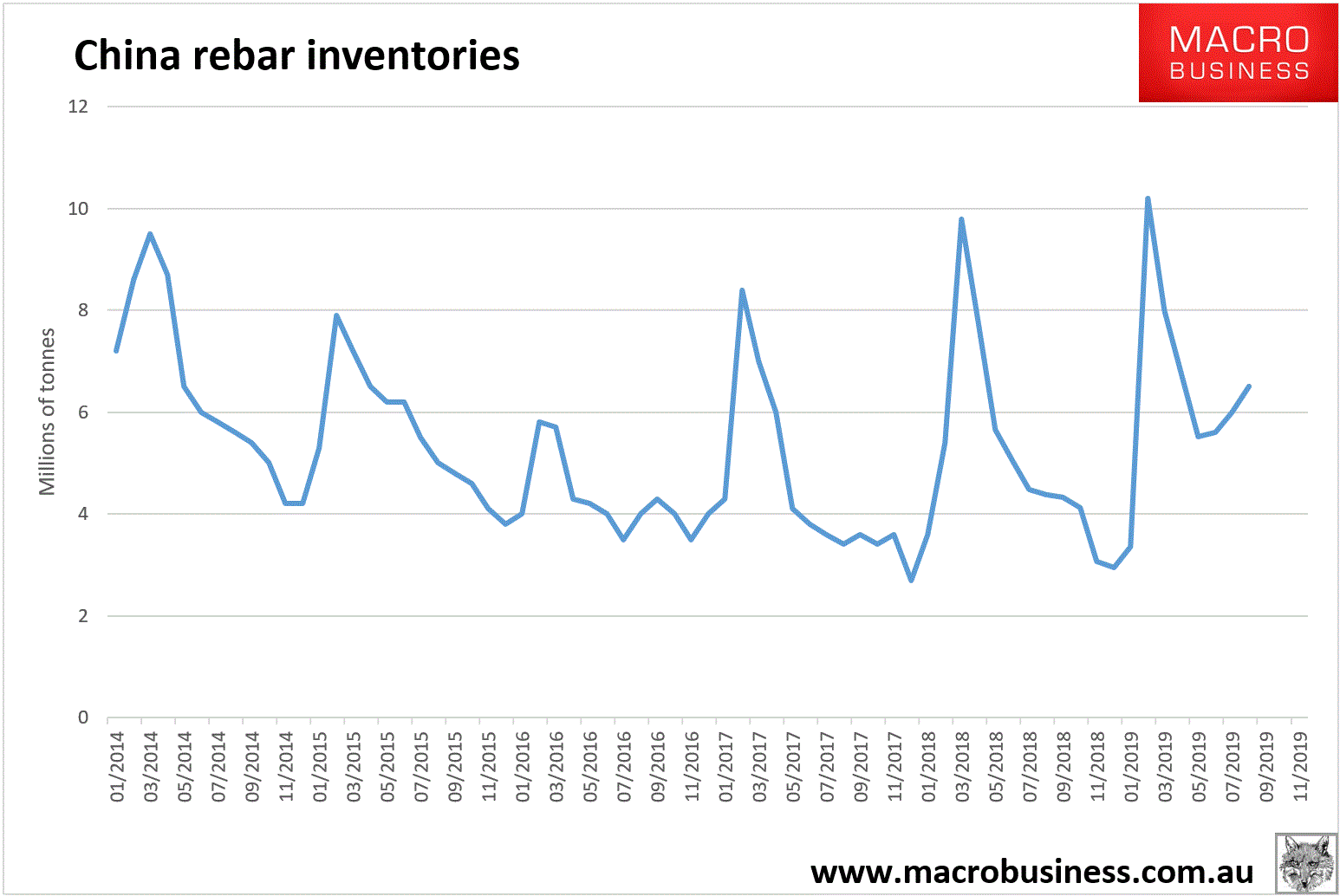 Spot was stable. Paper smashed again overnight. Steel is breaking. Steel inventories are through the roof.
Add this: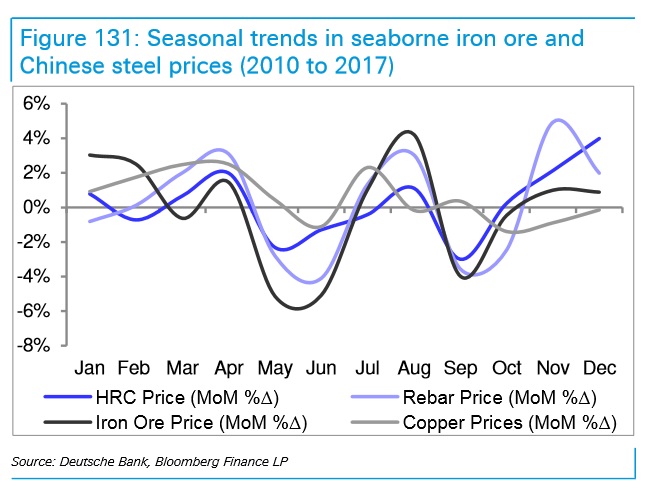 Iron ore and steel are usually very strong in July/August. The seasonal weakness comes in Sept/Oct as construction demand wanes into year end and mills destock. If this pattern holds then the perfect storm for iron ore is rolling in:
there is way too much steel as underlying demand weakens worldwide while Chinese mills force produce to offset the trade war;
steel prices are going to crash;
iron ore will fall in sympathy as mills destock everything, just as Vale returns with another 30mt of iron ore;
while the wider seaborne market is already pumped to replace its volumes after the price spike.
If this market is left to itself for a few months, we could see the iron ore price collapse. Literally get blasted to $50 before November. Do not scoff at the prospect. When iron ore moves it does so with serious violence.
The one thing that would help it is MOAR Chinese stimulus. But that does not appear to be imminent and authorities are preferring tax cuts and other boosts to services over more building to nowhere.
This set up is fugly for Q3.
David Llewellyn-Smith is Chief Strategist at the MB Fund and MB Super. David is the founding publisher and editor of MacroBusiness and was the fouding publisher and global economy editor of The Diplomat, the Asia Pacific's leading geo-politics and economics portal.
He is also a former gold trader and economic commentator at The Sydney Morning Herald, The Age, the ABC and Business Spectator. He is the co-author of
The Great Crash of 2008
with Ross Garnaut and was the editor of the second
Garnaut Climate Change Review
.
Did you know the MB International Shares Fund has returned an average of 17.1% per annum and the Tactical Growth Fund an average of 10.4%? Register below to learn more:
Latest posts by Houses and Holes (see all)