Texture from Bloomberg:
While iron ore's direct exposure to trade disputes is minimal, "the loss in confidence appears to have led to a rapid reassessment of the iron ore market," analysts from Capital Economics Ltd., wrote in a note dated Friday. "We think that the price of iron ore will decline further on the back of a renewed slowdown in China's economy and, more specifically, a downturn in China's construction sector.
And MENAFN:
On Tuesday, Fortescue Metals Group Ltd warned there's potential for mainland demand to soften this half compared with the first six months.

…'Supply-and-demand drivers have been tilting to a bearish stance for weeks now the fall was in the making and we only needed a trigger, Marex Spectron Group analyst Hui Heng Tan said, referring to the US-China trade conflict.
…

'Mills in China are reportedly reluctant to increase iron ore stockpiles given the weak demand backdrop, Commonwealth Bank of Australia said. 'Demand concerns reflect the US-China trade tensions, including Washington's recent designation of Beijing as a currency manipulator, the bank said in a note.

…Roy Hill Holdings Pty is aiming to lift shipments to a run rate of 60mn tons a year, chief executive officer Barry Fitzgerald said.
And Reuters:
Dalian iron ore futures slumped to a two-month low on Monday, extending losses to an eighth session, amid worries of slowing demand as China's top steel-producing province of Hebei looks to tighten emission requirements.
Add the choke in Chinese credit and nobody is bearish enough yet. To the charts:

Spot has not moved in two days leading me to conclude that it has not updated for some reason. Paper went full circle yesterday with a big selloff then bounce on the Heibei news. Then down again overnight.
Production constraints won't matter now. We're into a major correction driven by fading demand meets surging supply. For some time I have worried about housing starts following sagging leading indicators and that may well be upon us, via Westpac: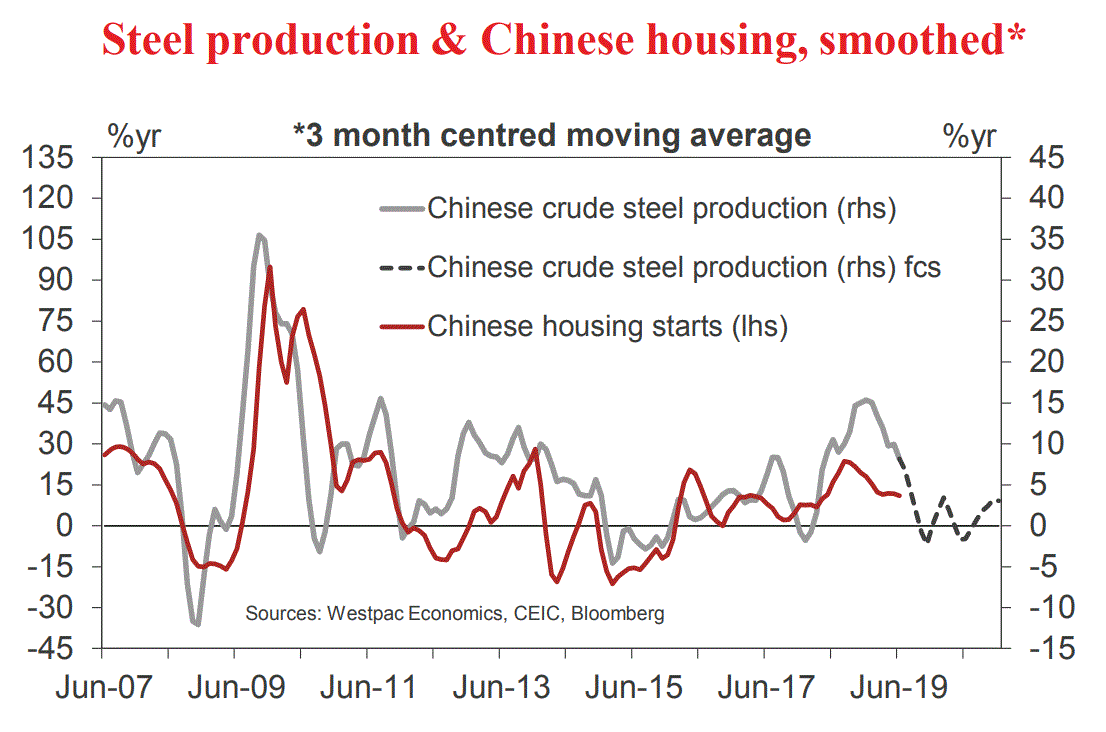 $50-60 by year end in one of the great iron ore crashes is now my base case.
David Llewellyn-Smith is Chief Strategist at the MB Fund and MB Super. David is the founding publisher and editor of MacroBusiness and was the founding publisher and global economy editor of The Diplomat, the Asia Pacific's leading geo-politics and economics portal.

He is also a former gold trader and economic commentator at The Sydney Morning Herald, The Age, the ABC and Business Spectator. He is the co-author of The Great Crash of 2008 with Ross Garnaut and was the editor of the second Garnaut Climate Change Review.
Latest posts by David Llewellyn-Smith (see all)