DXY was down last night, CNY cratered, EUR bounced: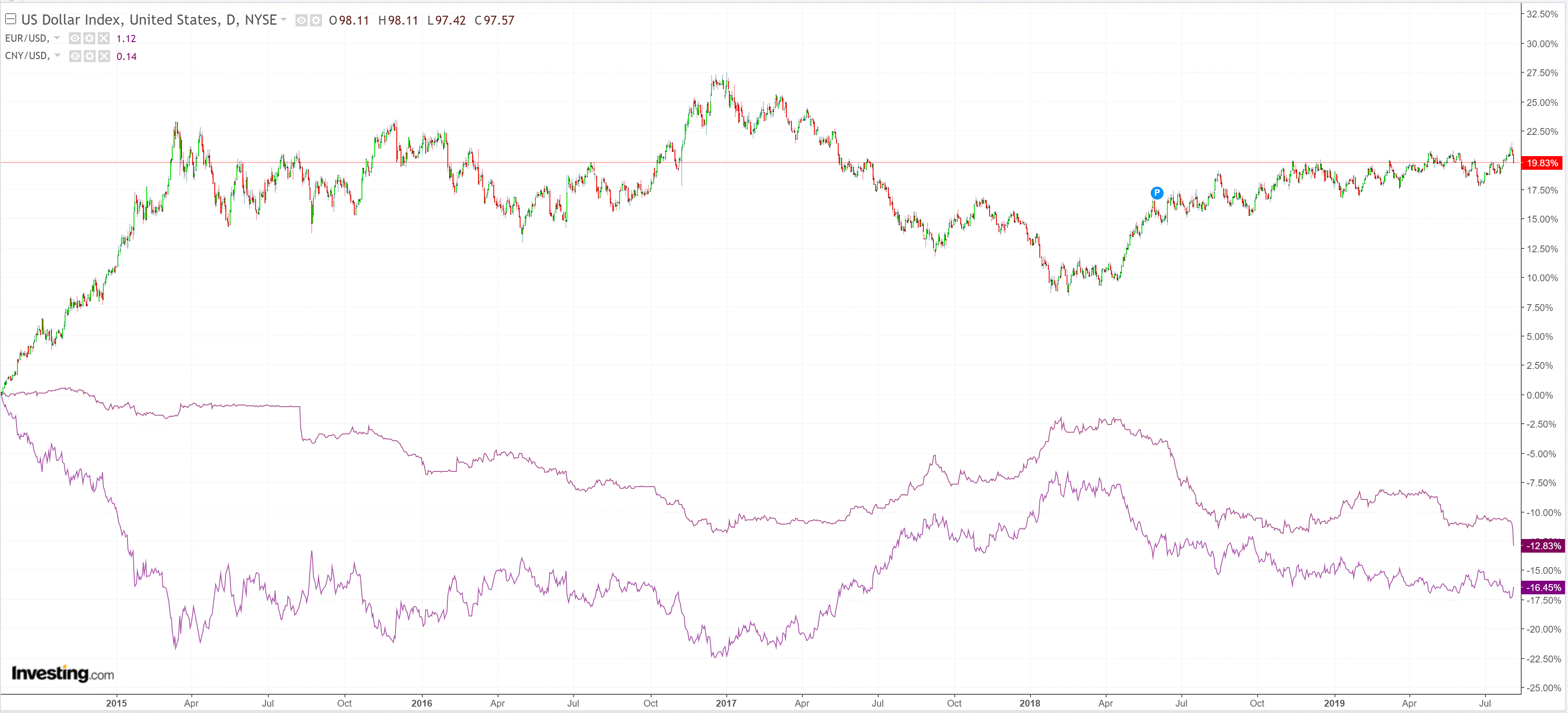 The Australian dollar was aflame against DMs though did not break new lows versus USD: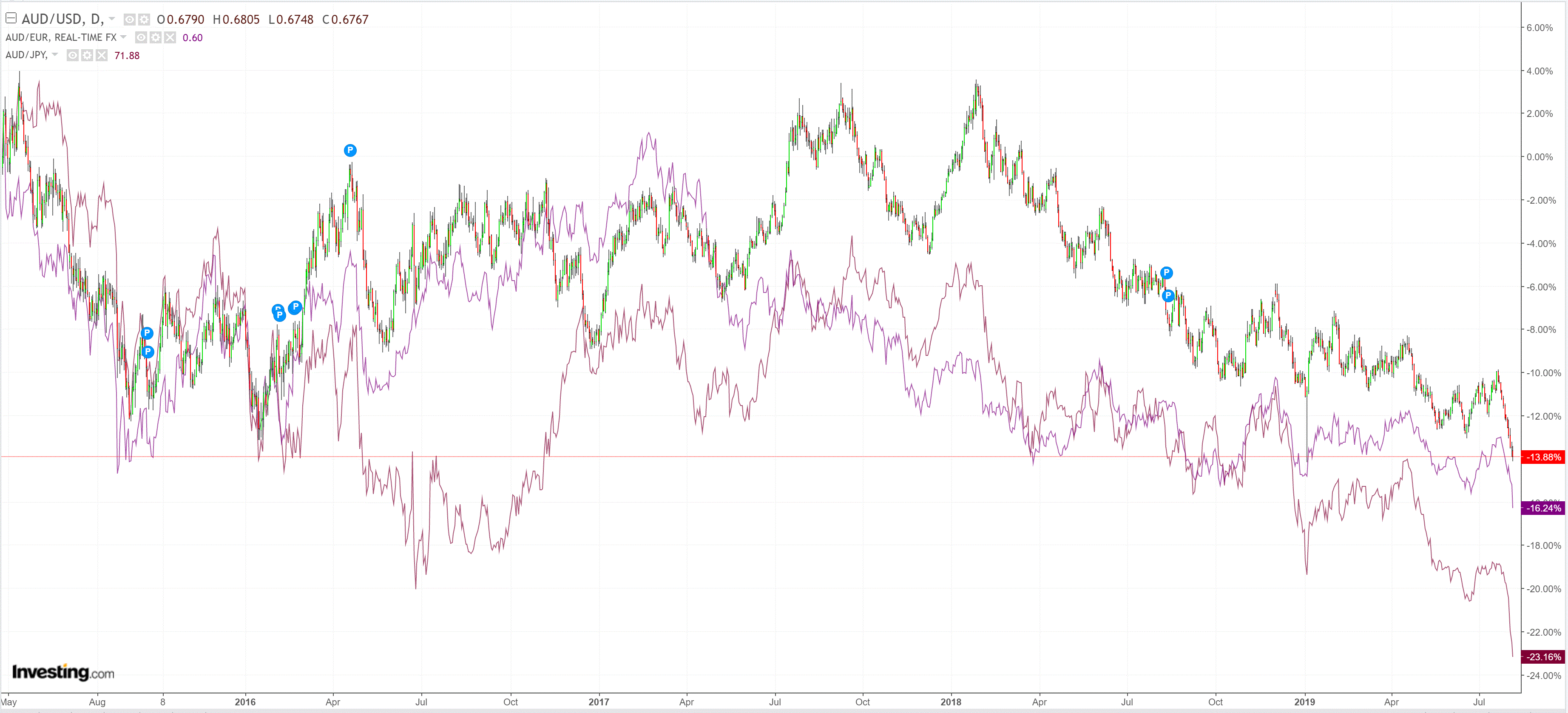 It was mixed versus EMs: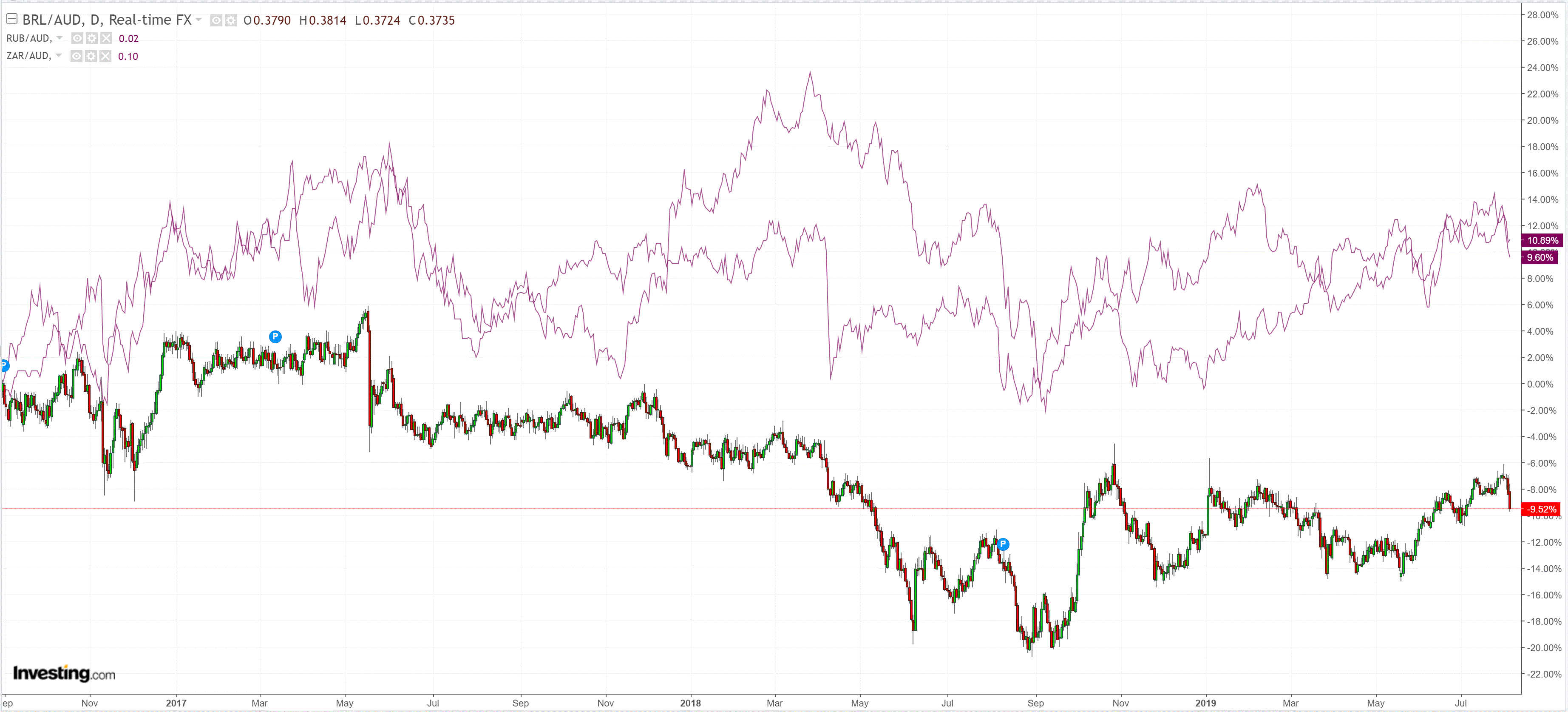 Gold roared on: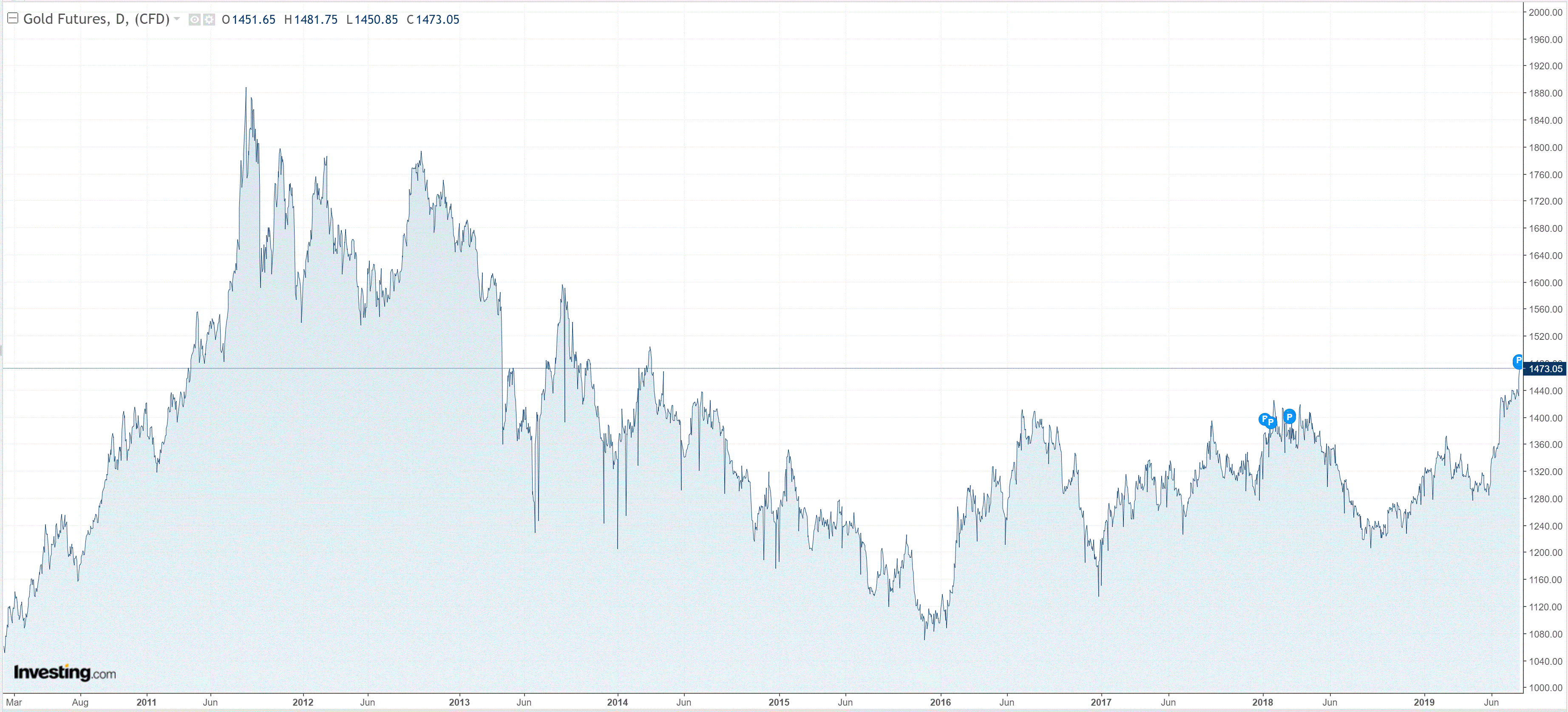 Oil fell: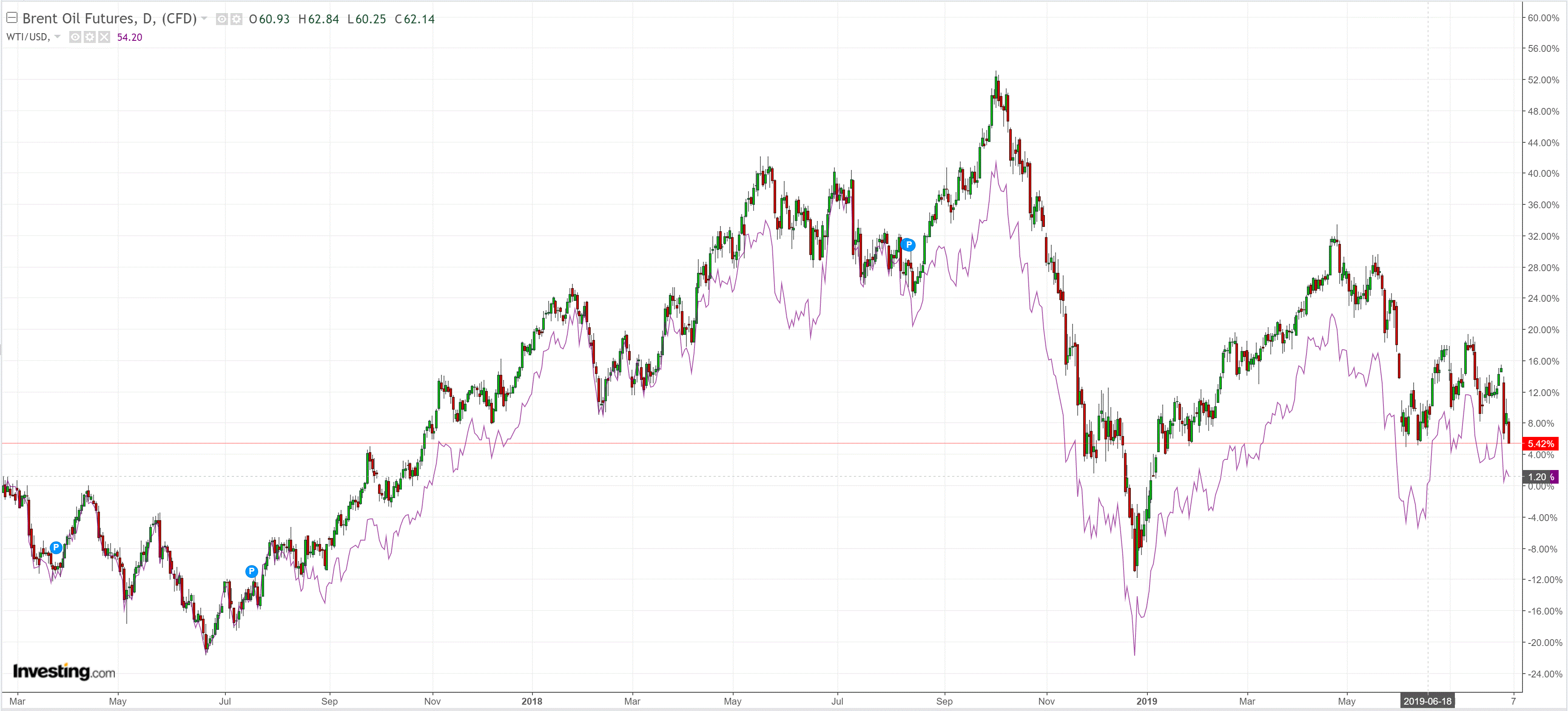 Metals were mixed: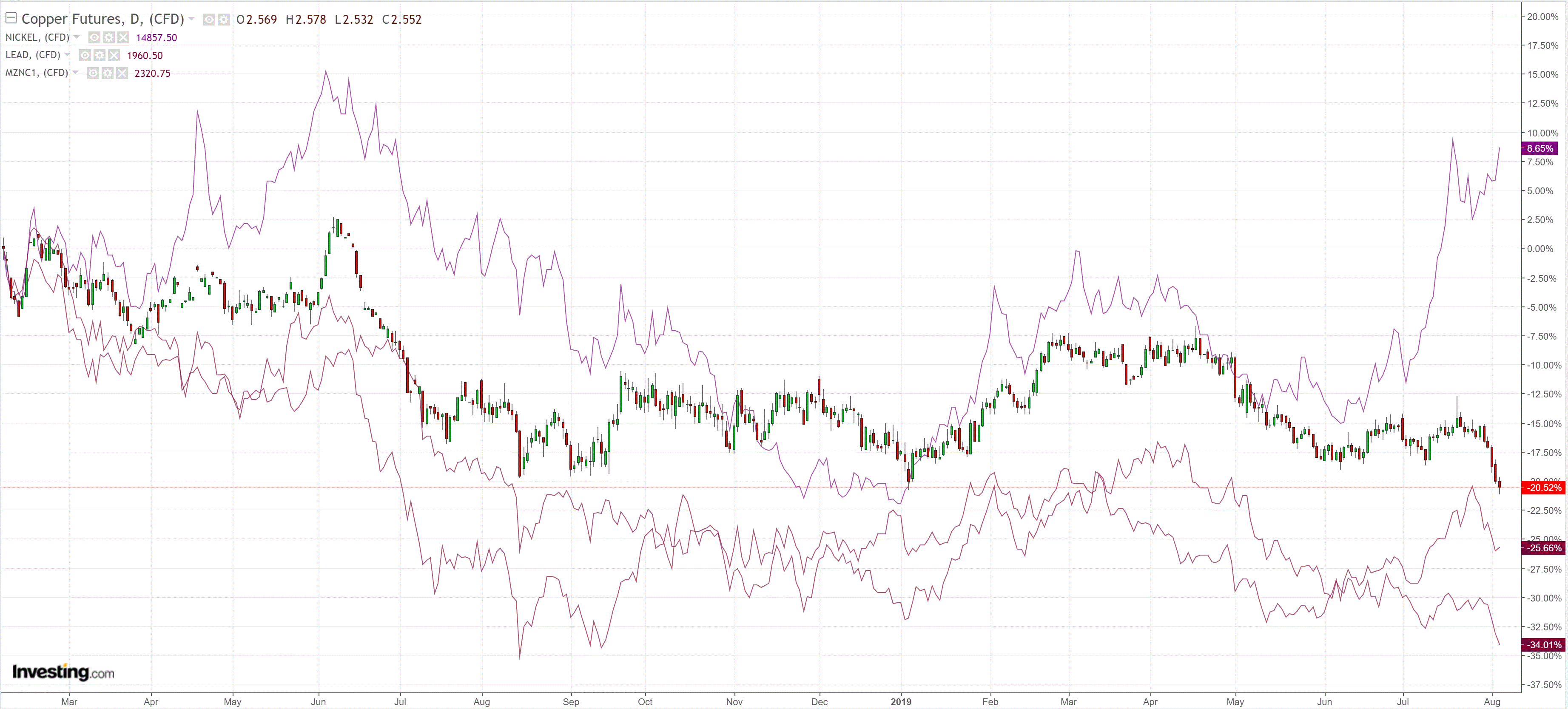 Miners trashed: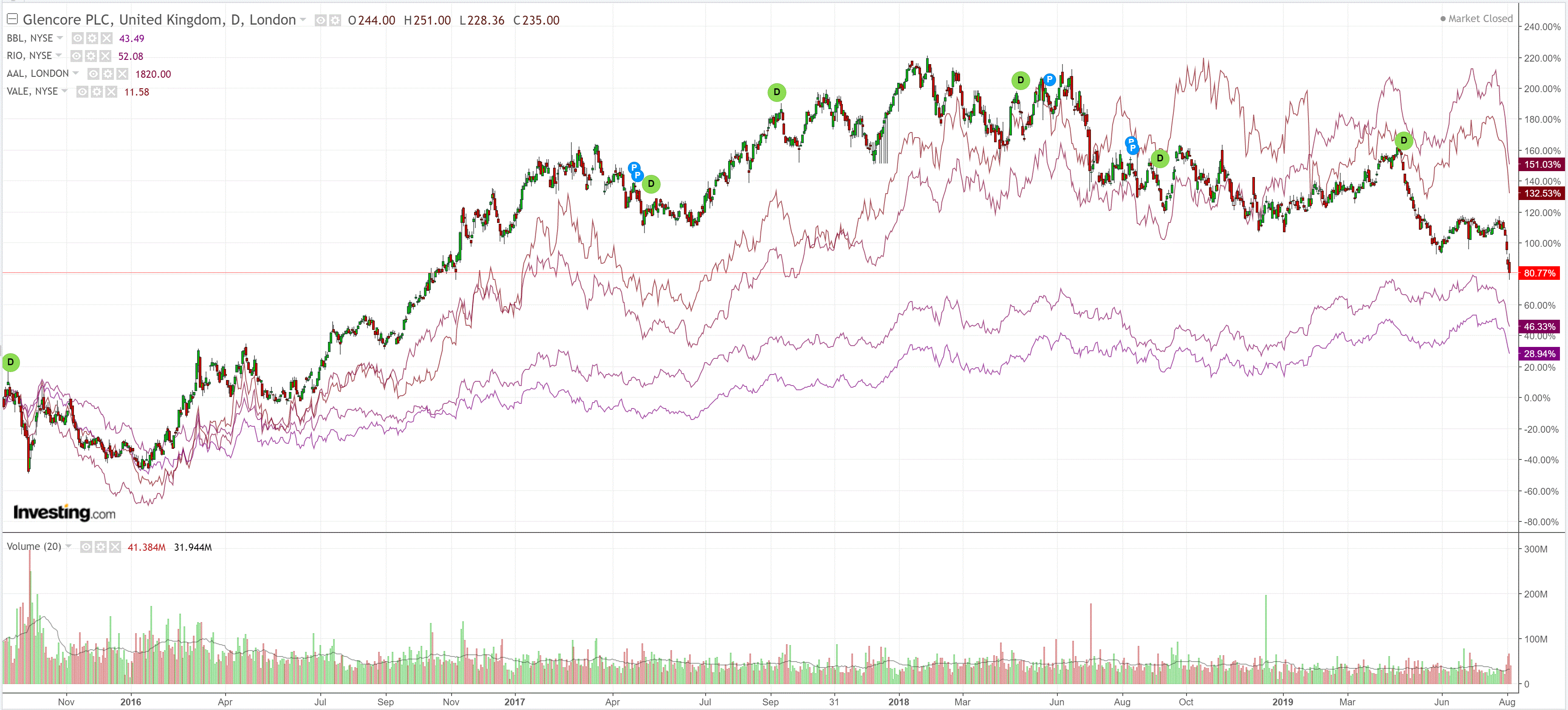 EM stocks burned: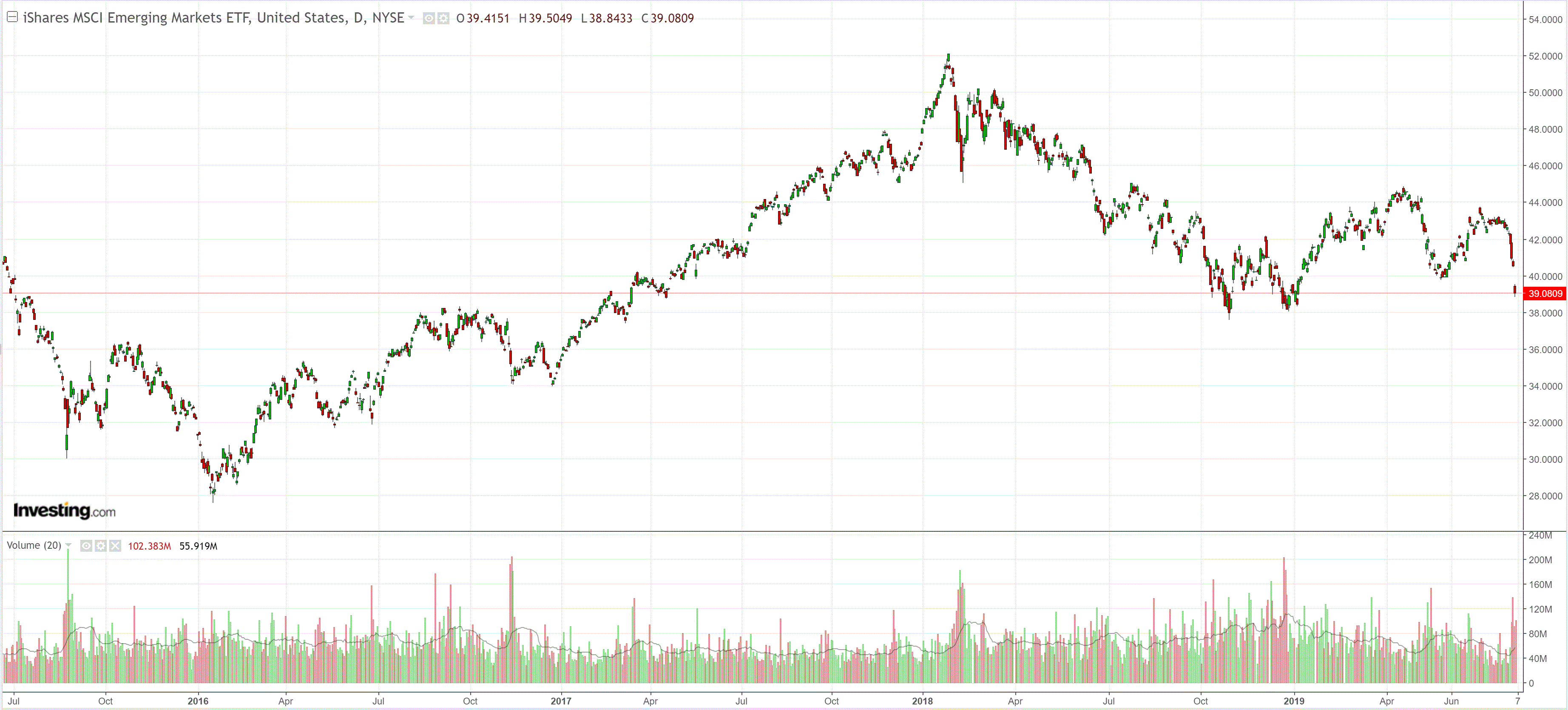 And junk: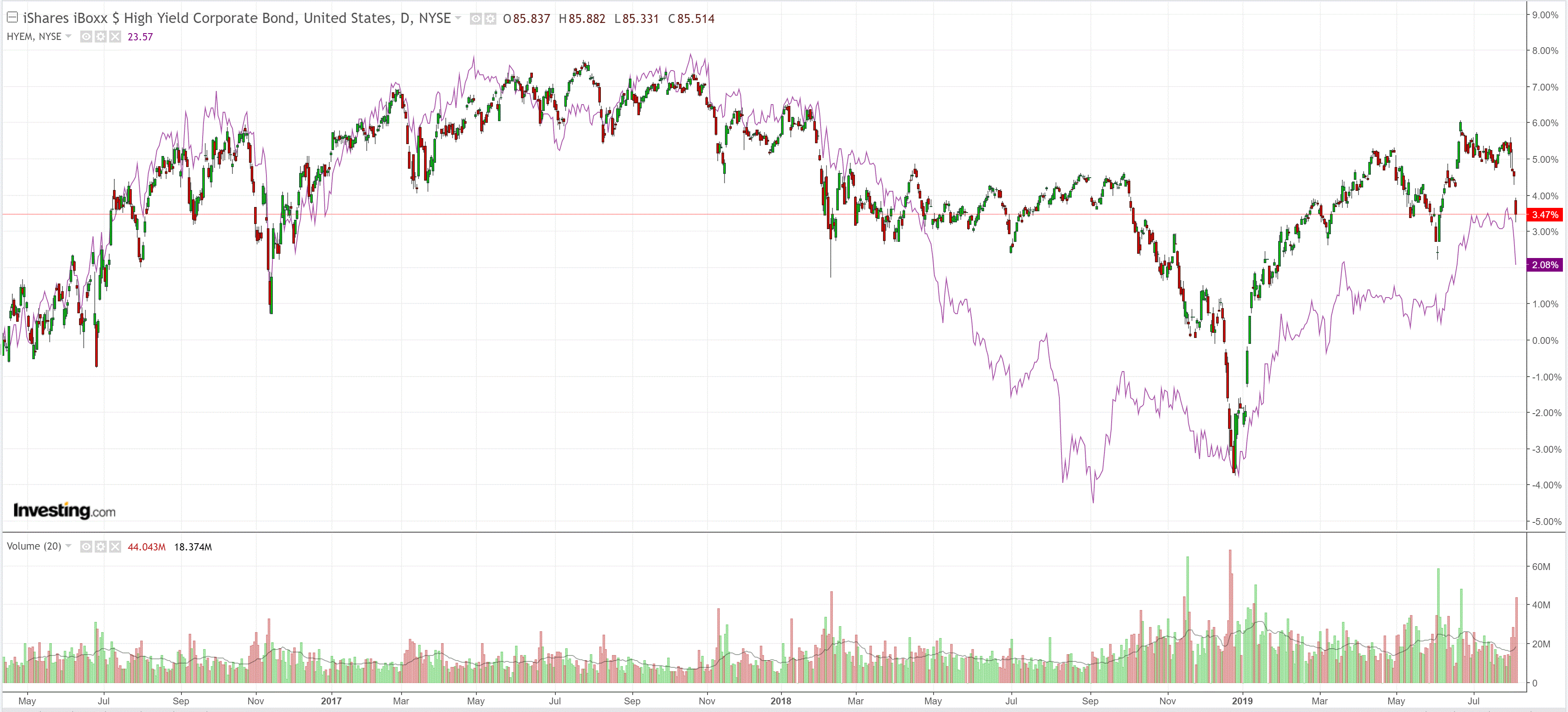 Treasuries rampaged: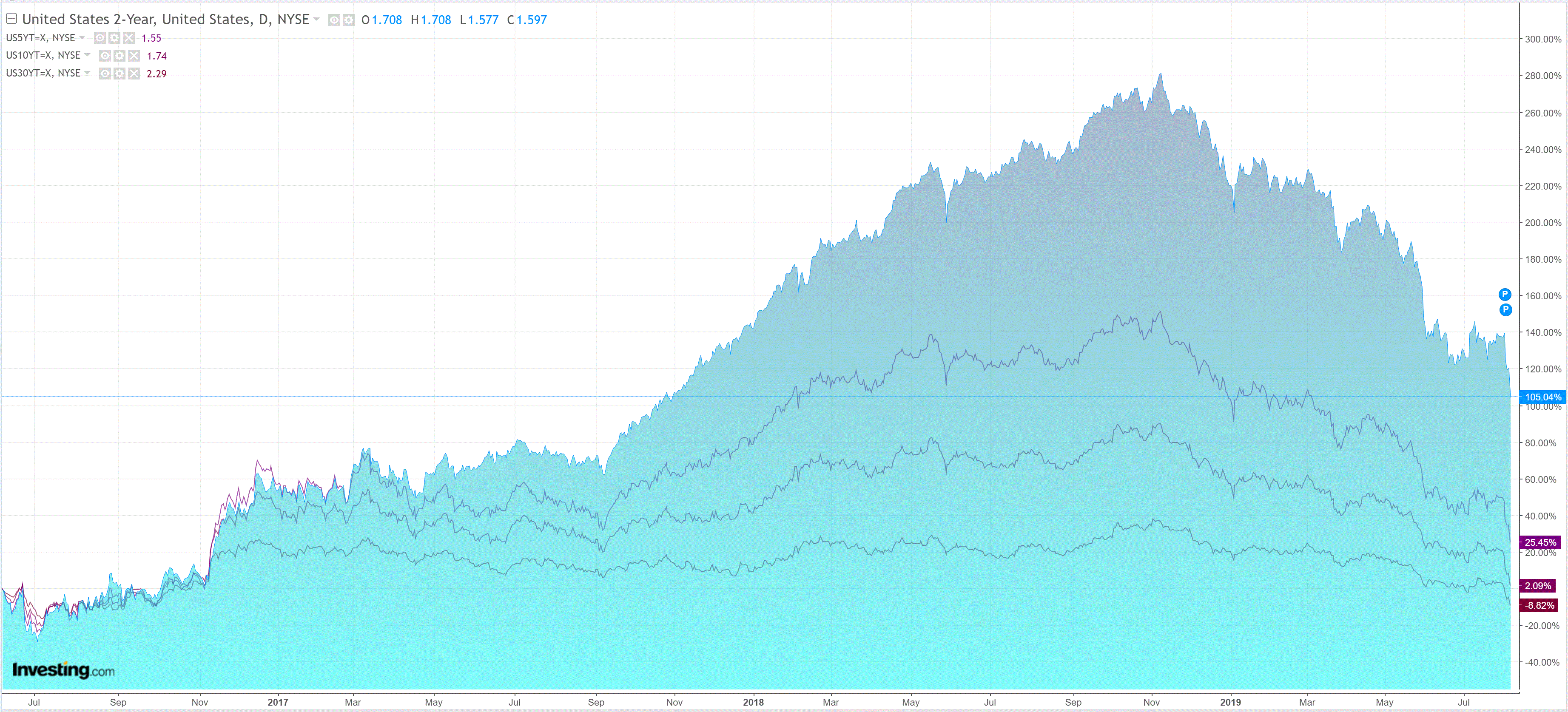 And bunds: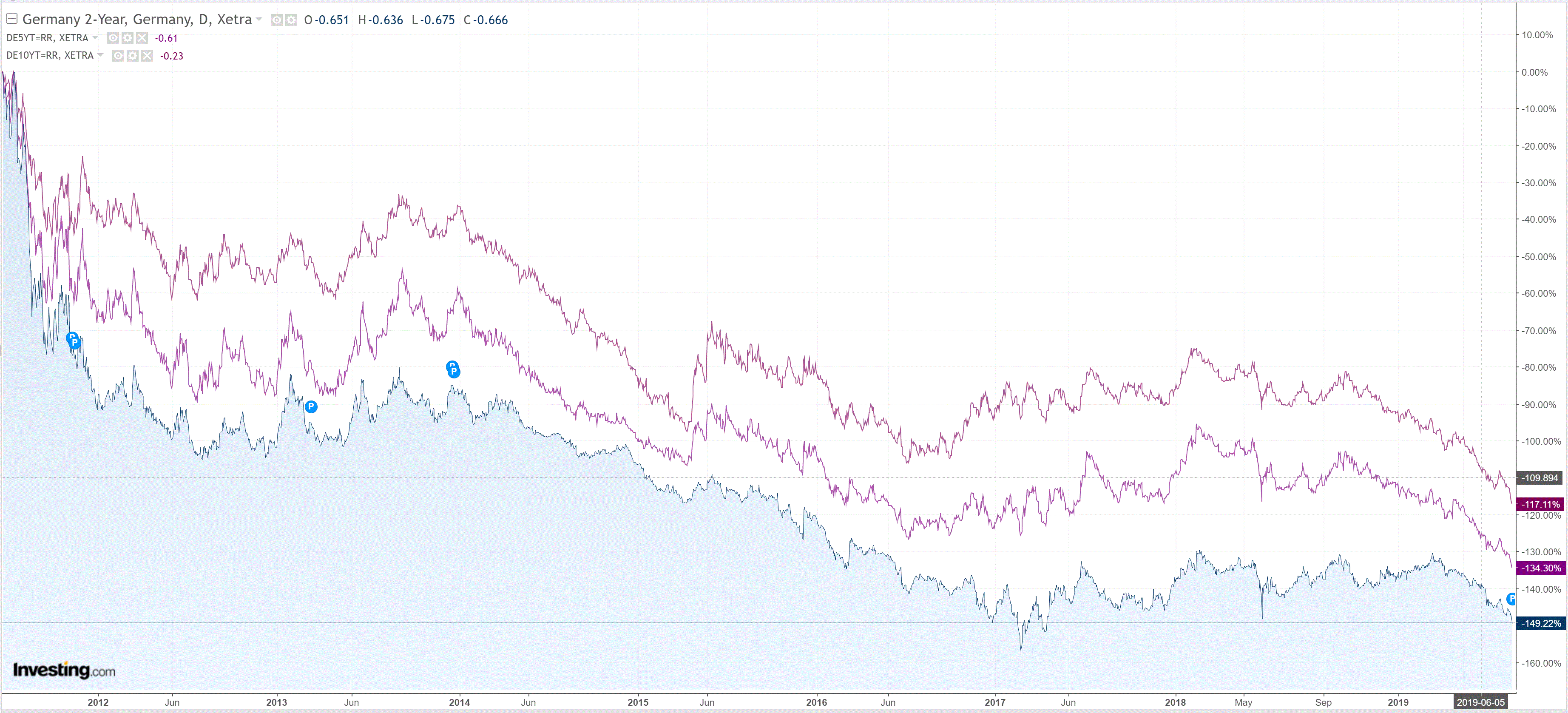 And Aussie bonds: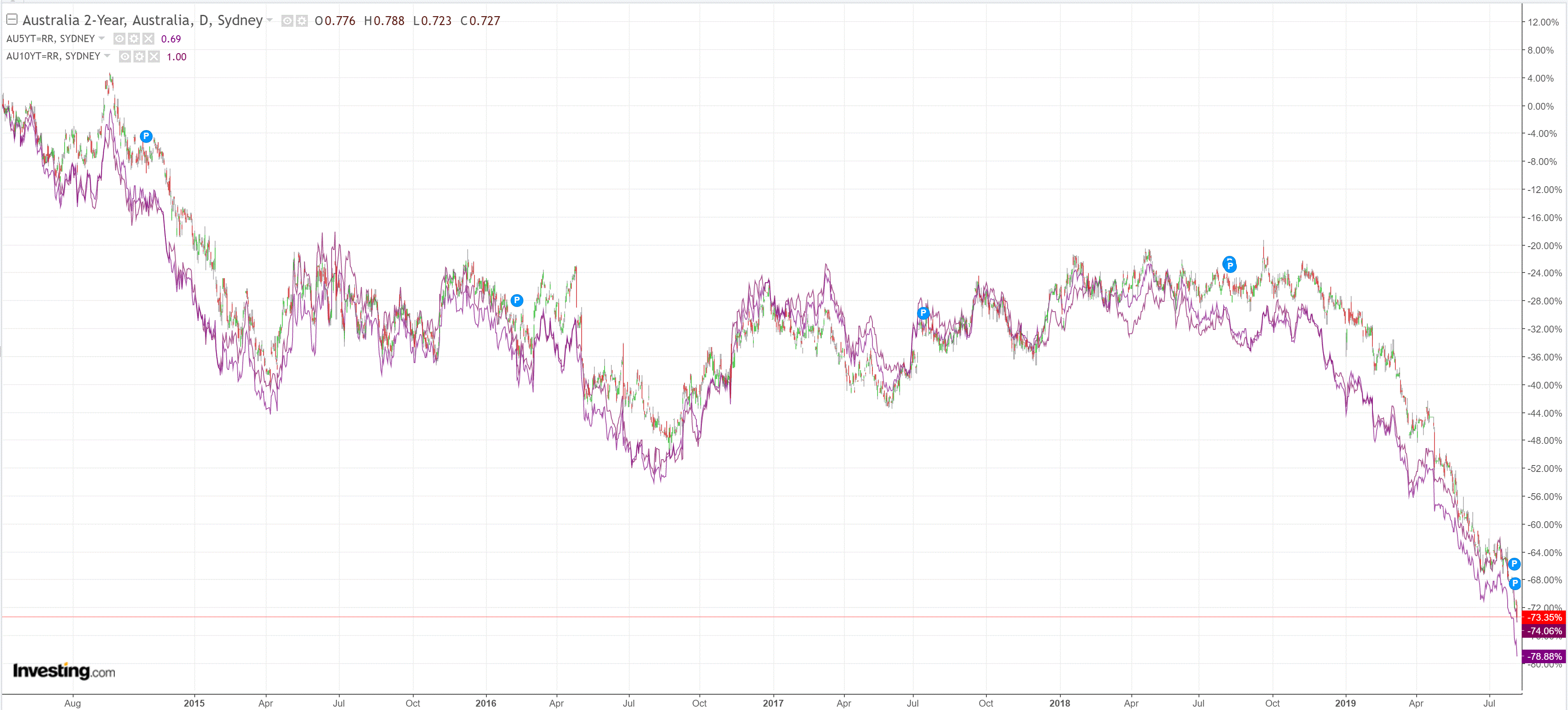 Stocks fell hard: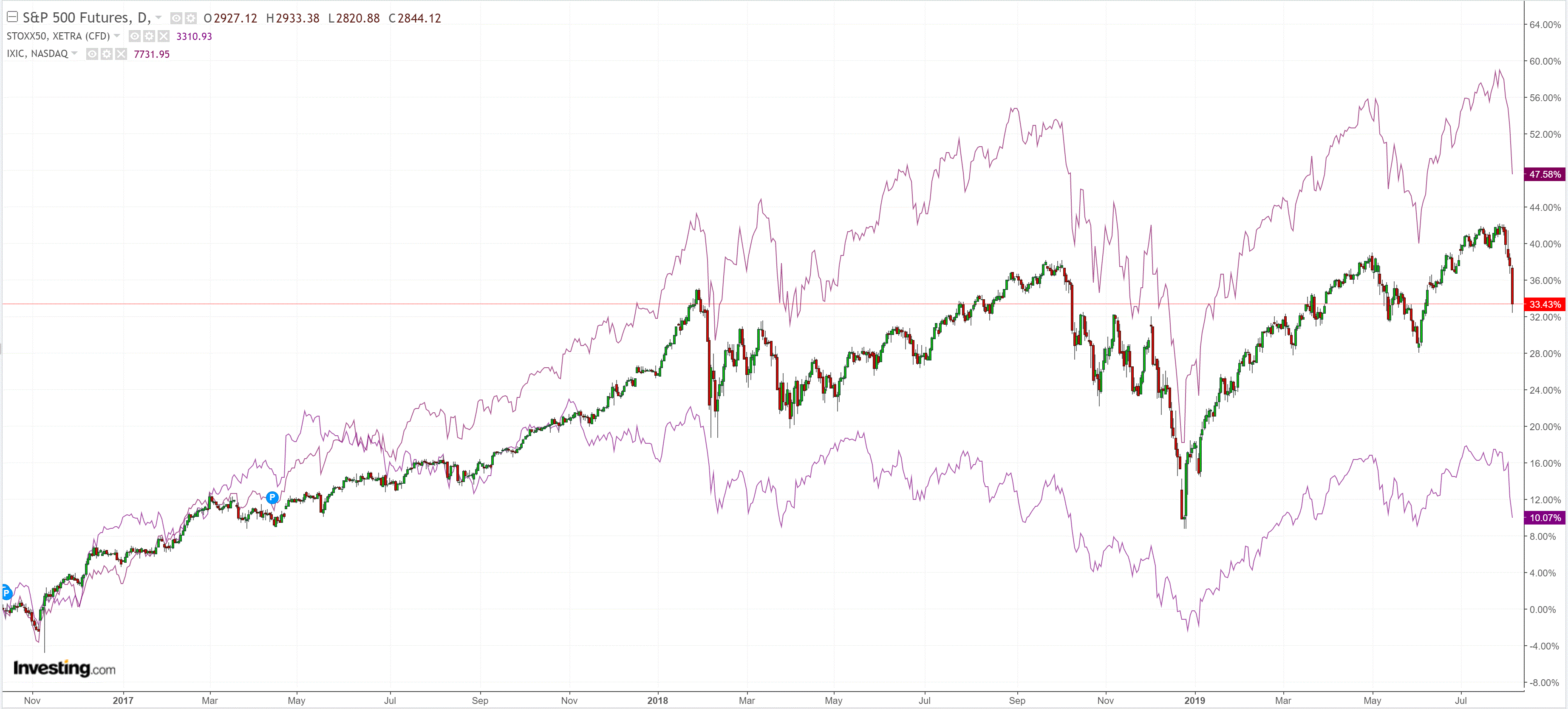 US data was soft as the services ISM missed:
"The NMI® registered 53.7 percent, which is 1.4 percentage points lower than the June reading of 55.1 percent. This represents continued growth in the non-manufacturing sector, at a slower rate. This is the index's lowest reading since August 2016, when it registered 51.8 percent. The Non-Manufacturing Business Activity Index decreased to 53.1 percent, 5.1 percentage points lower than the June reading of 58.2 percent, reflecting growth for the 120th consecutive month. The New Orders Index registered 54.1 percent; 1.7 percentage points lower than the reading of 55.8 percent in June. The Employment Index increased 1.2 percentage points in July to 56.2 percent from the June reading of 55 percent. The Prices Index decreased 2.4 percentage points from the June reading of 58.9 percent to 56.5 percent, indicating that prices increased in July for the 26th consecutive month. According to the NMI®, 13 non-manufacturing industries reported growth. The non-manufacturing sector's rate of growth continued to cool off. Respondents indicated ongoing concerns related to tariffs and employment resources. Comments remained mixed about business conditions and the overall economy."

That accounted for the fall in DXY but beyond that it was all trade war, all of the time.
China devalued CNY and followed up with this, at the FT:
Beijing has asked its state-owned enterprises to halt US agricultural goods purchases in a fresh blow to US farmers and traders after President Donald Trump further ramped up tariffs on Chinese imports. Agricultural products, especially soyabeans, have been at the centre of the escalating US-China trade war, with the US insisting that China must make substantial purchases of the crop as part of any trade deal. Before the trade war began, China was the largest importer of US soyabeans, buying 25m-30m tonnes a year. However shipments have plummeted: since the start of the crop year in September it has agreed to buy only 14m tonnes, of which 10m has been shipped, according to official US data. The US delivered just 5.3m tonnes of soyabeans to China in the first five months of this year, against 15.2m tonnes in the first five months of 2018.
Trump's response was predictable:
China dropped the price of their currency to an almost a historic low. It's called "currency manipulation." Are you listening Federal Reserve? This is a major violation which will greatly weaken China over time!

— Donald J. Trump (@realDonaldTrump) August 5, 2019
Morgan Stanley sums up the obvious:
The dynamics of U.S.-China negotiation and macro conditions mean the next round of tariffs will likely be enacted, and investors are likely to behave as if further escalation will follow in 2019 until markets price in impacts. This supports our core view of weaker growth and skews the Fed dovish.

[Trump Administration] understands the Fed's trade policy reaction function, then it may also perceive that a more rapid escalation could deliver one or more of three beneficial points ahead of the 2020 election: 1) A quicker, potentially more aggressive Fed stimulus response that could help the economy heading into the election; 2) More time to re-frame the potential economic downside; and 3) A major concession by China (not our base case, but it is, of course, a possibility).
Meanwhile, Hong Kong descended into chaos, via SCMP:
Defiant protesters unleashed chaos and violence across Hong Kong on Monday in an unprecedented escalation of radical action against the government and police, even as the city's embattled leader toughened her stance and warned that they had gone beyond protests to attack the nation's sovereignty.

After calling a citywide strike aimed at crippling traffic and daily business, protesters throughout the day and into the night besieged police stations in Tin Shui Wai, Tai Po, Sha Tin, Tsim Sha Tsui,

Wong Tai Sin, Sham Shui Po, Tuen Mun and Tsuen Wan, launching arson attacks at some of them.

Police fired tear gas in flashpoints stretching across seven districts, saying they were using "minimal force" to disperse radical protesters who blocked more than a dozen main roads and three major tunnels, set up barricades, started fires, and attacked law enforcers with petrol bombs, bricks and other projectiles.

More than 80 people were arrested, nine of them in the working-class neighbourhood of Wong Tai Sin, which was caught up in six hours of clashes between protesters and police who fired multiple rounds of tear gas and sponge grenades.

Protesters threw petrol bombs into the police station's compound and again targeted the disciplinary service quarters nearby, where officers' families live.

In a shocking escalation in North Point, protesters were attacked in the middle of the road, in full public view, by about a dozen men with bamboo poles.

Demonstrators fought back with metal rods and hurled objects at them, later outnumbering the attackers and chasing them into a building on Fung Yuen West Street.

Angry protesters besieged the building, and broke a window of a flat where two men brandished knives at them.

The running battles in districts wore on into the night, with tear gas being fired in the poorest neighbourhood of Sham Shui Po, where protesters and residents clashed with police.
And on it went.
We're entering full blown risk off territory here with Australia caught right in the middle of the sundering of Chimerica. So long as it runs, also expect the AUD to burn.
David Llewellyn-Smith is Chief Strategist at the MB Fund and MB Super. David is the founding publisher and editor of MacroBusiness and was the founding publisher and global economy editor of The Diplomat, the Asia Pacific's leading geo-politics and economics portal.

He is also a former gold trader and economic commentator at The Sydney Morning Herald, The Age, the ABC and Business Spectator. He is the co-author of The Great Crash of 2008 with Ross Garnaut and was the editor of the second Garnaut Climate Change Review.
Latest posts by Houses and Holes (see all)