by Chris Becker
Stock markets are renowned for pricing in promises but failing to deliver on accuracy. With US markets now at record highs, with the Dow Jones breaking through the 27000 point barrier last night as the S&P500 hovers at a near doubling of its GFC low, and a Federal Reserve hell bent on supporting those epic climbs what could go wrong?
Earnings is what.
The next earnings season (US companies report quarterly, in Australia its every two quarters), will be another washout, mainly due to Trump's global trade war combined with a slowing global economy but also due to consumers reaching their debt limits.
From CNBC:
Of the 114 companies that have issued earnings guidance for the period, 77% have issued negative forecasts, according to data from FactSet.
Thanks in part to those warnings, earnings are estimated by analysts to have declined by 2.9% year over year in the second quarter. At the start of the period, analysts expected earnings to be basically flat. If that estimate for a decline holds up, it would mark the first time the S&P 500 has reported two straight quarters of year-over-year decline in earnings in three years, according to FactSet.
Sectors like materials and information technology are projected to report the biggest year-over-year declines. The materials sector has recorded the biggest drop in expected earnings growth, nosediving from a 3.2% drop in the beginning of this quarter to a 16.2% drop this week, according to FactSet.
And the upcoming Fed put – with July cut already factored in – may not be enough to forestall this earnings decline. From François Trahan at UBS:
 "The excitement investors are currently showing over impending Fed easing is fairly typical," Trahan wrote. "Indeed, there were similar short-lived periods of enthusiasm in both 2001 and 2007 as investors began to focus on coming rate cuts."

But, as investors might recall, neither of those episodes panned out like market bulls had anticipated, Trahan observed. While extended "rate-cut rallies" were a feature of the 1990s, they've proven to be short-lived over the last 20 years as market valuation measures, like the price-to-earnings ratio, expanded temporarily but then began to compress in the face of weaker leading indicators, he said.
And the current Shiller PE ratio is now double what it was before the last Fed put: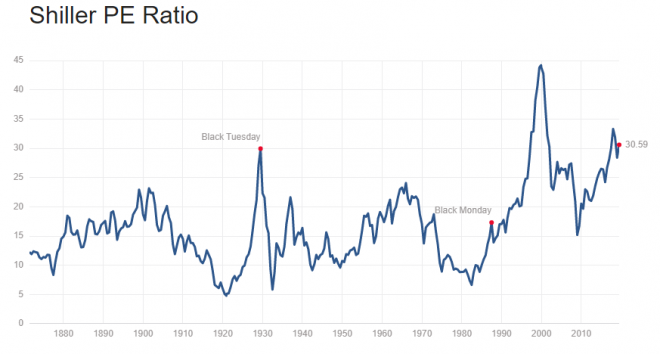 It could well be much lower than -2.9% as the large bells clanging through the global manufacturing PMIs have suggested for quite some time now. Steven Vannelli at Knowledge Leaders Capital suggests that even more leading companies, exposed to Trump's tariffs (which have effectively wiped out all the corporate tax cuts he enacted) and the slowing world manufacturing sector will further downgrade earnings this season: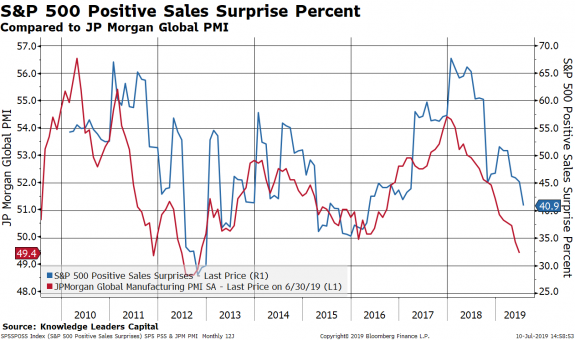 It all starts next week – hang on to your hats!
Latest posts by Chris Becker
(see all)