Sydney's apartment market is in crisis after a series of high profile structural faults have been reported at major apartment complexes.
The problems began last year over concerns that thousands of apartments across the city might be infested with flammable cladding, similar to that which sent London's Grenfell Tower into a towering inferno last year, killing dozens.
Sentiment took another hit when on Christmas Eve, residents of the newly built Opal Tower were evacuated after severe structural faults were discovered in the buildings foundations.
Last month, the situation worsened when residents of the 12-year old Mascot Tower were evacuated after severe cracking sent soundwaves across the complex.
Last week, 7 News reported that a 3 year-old residential apartment complex in Campsie has experienced major cracking:
After the Opal and Mascot tower disasters, 7NEWS can reveal yet another cracking building. Major splits have appeared on two levels of a car park directly under a Campsie residential block. The developer insists the cracks are not structural, but residents are worried. #7NEWSpic.twitter.com/v3nTR67z3G

— 7NEWS Sydney (@7NewsSydney) July 5, 2019
And this week, it was revealed that a 10-year old inner Sydney Zetland apartment building has been abandoned after water and fire safety defects were discovered:
Water damage to a Zetland apartment building was so severe experts warned that a fire could trigger its collapse and residents should be "urgently" evacuated, with the 30 owners told they had to fix in excess of $5 million of defects with an insurance payout of just $1.7 million…

They recount having to live with chunks of plaster falling from the ceiling, widespread outbreaks of dangerous black mould, rotting carpet and floorboards, and water streaming through the ceiling "like a waterfall"…

Early owners recall "a whole bunch of defects right from the start."
Amid growing pressure, Premier Gladys Berejiklian yesterday assured voters the government is addressing the situation, committing to appointing a building commissioner:
Premier Gladys Berejiklian on Wednesday said she wanted to assure the public that the government knew there was a problem around building regulations.

"We know there's a gap in legislation. We allowed the industry to self-regulate and it hasn't worked," she told reporters on Wednesday.

"There are too many challenges, too many problems and that's why the government's moving to legislate."
This is all too little too late, I'm afraid, and akin to closing the gate after the horse has bolted.
Sydney has just undergone the biggest high-rise apartment construction boom in its history, which has left the city with potentially thousands of defective buildings and billions of dollars of potential rectification costs: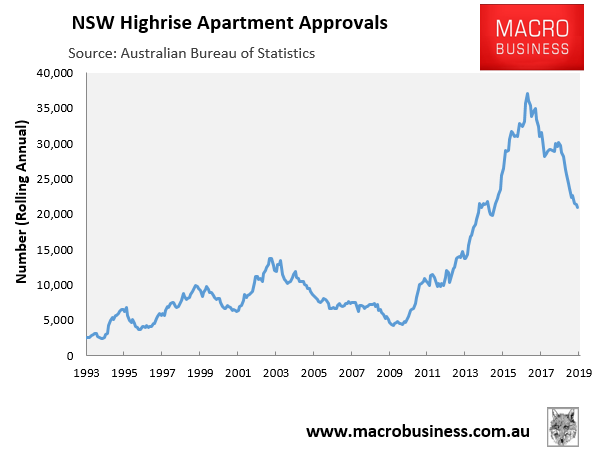 Nothing short of a warts-and-all royal commission will do in order to finger those responsible, recommend reforms, and prevent a recurrence in the future.