Sydney's apartment crisis continues to deepen. After residents were evacuated from both the Opal and Mascot Towers amid severe cracking, and splits have appeared on two levels of a car park directly under a Campsie residential block, The SMH today reports that a 10-year old inner Sydney Zetland apartment building has been abandoned after water and fire safety defects were discovered:
The Herald has confirmed that the owners and tenants moved out of 30 loft-style apartments at 19 Gadigal Avenue in Zetland last year.

"A City of Sydney officer inspected the building in February, 2019, and found the building to be vacant with extensive and severe water damage," the spokesman said…

Owners Corporation Network chair Stephen Goddard said there has been a "conspiracy of silence" around building defects for years due to confidential legal settlements and owners' fears of damage to property values.

The Zetland apartments, known as the Garland Lofts, were built 10 years ago as part of a multi-stage development in the precinct…

Zetland resident Carolyn Hammond… [said] "Bang, bang, bang, everyone moved out"… adding she was concerned about quality of building standards in the area generally. They're creating the ghettos of the future"…
Nobody knows how bad this situation will get. The apartment boom across the East Coast has been nothing short of extraordinary, as illustrated in the next chart: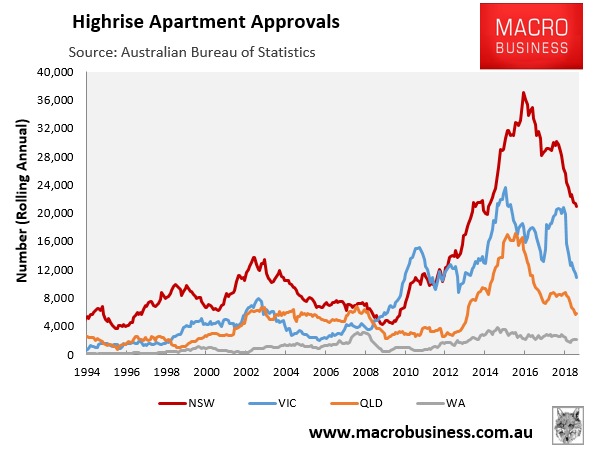 Given the widespread use of flammable cladding alongside structural defects, apartments owners and taxpayers could be facing many billions of dollars in rectification works.
It's time for a royal commission into building practices, regulations and standards. The whole development system needs to be put under a microscope and turned upside down.