News.com.au has taken a detailed look at the Greater Sydneys Commission's economic apartheid plans for Sydney:
It's known by various names — all seemingly designed to elicit a chuckle. To some it's the "latte line", to others the "quinoa curtain".

But for one of the leading voices in western Sydney, the line that divides Australia's largest city in two is nothing to laugh about. Rather, among other woes, it hides one of the "shameful secrets of Sydney".

That's the opinion of Christopher Brown, Chairman of the Western Sydney Leadership Dialogue (WSLD)… He told news.com.au huge investment will be needed in education, health services and transport to broach the wall that splits the city.

With more than two million people living in western Sydney, if it were a city in its own right, it would be Australia's fifth largest.

It's expected to grow in population by more than a million people by 2030…

Yet, western Sydney can seem a world away from the wealthier, eastern side of the city…

"As much as we are strong advocates of western Sydney, we need to be realistic that too many times we are on the wrong side of that line. In terms of per capita lower incomes, below average NAPLAN results and school attendance, higher unemployment and higher rates of preventable disease and hospital admissions.

"Western Sydney is the diabetes capital of the country," he said.

"There are also higher rates of domestic violence which is the shameful secret of western Sydney. We still keep beating up our loved ones more than anywhere else and we have to stop it"…

GSC's chief commissioner Lucy Turnbull… said places such as Parramatta and Bankstown represented the "future of Sydney and Australia" with a youthful and diverse population making them "exciting" corners of the wider city…. "1.2 million people in western Sydney in the next 20 years is a reasonable forecast"…
Sydney is Australia's prime immigration entry point: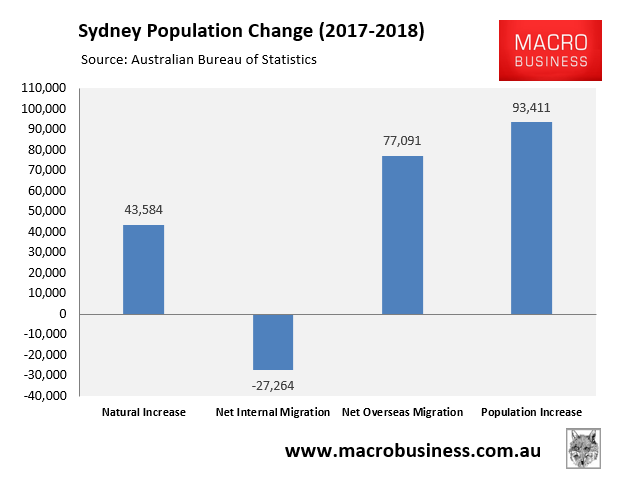 And Western Sydney is the prime dumping ground for these migrants: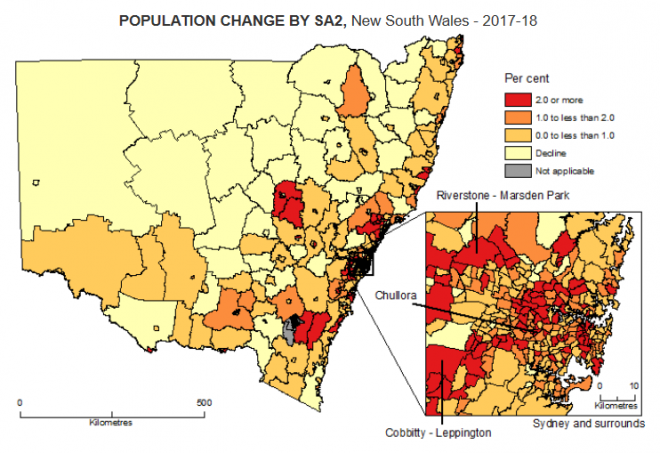 Western Sydney is also projected to receive the lion's share future immigration-driven population growth – i.e. an additional 1.2 million people over the next 20 years, according to the Greater Sydney Commission: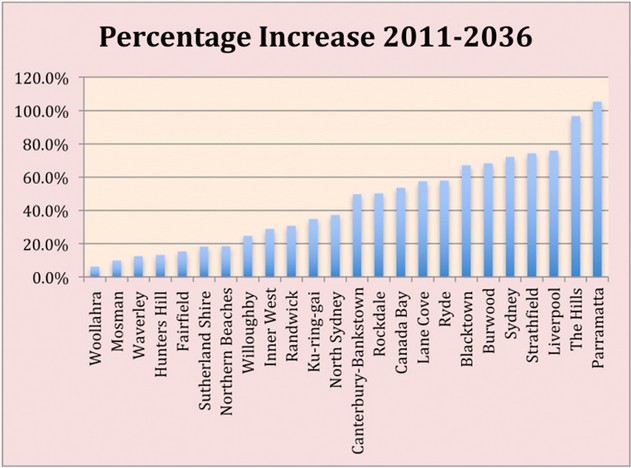 Future Sydney residents are also projected to be squeezed into high-rise shoebox apartments, according to the UDIA: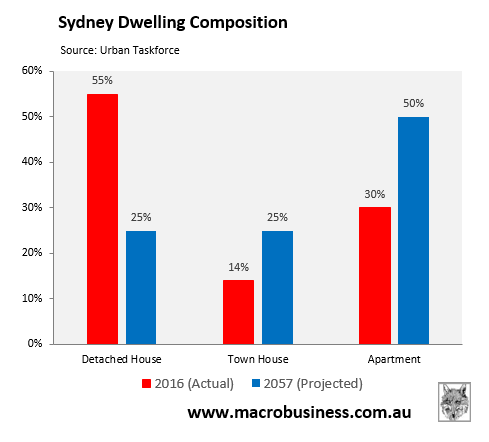 Mark Latham summed the situation up best last week:
The NSW government boasts of "building a city the size of Adelaide" in outer Western Sydney – that is, 1.3 million people in the districts west of the M7 motorway. Adelaide has four public hospitals. Under current planning, the new Western Sydney growth corridor will have none. The 2019 state budget failed to allocate a single cent for construction, or even identify the land on which a new hospital could be built.
Basically, the Western Sydney ghetto is designed to provide cheap foreign labour to the East so that interest rates remain low enabling the East to profit from the rentier services of over-priced ghetto apartments and postage stamp houses, inflated land banks, as well as mortgages and retail by volume.
Western Sydney will never be liveable as long as massive immigration numbers overwhelms its suburbs and clogs up its roads.
Rather, it's an economic apartheid program that's only going to get worse as millions more migrants are packed like sardines into the Sydney's West.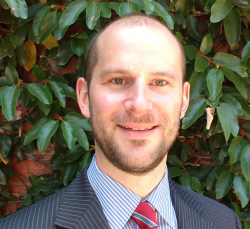 Latest posts by Leith van Onselen
(see all)