Former National Party senator John Williams is backing calls by seniors groups to have the Newstart allowance increased for older unemployed people. Mature-age workers now make up the majority of the unemployed, with those over 55 being the biggest single age cohort on Newstart. Williams says it is harder for older people to get another job, while Ian Henschke from National Seniors Australia says it is absurd that an unemployed person aged 65 is expected to live on $15,000 a year, while they get $24,000 a year when they turn 66 and qualify for the pension. From The New Daily:
The "grey pay" plan to boost the $555-a-fortnight allowance was backed on Monday night by former Nationals Senator John 'Wacka' Williams, who said the dole should be paid on a sliding scale.

Mr Williams told The New Daily older unemployed workers deserved a better deal as the age of qualification for the pension increased to 66.

"As you get older, it's harder to get another job," Mr Williams said.

"It might be that you pay over-55s $320 a week and pay younger workers less. The taxpayers of this country don't owe you a living. But by stepping it, you're also helping the budget."

But welfare groups cautioned that rent, food and utilities cost low-income people the same whether they are young or old.
The welfare groups are right. Newstart should be needs-based, not aged-based. Just because somebody is aged over-55 does not mean they should get more income support than those aged under 55, especially given younger people are likely to have higher expenses (e.g. mortgages, raising children, etc).
Moreover, unemployment is highest amongst younger Australians: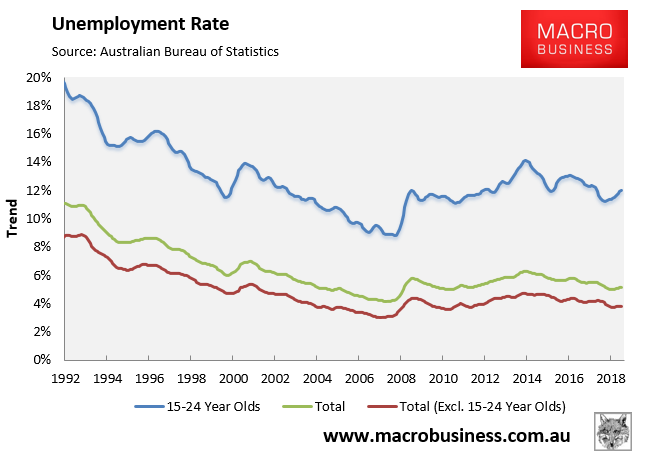 Raise Newstart for everybody, not just over-55s.
Leith van Onselen is Chief Economist at the MB Fund and MB Super. Leith is an economist and has previously worked at the Australian Treasury, Victorian Treasury and Goldman Sachs.
Latest posts by Unconventional Economist (see all)