The most recent wages price data from the ABS shows that public sector wages have grown far more strongly than the private sector over the past five years: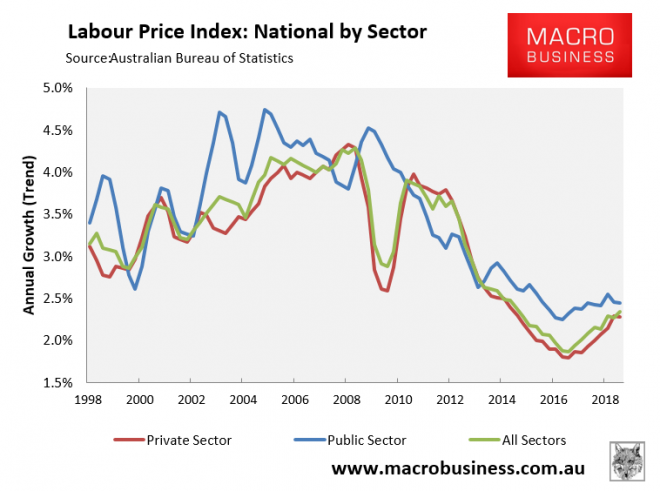 With this data in mind, The New Daily reports that Australia's highest ranked public servants are earning close to $1 million:
If you want to see a more comprehensive list of who earns what this official table above gives more detail. If you want to put names to the roles a quick google search will help out…

The table below details the pay of another cohort of highly paid public sector workers, the mandarins who head the government departments themselves. They are also living high on the government payroll…

This pay table details many departmental leaders but leaves out the most powerful of the mandarins. One is Treasury Secretary Philip Gaetjens, who earns a handy $892,00 per annum.

The other is the top bureaucrat, Department of Prime Minister and Cabinet Secretary Martin Parkinson. He is the highest paid public servant taking home $914,000 from the public purse a year…

The question on people's minds is whether our public servants are worth the big bucks. Some international comparisons show them doing extremely well with the US Treasury Secretary Steven Mnuchin being paid around $US210,000 or $A304,000. And that's for managing an economy about 15 times the size of ours.
This is another sad reflection on the Australian economy. Senior bureaucrats, politicians, consultants and senior executives in the private sector are receiving strong increases in their already exorbitant pay, whereas ordinary workers' wages stagnate. And this situation will be made worse by the Morrison Government via its massive high-income tax cuts.
Leith van Onselen is Chief Economist at the MB Fund and MB Super. Leith has previously worked at the Australian Treasury, Victorian Treasury and Goldman Sachs.
Latest posts by Unconventional Economist (see all)