We noted yesterday how a 196-page review of the Administrative Appeals Tribunal (AAT) has sought to end systemic rorting by Asian migrants, who are using loopholes to arrive in Australia on tourism visas and then paying $100 to apply for a humanitarian or protection visa to extend their stays.
The review came about after the explosion of Bridging Visas, whose numbers have more than doubled over four years to around 230,000 as at March 2019: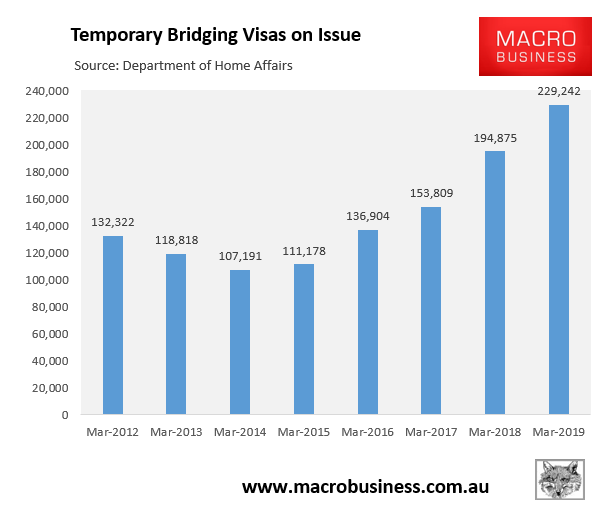 Yesterday, The Australian reported that the surge in bogus applications to the AAT was being fuelled by organised criminals:
[Former High Court justice Ian Callinan] said "almost everyone" with migration law experience had told him there were applic­ants and representatives who "game the system, well knowing there is an automatic entitlement to a bridging visa".

The Australian Skills Quality Authority told Mr Callinan that delays had repercussions beyond the AAT. It told him it was aware that organised crimin­als were sometimes, "perhaps even regularly", benefiting from fake vocational training prog­rams or "ghost'' colleges…

The AAT now handles about 59,000 lodgements a year: more than half (52 per cent) are migra­tion and refugee cases…

The AAT's caseload of migra­tion and refugee matters doubled in the two years to June 30 last year, and it was only able to finalise 18,000 of the 38,000 migration and refugee cases filed in 2017-18.
Meanwhile, Labor's Home Affairs spokesperson, Kristina Keneally, attacked the Morrison Government for allowing the explosion in asylum seekers arriving by plane:
Labor's Home Affairs spokeswoman Kristina Keneally told the Senate the number of protection visa applications made by people who arrived legally in Australia had blown out to 81,596 between July 2014 and the end of January this year…

"Why has the minister allowed for the large blowout in bridging visas and airplane people under his watch?" Senator Keneally asked in the Senate on Tuesday.

While the government has trumpeted its success "stopping the boats" since 2013 as a result of its hard line policy of offshore detention and boat turnbacks, the number of asylum seekers arriving by plane has skyrocketed.

Last financial year alone, the number of people applying for asylum who arrived by plane jumped to nearly 28,000, up from 18,290 in 2016-17 and 9,554 in 2015-16…

While 90 per cent of applications are rejected, many remain in Australia on bridging visas as they exhaust the appeals process which can take years.
There's no getting around the fact that Australia's visa system has more holes that a block of Swiss cheese, spanning the entire gamut. Rorting is pervasive, from bogus asylum seekers, to international students doing bogus courses for permanent residency, and low-paid 'skilled' migrants employed for the express purpose of undercutting Australian workers and juicing demand.
The whole immigration system has been corrupted and requires root-and-branch reform.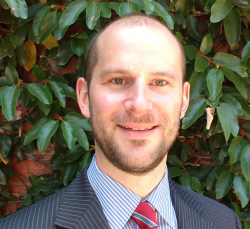 Latest posts by Leith van Onselen
(see all)