Via the AFR comes The Cartel:
Centre Alliance Senator Rex Patrick is pushing for modifications to the Australian Domestic Gas Security Mechanism to bring down gas – and therefore electricity – prices. He has pointed to chief competition regulator Rod Sims' suggestion of $7 a gigajoule as a potential reference point, although argues the price on the east coast should be even lower.

But gas industry industry sources on Tuesday said they saw little appetite from the Morrison government – and the office of federal Resources Minister Matthew Canavan – to go down that track and said the government's resolve against such a move had firmed over the last few days.

"There is no conceivable way they could do it on price," one source said. Executives said they also regarded it as unlikely that the federal government would trigger the ADGSM and invoke controls on LNG exports because that would only raise sovereign risk while doing nothing to reduce east coast prices.

Industry sources point to a minimum price of $6.50-$7 a gigajoule to bring on new gas fields in Queensland, translating to more than $8.50 a gigajoule for a customer in Victoria once transportation costs are included.
Blah, blah, blah. The cartel has plenty of cheap gas to leave in Australia. Note that it says "new gas fields" will not be viable at $7Gj to supply locally. What about the old gas fields? The same ones that come out of the ground at $1-3Gj? That's the gas that should be left here. It is the third party gas vacuumed up by the cartel when its own reserves fell short. And it is also the QLD gas, from BREE: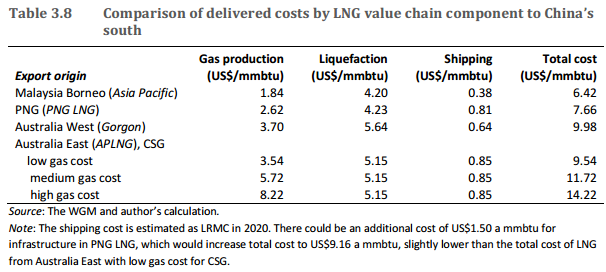 These are all-in costs that include infrastructure. $7Gj offers reasonable margins for the cheap stuff. But given much of the infrastructure is already built, the cash costs are less than half anyway.
If there needs to be cut backs to production owing to uneconomic supply then make them to exports. It's not obvious that even that will happen given most volumes are going to Asia at $10Gj via oil-linked prices.
Sure, the cartel will have to lower its profits outlook and take some write downs but who cares. That's business.
As for the sovereign risk argument, it's bollocks. The QLD LNG industry will never see another dollar of investment anyway. Every other energy exporter on earth does reservation, including Mozambique, which ranks 158 on the TI corruption scale, and is currently enjoying massive LNG investment. LNG export contracts are renegotiated all of the time. Some recent examples from a five minute google search:
Edison renegotiated RasGas contract on price and volume in 2012;
PGNiG renegotiated QatarGas contract on volume in 2014;
Petronet renegotiated RasGas contract on volume and price in 2015;
PetroChina renegotiated QatarGas contract on volumes in 2015;
JERA renegotiated RasGas contract on volume and price in 2016;
Pakistan renegotiated QatarGas contract on volume sand price in 2016;
Japan declares multiple contracts illegal owing to "destination clauses" in 2016, following Europe from a few years earlier;
Petronet renegotiated Exxon-Mobil Gorgon contract on volume and price in 2017;
Woodside Pluto contracts renegotiated on price in 2017;
Kogas renegotiated Woodside contract on price in 2018;
GAIL renegotiated Gazprom contract on volume and price in 2018;
India in talks with Cheniere and Dominion to renegotiate contracts in 2018.
The only risk in Australia's failed gas markets is to the sovereign. The energy cartel is siphoning off $15-20bn of income from the east coast economy annually directly from households and business. It is destroying Aussie competitiveness while it is at it. Even ScoMo cheerleader Terry Mccrann can see it today:
The federal and state governments have to kick up spending on much-needed infrastructure.

They also need to help business become more productive. And crucially, they need to deliver lower prices for energy – for electricity and gas – to both consumers and business.

Our governments also need to guarantee the supply of that energy: there's no point in having cheaper prices for something you can't get.
It is massively in the Government's interest to smash the gas cartel, liberate all of that income for consumption, look like a hero on utility prices, plus drive down inflation and interest rates even further.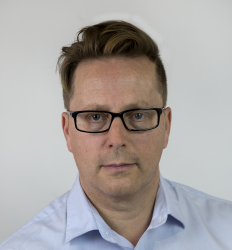 Latest posts by Houses and Holes
(see all)