FMG is out with its quarterly production report:
QUARTERLY HIGHLIGHTS

• Safety TRIFR of 2.8, an improvement of 22 per cent compared to 31 March 2019 and a record annual result

• Record quarterly shipments of 46.6mt including 4.7mt of West Pilbara Fines

• FY19 shipments of 167.7mt, one per cent lower than FY18 due to the impact of Cyclone Veronica

• Average revenue received increased by 30 per cent to US$92 per dry metric tonne (dmt) compared to the March quarter of US$71/dmt

• C1 costs of US$12.78/wmt, five per cent lower than the March quarter (US$13.51/wmt)

• Payment of a fully franked A$0.60 per share dividend in June 2019, bringing total FY19 dividend payments to date to A$0.90 per share

• Official opening of the Judith Street Harbour in Port Hedland marking the completion of Fortescue's towage infrastructure and fully integrated supply chain

• Approval of the US$287 million investment in the Queens Valley mining area development at the Solomon Hub

• Eliwana Mine and Rail and Iron Bridge Magnetite projects progressing on schedule and budget
Aaand this:
FY20 GUIDANCE

• 170-175mt in shipments, inclusive of 17-20mt of West Pilbara Fines product

• C1 costs expected to be in the range of US$13.25-13.75/wmt

• Average strip ratio 1.5

• Total capital expenditure of US$2.4 billion, allocated to the following categories: o Sustaining capital US$700 million o Operational development US$200 million o Queens Valley development US$150 million o Major Projects

▪ Eliwana US$700 million

▪ Iron Bridge US$500 million o Exploration US$140 million • Depreciation and amortisation of US$7.70/wmt

• A total dividend pay-out ratio between 50 and 80 per cent of full year NPAT
It just ran its asset at 186.6mt annualised for the quarter. Barring another weather shocker or other accident it's going to smash its own volumes guidance.
This goes a long way towards explaining the massive Port Hedland ramp up given FMG shipments were up and astonishing 12.3mt from Q1: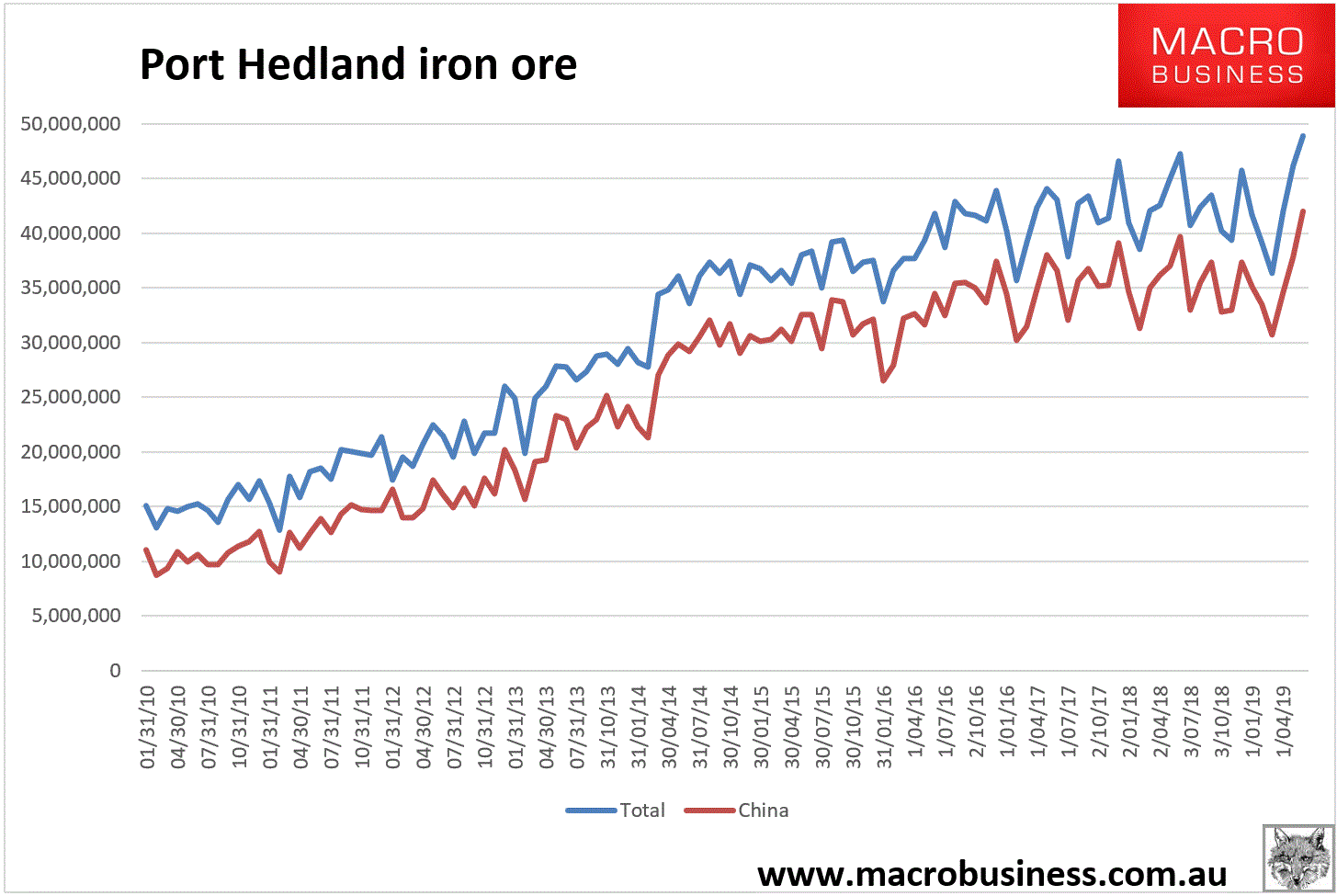 Then FMG is going drop another 22mt on the market in 2021.
I don't blame FMG for wrecking the boom. Somebody is always going to do it given iron ore is so contestable. What amuses me is that Andrew Forrest smashes everybody else for expanding production while he gobbles up market share.
Clever dude. RIO not so much.