Reuters has the texture:
"Investors mulled over the impact of further curbs on the Chinese steel industry," ANZ Research said in a note, citing the latest notice from Tangshan on steel output restrictions.

Tangshan has stepped up anti-pollution measures beginning July 21 until July 31 as it seeks to meet its air quality targets, a city government-backed newspaper reported on Monday.
Whatevs. This boom was always a supply story and the bust is the same. Everybody is agog at Chinese steel output but it has been met by falling iron ore imports: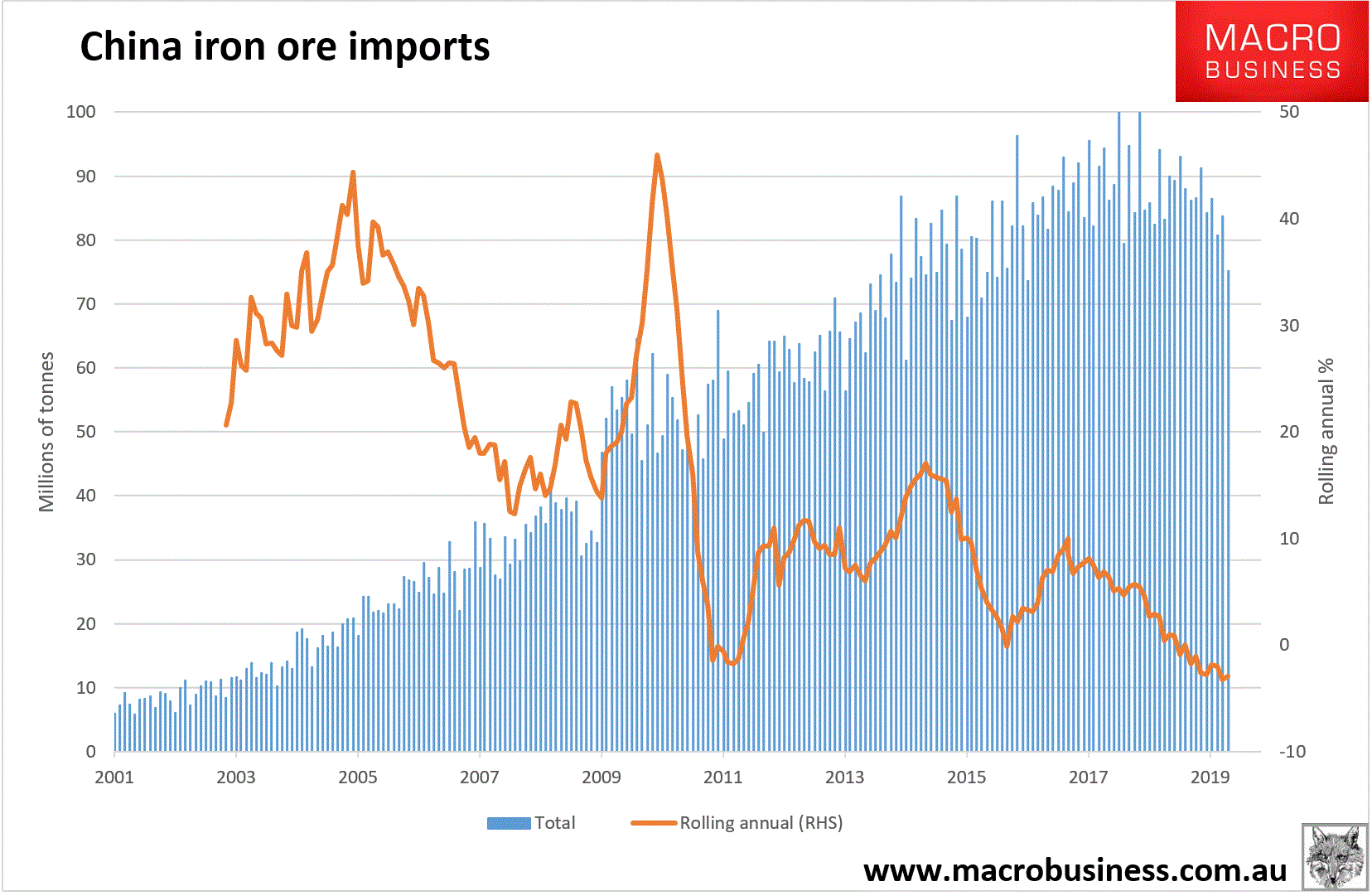 Currently falling at 3% rolling annual. Even if you add 30mt for Vale's accident, imports are still falling over 1% rolling annual. Why? Scrap inputs into BOF and EAF are climbing relentlessly.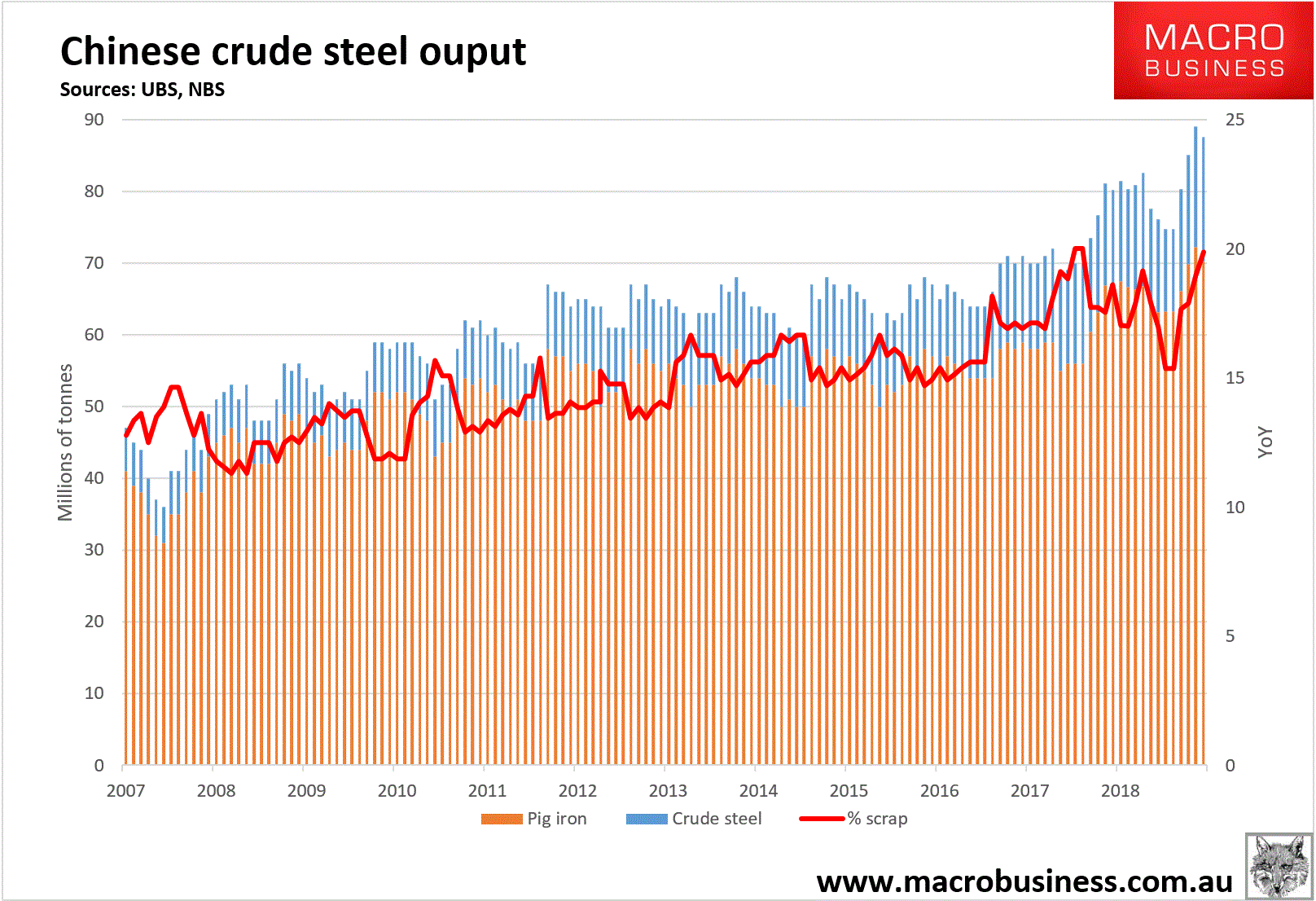 So, when the supply re-adjusts prices will fall and that has begun. To the daily charts: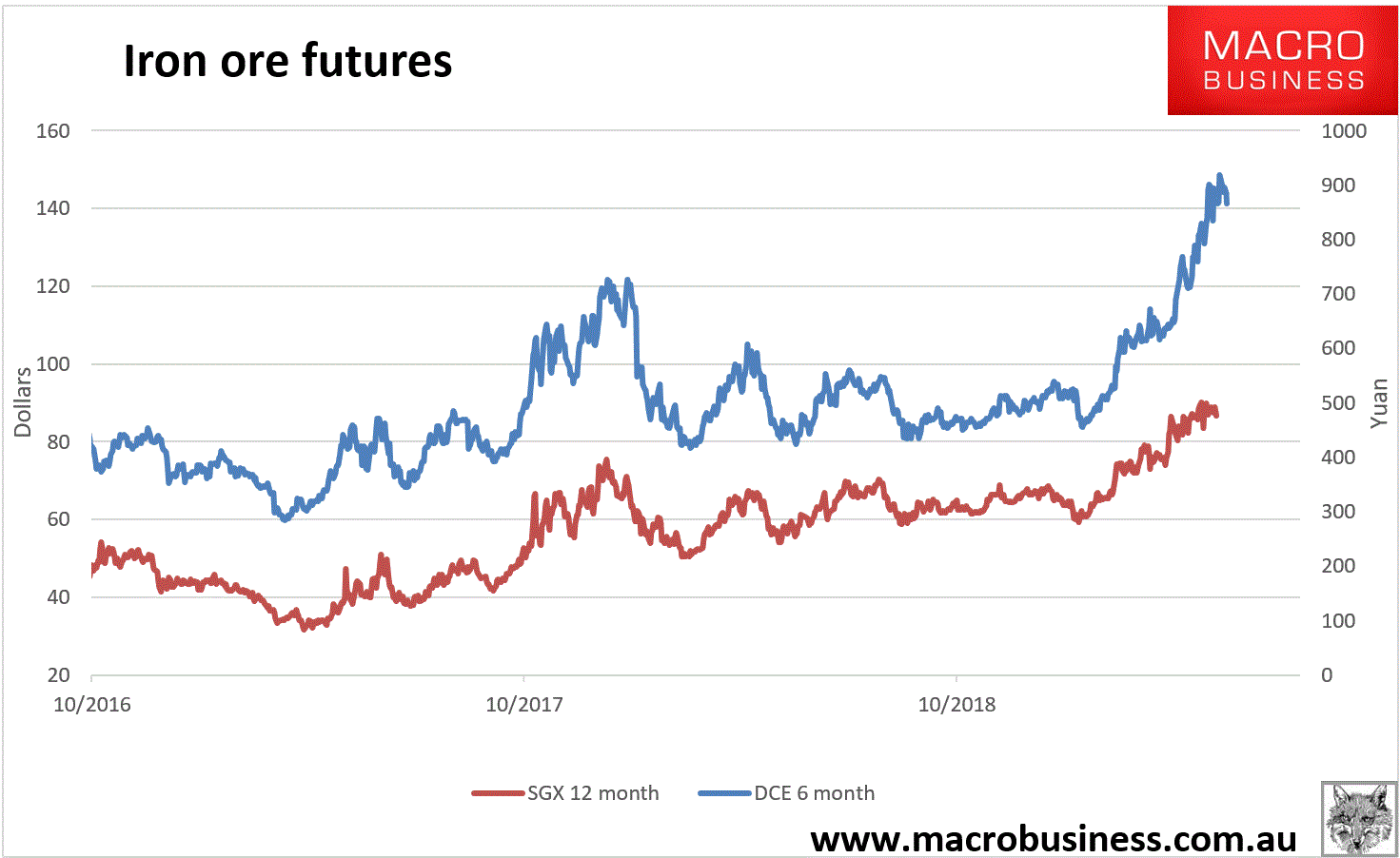 Spot was unmoved following a big move the day before. Paper was hit overnight. Steel is stalled.
The truth is iron ore was trading below $100 before Brucutu was knocked out and now it is back. We should fall quickly back into two figures. There's a lot more supply online now than there was then!
Including Iranian:
Exports of Iranian iron ore have remained steady in the face of escalating tensions in the Mideast Gulf and there are few signs that China, which receives about 95pc of these volumes, will fall in line with US government sanctions.

In a climate of a tighter pellet supplies, and Brazilian producer Vale confirming a 15mn t shortfall to 45mn t/yr in its total pellet production this year, Chinese buyers are unlikely to turn their backs on Iranian material, despite its pellets typically being of a lower grade compared with Brazilian material. Iran exported an estimated 17mn t of iron ore in the Iranian year ending 20 March 2019, government data show.

Even after the US renewed Iran nuclear sanctions in August last year, Iran's exporters have maintained their shipments of iron ore to China by re-routing them via third-party ports and re-exporting volumes so that cargoes do not have to officially nominate Iran as the country of origin, market participants told Argus. Iranian exporters are also employing tactics that they are less keen to reveal at the moment, traders said.
And when you see iron ore mines attempting to open in Tasmania, you know the jig is up:
A potential West Coast miner hopes to start producing iron ore by the end of the year.
Venture Minerals Limited said its goal was to start iron ore production at its Riley project in the December quarter following a favourable outcome from a mining study update.
It said a decision on whether to mine at Riley was imminent.
"The company has assembled a team of highly experienced mining professionals to work on updating the previous mining study so that a decision to recommence mining can be made at the earliest opportunity," Venture said in its June quarterly report.
That sucking sound you can here is the end of the iron ore price boomlet.
David Llewellyn-Smith is Chief Strategist at the MB Fund and MB Super. David is the founding publisher and editor of MacroBusiness and was the fouding publisher and global economy editor of The Diplomat, the Asia Pacific's leading geo-politics and economics portal.
He is also a former gold trader and economic commentator at The Sydney Morning Herald, The Age, the ABC and Business Spectator. He is the co-author of
The Great Crash of 2008
with Ross Garnaut and was the editor of the second
Garnaut Climate Change Review
.
Did you know the MB International Shares Fund has returned an average of 17.1% per annum and the Tactical Growth Fund an average of 10.4%? Register below to learn more:
Latest posts by Houses and Holes (see all)