Spot was clubbed. Paper hung on overnight. Steel is soft. Port stocks surged 3.1mt to 118.35mt. Reuters has the texture:
"The inventory figures could be higher because of an increase in import volumes, or there could also be some delay in the delivery from ports to the mills," the trader said. "We need to see a trend running for several weeks."
Whatever you say, mate. This rally is done. To the charts: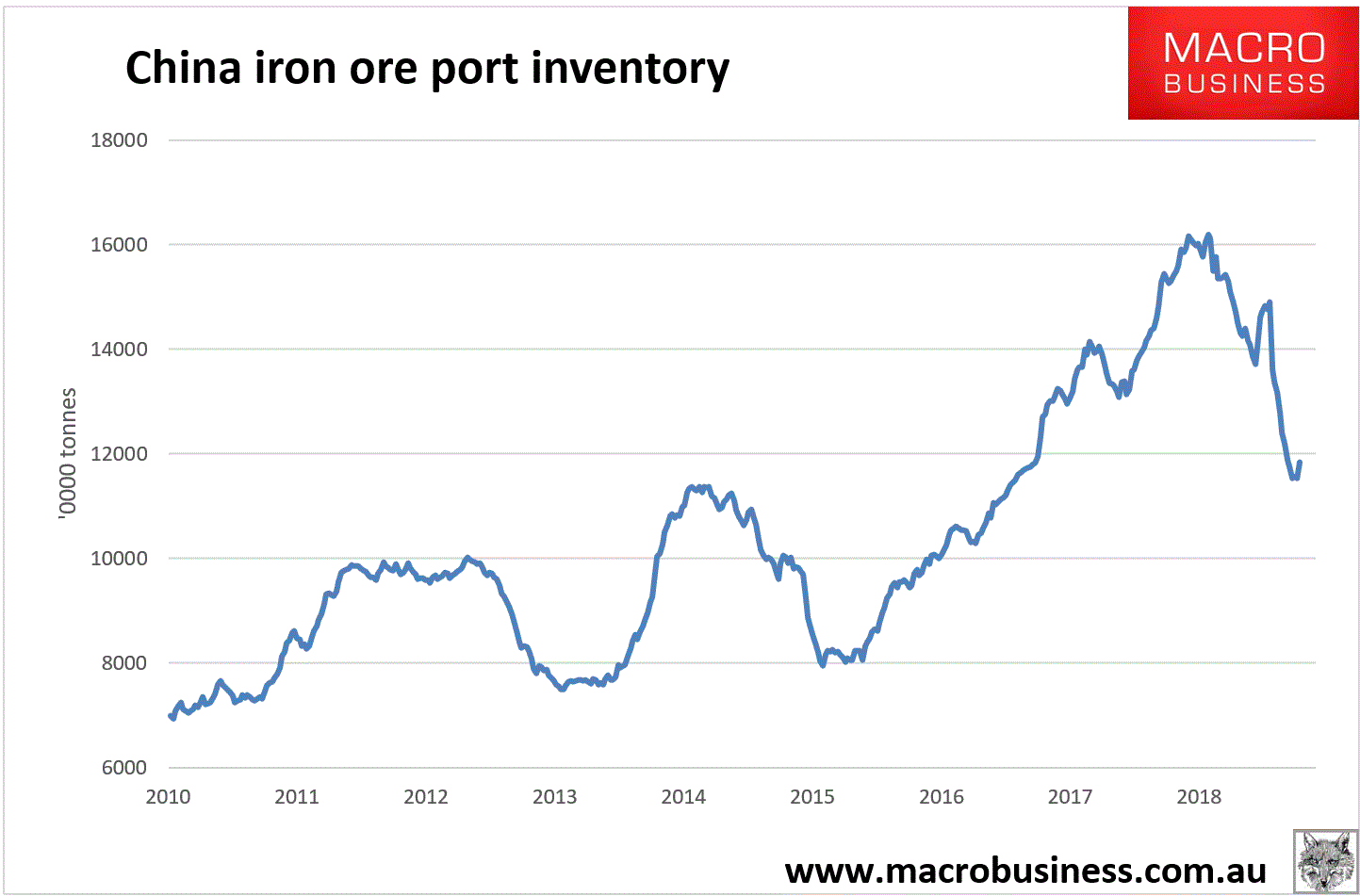 Vale released its second quarter production update:
Vale S.A ("Vale") iron ore fines production and sales showed a substantial improvement in the end of 2Q19 with the increase in shipments in the Northern System and the resumption of Brucutu operations. The combined effects of both events will be felt more considerably in 2H19.

Iron ore fines production1 totaled 64.1 Mt in 2Q19, 12.1% and 33.8% lower than 1Q19 and 2Q18, respectively, mainly as a result of the impacts following the Brumadinho dam rupture and the unusual weather-related conditions in the Northern System in April and early May.

As a result of the successful S11D ramp-up, the Northern System achieved a run rate of 215 Mtpy in June and expects to produce around 18.5 Mt to 19.0 Mt per month in 2H19 reaching the 230 Mtpy run rate.

Vale's pellet production2 totaled 9.1 Mt, 25.5% and 29.3% lower than in 1Q19 and 2Q18, respectively, mainly due to the full stoppage of the Southern System pellet plants during the quarter, following the Brumadinho dam rupture, abnormal rain in the Northern and Southeastern Systems as well as maintenance carried out and at the Tubarão plants.

Vale made substantial progress concerning the 93 Mtpy of Iron Ore production capacity stopped in 1Q19, with the resumption of Brucutu operations on June 22nd , recovering 30 Mtpy of production capacity. Regarding the 60 Mtpy currently curbed, Vale expects that the 30 Mtpy of dry processing production will be gradually resumed starting by the end of this year and the remaining 30 Mtpy, which includes wet processing, is estimated to return in about two to three years.

Iron ore fines and pellet sales volume was 70.8 Mt in 2Q19, 4.5% higher than in 1Q19 and 18.2% lower than 2Q18. Although the production volumes decreased quarter- on-quarter, sales volumes increased 3.2 Mt due to the consumption of offshore inventories.

As a result of the Brucutu mine restart, Vale reaffirms its 2019 iron ore and pellets sales guidance of 307-332 Mt, as previously announced, and informs that its expected sales volume will move towards the midpoint of the range. Following the Brumadinho accident, there was a shortage of products to be loaded in the Southern and Southeastern Systems, and therefore a major share of scheduled vessels was redirected to the Ponta da Madeira port in the Northern System. However, the heavy rains in March, April and early May impacted port productivity and loading operations.
So, 2019 is headed for a fall of 46mt from 2018. But, sales will be down only 20mt in the second half and essentially fixed by year end given the S11D ramp up will replace other lost production.
With RIO still pretending to have supply problems, the shortfall on last year is 25mt for H2. That amount has already more than been covered by a booming Port Hedland, booming non-Vale Brazil, as well as China and India.
Barring any more accidents, the iron ore price does not need to be anywhere near $120. That is high enough to trigger all kinds of new projects, also at Reuters:
Guinea has launched an international tender for blocks 1 and 2 of Simandou, giving companies until Aug. 2 to outline their bids, as the country seeks to revive interest in the world's largest undeveloped iron ore deposit.

Guinea's aspirations to develop Simandou have foundered because of the cost of infrastructure and protracted legal disputes, but strong iron ore prices and the resolution of some of the problems have increased the chances that developers can be found.

Mines Minister Abdoulaye Magassouba told Reuters the international tender would be "open, competitive and transparent". The deadline for companies to express interest was Aug. 2 and the process should be completed 30 days after that, an official close to the tender said.

Government sources, speaking on condition of anonymity, said western mining groups and companies from Asia, including China, had shown interest in Simandou, which has a very high grade.

High grade iron ore commands a premium and has become sought after by countries, including China, because processing it creates less pollution than lower grade ore.

Blocks 1 and 2 have become available following the resolution of one of the legal cases that have embroiled Simandou. Billionaire Beny Steinmetz's BSG Resources (BSGR) said it would walk away from the Simandou project, but retain the right to mine the smaller Zogota deposit.

The Guinean government has said ore mined from Simandou must be shipped from its own ports, presenting a challenge for prospective developers as its location is 650 kilometres from Guinea's coast.

Guinea has said ore from Zogota can be shipped using a Liberian route. Those involved in Zogota have said activity around the smaller, more manageable project could help to release the deadlock around Simandou.

One industry source said Australian iron ore company Fortescue Metals was interested in the Simandou tender.
Neither Vale nor anybody else wants that to happen.
The iron ore price should fall from here. Whether it drifts or plunges will likely depend on the state of Chinese inventories.