Spot went pop. Paper too though there was more buying overnight. Steel is caput. We've overcooked it here and it is going to come undone, either now or soon. Supply is returning steadily and demand is not great. The charts:

Clyde Russell does an about turn:
Shipments from the two major exporters, Australia and Brazil, show a recovery in June, according to vessel-tracking and port data compiled by Refinitiv.

For the whole of June, Australia exported 76.8 million tonnes, down slightly from May's 77.9 million. But measured by daily average, June's exports of 2.56 million tonnes were actually above the 2.51 million achieved in May.

The performance over May and June is also the strongest on a daily average basis since December 2017, further illustrating that Australia's exports have bounced back from weakness in March and April, caused by disruption from a tropical cyclone.

Meanwhile Brazil's exports also increased in June, reaching 30.6 million tonnes, up from May's 28.3 million, according to Refinitiv.

June's shipments were the highest since December's 35.7 million tonnes, although there is still room for further gains given Brazil's monthly exports averaged 32.2 million tonnes in 2018.

Still, Brazil's exports in the past two months are up strongly from just 16.5 million tonnes in April and 23.7 million in May.

…It's also worth noting that exports from Brazil in June will only arrive in China late this month or in August. Those coming from Australia tend to take at least 16 days to make the voyage.

This means that there is the possibility that China's imports recover somewhat in July, and perhaps by a greater margin from August onwards.
Markets are supposed to discount the future, right? Let alone one month hence. It's also worth taking a peak at the Baltic Dry: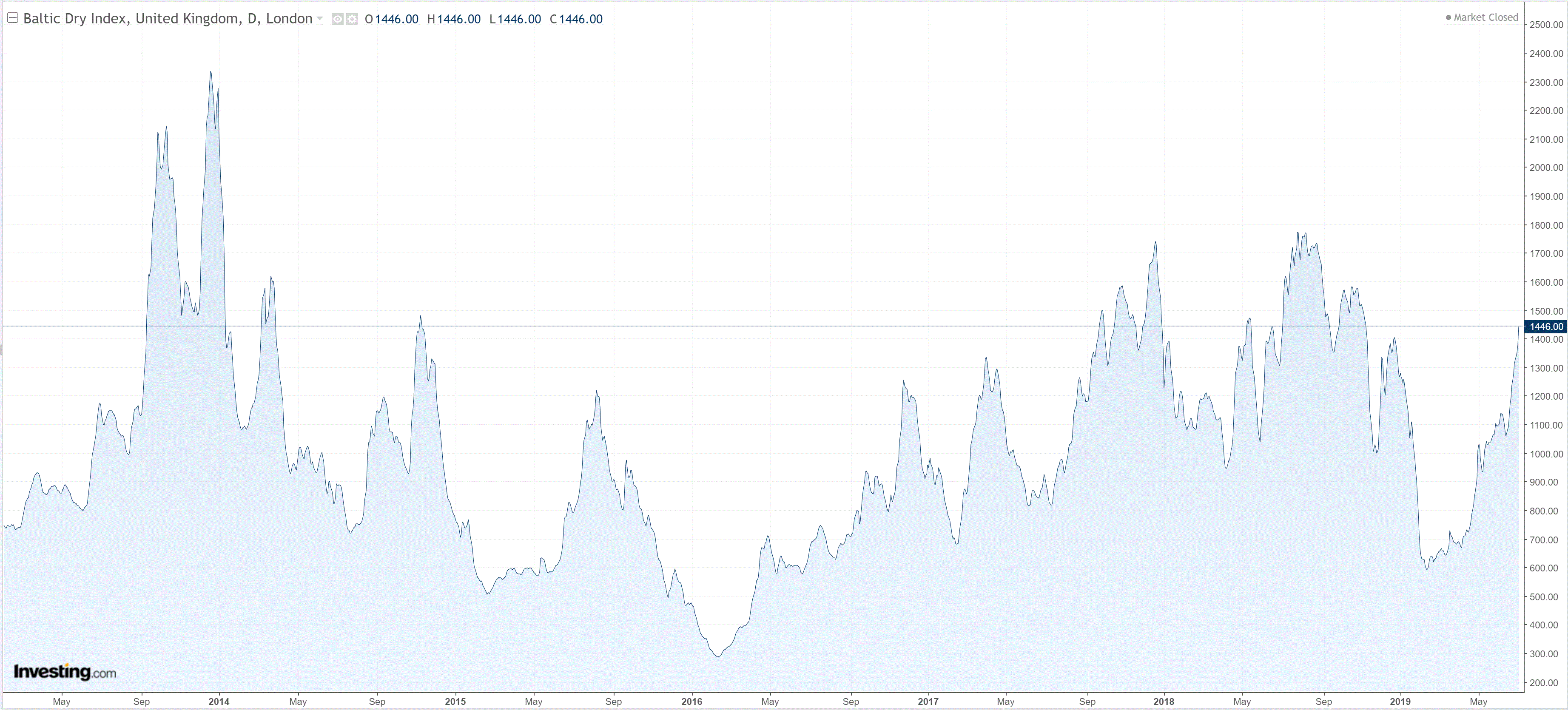 Capesize prices collapsed early this year as both Brazilian and Australian supply was hit. No longer! From Reuters:
* "Activity from Brazil and Australia is therefore healthy, and rates are increasing healthy day by day."

* Iron ore prices have more than doubled this year as port stocks across China shrank to their lowest since early 2017 due to reduced shipments from top exporters Australia and Brazil, as well as robust demand.

* A restart of Vale SA's Brucutu mine in Brazil, which was shut in early February after a tailings dam burst, killing more than 240 people, has prompted increased demand from the country.

* Shipments of iron ore account for about a third of sea-borne volumes of the larger capesizes.
Once supply elements are removed, I reckon demand is running at about a $60 iron ore price. There are now inventory issues in China so some rebuilding will be will required to support apparent demand for a while but, seriously, the gap to underlying demand from where we are today is bloody enormous.
Latest posts by David Llewellyn-Smith (see all)