Reuters has the texture:
Overall short-term macroeconomic conditions in China remain "bearish", said commodities broker Marex Spectron.

"We continue to pick up weakness in manufacturing and construction activity, which should mean steel demand will come under pressure," said Marex analyst Hui Heng Tan in Singapore. "We are bearish on current demand conditions (for iron ore)."
Yep. To the charts with spot up, paper flaming out overnight and steel falling away:

In news, Friday's climb in iron ore was likely because of this:
Brazil's mining secretary said on Friday he expects the sector's main regulator to extend its investigation until January 2020 into the causes of the Vale SA mining dam collapse that killed at least 240 people.

Secretary Alexandre Vidigal de Oliveira of the Mines and Energy Ministry had ordered the National Mining Agency (ANM) to investigate the disaster in February, a process that ordinarily would have expired in August.

But that deadline is now likely to be extended for another 180 days, he said in an interview, citing the probe's complexity and the difficulty in accessing the disaster area, which has also been the site of a major operation to retrieve the dead.
I can't see why that would slow Vale returning more volumes in H2. It's going to get this right anyway before doing so.
Moreover, they're not needed. As noted Friday there's a flood of new supply hitting China now from all over the place. The BDI remains wild as capesizes and even panamaxes are booked worldwide to carry dirt: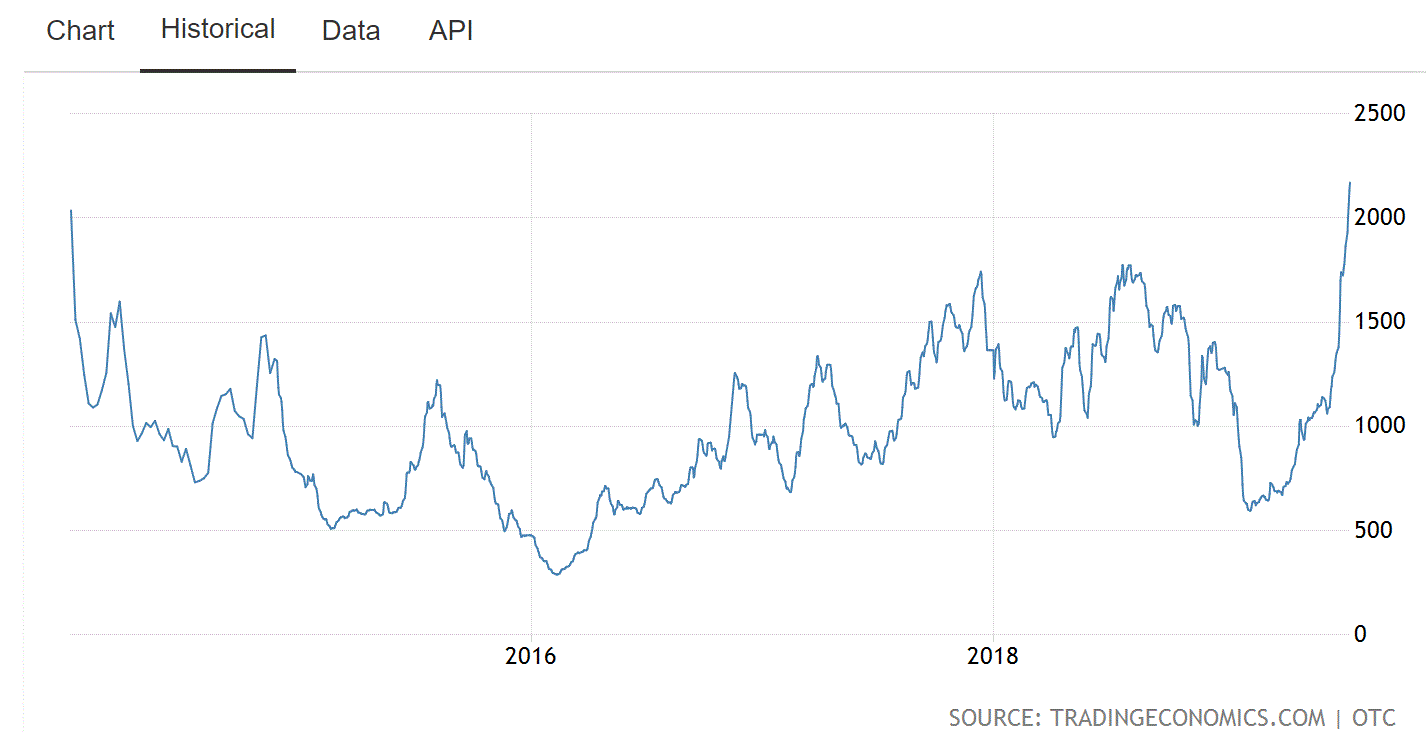 And Chinese port stocks have begun to rise as the tonnages hit China, via MySteel:
After a ten-week plummet, imported iron ore stocks at China's 45 major ports rebounded over July 12-18, up 2.7 million tonnes on week to about 116.8 million tonnes, mainly due to the remarkable increase in new vessel arrivals at many Chinese ports over the period, according to Mysteel's latest weekly survey.
Markets follow the broader SteelHome index but they track each other closely.
There is no iron ore shortage now. Indeed, as Vale's volumes return and Chinese underlying imports remains weak we'll see a glut soon enough.
David Llewellyn-Smith is Chief Strategist at the MB Fund and MB Super. David is the founding publisher and editor of MacroBusiness and was the fouding publisher and global economy editor of The Diplomat, the Asia Pacific's leading geo-politics and economics portal.
He is also a former gold trader and economic commentator at The Sydney Morning Herald, The Age, the ABC and Business Spectator. He is the co-author of
The Great Crash of 2008
with Ross Garnaut and was the editor of the second
Garnaut Climate Change Review
.
Did you know the MB International Shares Fund has returned an average of 17.1% per annum and the Tactical Growth Fund an average of 10.4%? Register below to learn more:
Latest posts by Houses and Holes (see all)