Texture from Reuters:
Any production limits for steel mills during winter will be set by local governments depending on their emissions, the environment ministry said on Friday.

"Markets perceive provincial restrictions to be looser than federal ones, although that does not usually play out since we have seen provincial authorities as being equally as strict," said Edward Meir, independent commodity consultant at brokerage INTL FCStone in London.

China's decision comes in the wake of complaints by some local governments and manufacturers that production cuts have hampered industrial operations and dragged on local economic growth.
Less steel bans are a marginal positive for iron ore demand. But, crucially, they are quite bad for steel prices. And that will not benefit iron ore. Indeed, price action yesterday showed why:

If steel prices keep falling and crush margins to negative as inventories rise, then output will fall much more. Via S&P:
Steel margins started to fall from November last year as China's deleveraging program took the wind of the country's economic sails and stifled demand for steel.

Traders and privately-owned companies found credit harder to come by; and consumers who were already highly leveraged to property struggled to borrow.

The auto and white goods sectors suffered in particular, crimping demand for flat steel.

The weakness in manufacturing was borne out by China's two purchasing managers' indices, published by Caixin and the National Bureau of Statistics, which showed the sector was technically in contraction (below 50 points) over December to February before recovering from March. However, the improvement was short-lived, as the June PMIs were below 50 again.
Either way, steel prices and iron ore fall.
Meanwhile, supply continues to recover with more from Brazil:
Brazilian steel and iron ore producer Usiminas plans to sell a total of 9 million tonnes of iron ore this year, while production is expected to remain close to 8 million tonnes, chief executive officer of the company's mining unit, Carlos Héctor Rezzonico, said on Friday July 26.
Last year, Usiminas's mining division produced 5.65 million tonnes of iron ore and sold a total 6.47 million tonnes.
While Chinese port stocks climbed again to 119.25mt: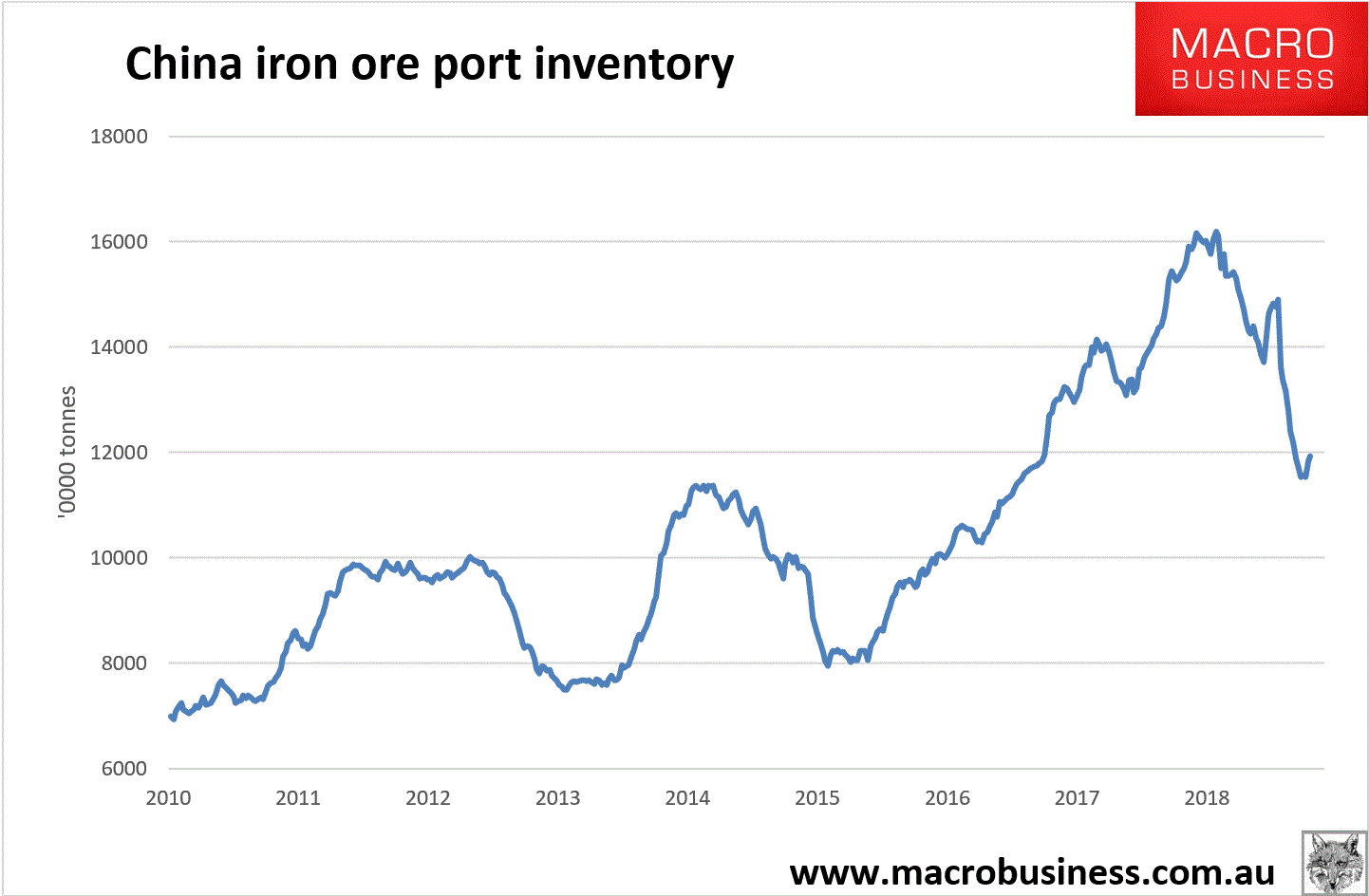 Short term restocking can keep prices up for a while. But it is only a matter of time now before we fall hard.
David Llewellyn-Smith is Chief Strategist at the MB Fund and MB Super. David is the founding publisher and editor of MacroBusiness and was the fouding publisher and global economy editor of The Diplomat, the Asia Pacific's leading geo-politics and economics portal.

He is also a former gold trader and economic commentator at The Sydney Morning Herald, The Age, the ABC and Business Spectator. He is the co-author of The Great Crash of 2008 with Ross Garnaut and was the editor of the second Garnaut Climate Change Review.
Latest posts by Houses and Holes (see all)