Spot prices crashed. Paper too. Steel is weakening again. The culprit was easy to find, via Reuters:
Executives from eight steel firms representing 30% of China's steel output, including China Baowu Group, HBIS Group, Jiangsu Shagang Group and Ansteel Group, gathered at the China Iron and Steel Association (CISA) on June 27 in Beijing, according a document with the minutes from the meeting that was reviewed by Reuters.

…The eight steel mills will create an investigation group, led by Baowu and assisted by the others, to look into the pricing methodology of imported iron ore, to coordinate with futures exchanges to stabilize the market, and to plead to government departments to "sustain market order".

In the meeting note, the companies and the CISA blamed the price surge on poorly designed methodologies by price reporting agencies publishing physical prices, speculators in the futures market and poor trading mechanisms in the spot market.

"There are some non-market factors behind the price rally. Especially in the recent two months, some steel mills reckoned that there was no obvious contraction between demand and supply," the meeting note said.
It's not a big deal, really. If there was anything that they could do, it would already have been done. But the reaction tells you how overbought and sentiment driven this market is. The charts:

My guess is the top is in (unless we see some more Vale bad news). It will take time to retrace. The shortage is diminished but will persist until Vale returns another 30mt some time in H2.  But at that point the price should probably be $80 so be warned. As Chinese demand slows into 2020 $60 cometh.
From there it is in the lap of the gods but the year 2022 does not look good with Vale back at full strength, FMG bringing on new volumes, Minas Rio ramping up and Chinese demand slip sliding away on stagnation and the rise of scrap: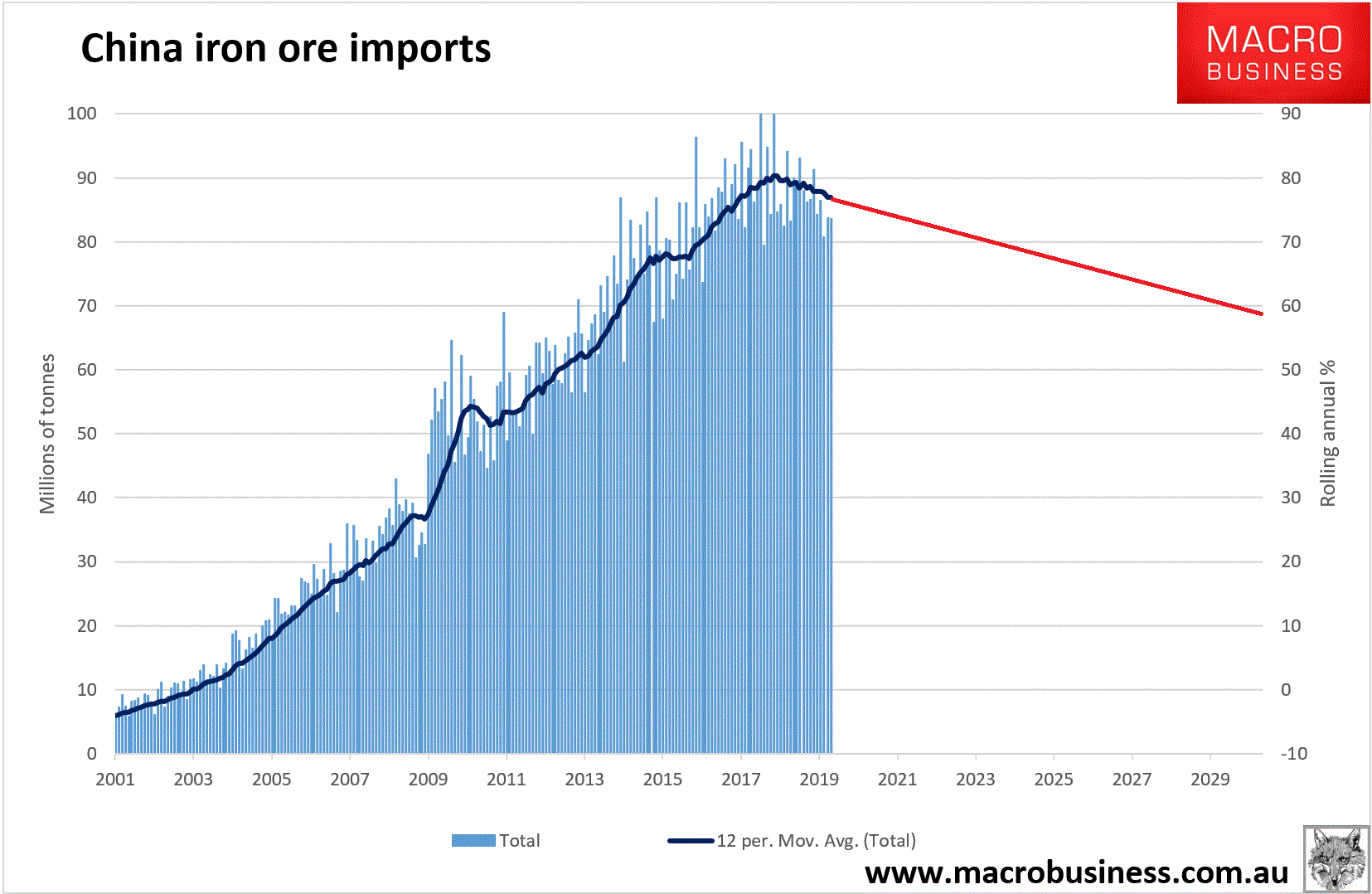 The seaborne iron ore market has some 200mt to rationalise over the next decade.  We may have just seen the last hurrah.
Latest posts by David Llewellyn-Smith (see all)