Yesterday, Fairfax reported that around 600,000 retirees are about to receive fortnightly pension increases from reductions to the deeming rate – a move supported by Labor:
Prime Minister Scott Morrison's expenditure review committee will consider how to minimise the budget impact of changes to the deeming rate for pensioners, while acknowledging many are feeling short-changed because of the government's failure to match interest rate cuts.

Deeming rates have remained unchanged since 2015 but official interest rates have fallen from 2.25 per cent to 1 per cent – leading peak body, National Seniors, to accuse the government of using them as "milch cows" to prop up the budget.

A government source familiar with the process confirmed an update was expected within a week as the expenditure review committee considers more than three options for a rate change.

Analysis by Labor shows matching the five interest rate reductions over the past four years (1.25 percentage points) would see some single non-home-owning pensioners more than $3000 better off, while couple home owners would see up to an extra $1850.

The move would cost at least $1 billion a year and eat into a forecast surplus of $7.1 billion for 2019-20…

Opposition social services spokeswoman Linda Burney accused the Coalition of "deliberately short-changing pensioners for years".
As I noted on Monday:
There is no doubt that falling interest rates are hurting those relying on term deposits to fund their retirement. But deeming rates apply to all financial assets, including equities like shares and unit trusts. And equities typically boom as the cash rate falls.

Deeming rates have to provide a simple benchmark that takes account of cash returns, dividends and other equity returns. That's the main reason there are two deeming rates – a lower one biased to cash (1.75% on the first $51,800 of investment assets for a single), and a higher one biased to equities (3.25% on investment assets over the amount of $51,800 for a single).

Any discussion of deeming rates needs to take account of both deposit rates and equity returns, not focus solely on the former.
Before the May Election, retirees argued that if franking credits were taken away, then the government would need to give retirees more money. Now the Election is done, and Labor's franking credits policy is dead, retirees are still demanding more money.
This special pleading comes as the number of seniors paying tax has halved:
And on average senior households are paying less income tax in real terms than senior households did 20 years ago:
Moreover, while retiree groups are demanding more pork, Australia's unemployed languishing on Newstart are falling even deeper below the poverty line: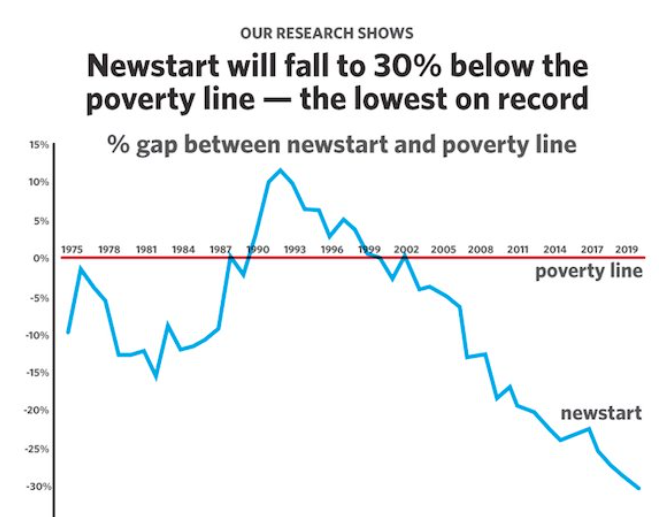 And this deplorable situation has arisen because the Newstart Allowance has not increased in real terms (i.e. above the Consumer Price Index) since 1994, whereas the Pension has received significant increases: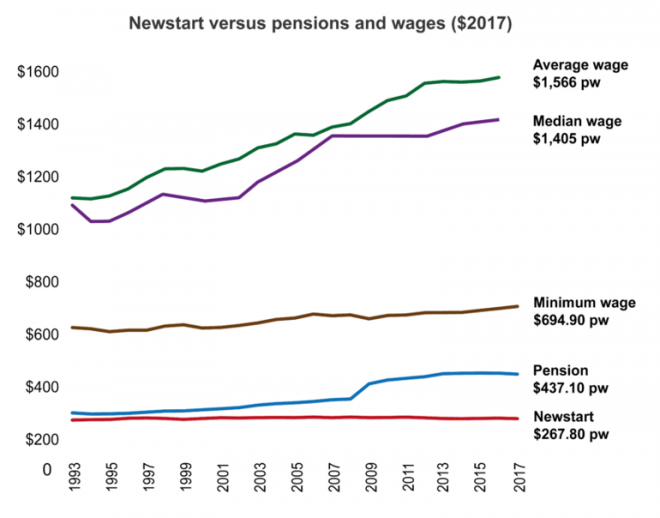 If there's one segment of society that deserves some taxpayer love, it's the unemployed, not retirees. Sadly, Prime Minister Scott Morrison strongly disagrees:
"We're for jobs. Labor's just for welfare. I heard the other day that they are thinking of increasing the Newstart payment. Well I've gotta tell you. If I thought I had the money to do that, I recon I'd do that for pensioners first".